How more than $1 million worth of cattle were stolen from two properties in Central Queensland three months ago is the focus of an investigation by Queensland's police stock squad.
The 860 red Droughtmaster/Brahman cross bullocks, worth an estimated $1 million, were stolen from two properties owned by Scott Harris near Tambo in April or May.
The theft is one of the largest in recent history, and the largest in the eight years that investigating officer Warren Baker has headed up the Charleville division of the Queensland Stock and Rural Crime Investigation Squad.
The cattle were last seen by Mr Harris on his Tambo district properties Yandarlo and Southampton Downs on April 22, but could not be found when he re-mustered the same paddocks on May 22.
Mr Harris is offering a $100,000 reward to anyone who has information that leads to the recovery of the cattle and the convictions of the people who took them.
Queensland's Stock and Rural Crime Investigation Squad has alerted processors across Australia to be on the lookout for cattle matching the description of the stolen bullocks.
The bullocks carry the brand and earmarks pictured above left and are similar in appearance to the cattle pictured on this page.
Detective Sergeant Baker said that given the stock were stolen almost three months ago, there was a chance the cattle may have already been processed, but he believed the system should lead to their recovery.
"There is that possibility," he told Beef Central this morning.
"The bullocks were ready to go to slaughter, that is certainly one of our lines of inquiry through slaughterhouses.
"We did send out alerts to the meatworks initially when we first became aware of the complaint.
"They were aware so one hopes that the stockmen would have picked it up with the brands and ear marks on those cattle.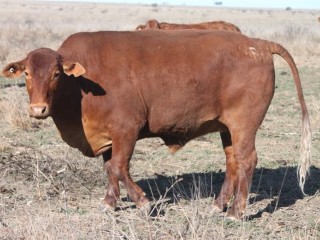 "We've had feedback from meatworks saying similar cattle are being killed, which were cattle actually owned by the complainant, so the system is actually working."
AgForce cattle board representative Ian Harsant said stock theft was a big issue for Queensland cattle producers every year, but he was surprised by the size of the latest lift.
"It is a real eye-opener," he said.
"Being bullocks, it would not be as easy as taking females and using them.
"And as bullocks if they dispose of them they're worth nothing to them at all, and they would either have to put them through processors or saleyards, and with that number it is going to be a big operation.
"And of course the owner has offered a very substantial reward so that should nearly flush something out."
Mr Harsant said he would be surprised if the existing systems did not lead to the cattle being picked up at some point through the chain.
Anyone with information which could assist police with their investigations should contact the Charleville Stock and Rural Crime Investigation Squad on (07) 4650 5500 or mobile 0427 758093; or
Crime Stoppers anonymously via 1800 333 000 or crimestoppers.com.au 24hrs a day. Crime Stoppers is a charitable community volunteer organisation working in partnership with the Queensland Police Service.