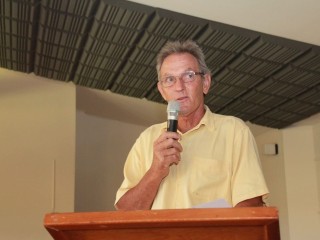 Western Queensland beef producer Rob Moore travelled to Saturday's St George crisis meeting to present his case for processor cattle price transparency, as part of broader solutions to help beleaguered beef producers.
Here's an edited summary of his presentation to the St George audience:
The elephant in this room is the pathetic farmgate returns on offer which is cruelling our ability to fight any drought.
Events of last year shaved $222 off the average price per head at the Roma saleyards in less than 12 months.
There is talk about how landholders should prepare for drought in the 'good' times and not be seeking welfare and handouts. I couldn't agree more, but after copping a 33pc drop in cattle prices, it is simply not possible.
Every other drought I have battled – the sale prices were high and there seemed to be some reward to justify fighting through.
After the '79 and '83 debacle I got $408 for weaner steers which is well over $2/ kilo live. That was 30 years ago when fuel was about 60c/litre and a new Hi Lux was $18,000. Compare that to the absurd situation we find ourselves in now.
So this is the backdrop for our proposed Primary Production Pricing Bill. The common theme is that the processors, traders and middlemen are having a picnic with our produce. Competition is an illusion. They do not compete.
An example that I costed out on a 330kg animal being fed for a Woolworths meat counter goes like this:
I receive $515 @ $1.65/kg delivered after my 690 day input to this animal.
The indentured feeder to supply Woollies @ $4.10 dressed weight after a 77 day input clears $235 for the animal.
Woolworths, based on up-to-date figures, has an after costs margin of $1793 out of my animal …all in a 5 day period.
August last year I had to sell my whole drop of late-weaned black cattle, nine decks cleared $260/head average. I knew then we had reached the bottom of the barrel.
Clearly, we need a device like the Americans' Packers and Stockyard Act that was introduced in 1921. Just by the way their current liveweight price for a quality 300kg steer is $4/kg.
Around 6 or 7 years ago, I started taking an interest in industry reform and governance and spent a while as a director of the Australian Beef Association.
One of my colleagues challenged me to stop whinging about primary production issues and do up a Bill to fix things and take to the Ag Minister.
After 'Australianising' the wording of the US Act, it was evident that we would never get our processors to divest their feedlots or land as per the PSA rules. Nor would they easily open their books to report their consignment purchase prices. The two planks that make the Packers and Stockyard Act function are disclosure and equal access for all producers to supply a given set of specifications.
From this I devised the Primary Production Pricing (PPP) format, which would be much simpler to implement and comply with. Obviously to break up the captive supply lines and alliances of the supermarkets and multi-national processors will lead to making them compete. This doesn't happen now and will raise the farmgate price overnight. So there is background of the proven model of the PPP.
Basically, it is a Trade Practice Act that, if implemented, would see the Federal Agriculture department run the AUDA Single Desk Listing Site.
In order to get transparency on our trading, think of an online offer board like Ebay, Auctions Plus or the Australian Stock Exchange.
The objective is to give primary producers and their agents a central portal to make commercial decisions. For now it is like trying to fuel your car with no prices out the front of service stations.
With 75pc of cattle now selling on consignment and 25pc going to auction, market reporting is not indicative of the bulk of trades.
As the consignment pricing grids are normally based on market reports plus a tiny margin, this then becomes a poverty cycle for us.
All the Bill will require is for any livestock or produce that is not bought in the auction system to be list on the AUDA website, including price, specification, time period and quantity.
This happens now with kill and feeder grids but it is not transparent and could play favourites as in not allowing equal access for all.
Using an analogy, if you are at home and want to purchase an air ticket, you look up each of the companies', sites for times, prices destinations.
Same goes if you have cattle to sell. The AUDA will have all historic sales across the country listed and alongside will be the companies' and traders' forward offers.
Then bingo – we have choice and competition for the first time ever.
I should stress it is only intended for farmgate to secondary industries that would have to list. In cattle this would be owner to live exporter, lotfeeder or abattoir.
Once distortions pass out of the system a true supply/demand price will emerge in any industry. This will reflect market dynamics instead of the current situation, which divides up the supply and applies the gravity games we see now.
I submitted the details to the DA Minister on November 13. Since then we have seen a Senate inquiry announced into Transaction Levies and the future of MLA announced and submissions have to be in by the end of this month.
And we have the White Paper review of Infrastructure and other rural matters to run the course of this year.
This Bill is a stand-alone matter in my opinion and we must act immediately on it as it is at the heart of why we are here today.
Vested interests from the big end of town will be full of demonising phrases like 'government control', 'price intervention', 'anti free trade', but the government's only input would be to provide the facility and keep everybody playing by the rules and umpiring any disputes.
The whole point is that if we could get a true price at farmgate – we could service debt, employ people, buy enough feed in a drought and get a 'normal' life back.
The supermarket model shows that there is massive scope for a transfer of profits to be relocated back to us via competition in the market.
This makes it imperative to get a PPP installed to make processors compete, otherwise they will just settle in to the existing groove and we simply won't last the distance.
I will discuss this with the Minister today as it is obviously a work in progress.