We have written before on this forum about the need to prepare to leave the farm.
Succession planning prioritises the importance of building off-farm assets that will provide sufficient capital to allow a seamless transition from working on the farm to enjoying some of the pleasures that come with retirement.
Many families have put plans in place and are progressing this transition very well, some are still working towards these goals and will continue to struggle as current incomes are simply not sufficient due to ongoing poor seasonal conditions and in some cases large debt burdens.
There are however, examples of families that are successfully maintaining a long term focus on their succession goals in spite of the irregular cash flow farming presents them.
Primary producers face many roadblocks but one that seems to come as a surprise is care of their elderly.
While the number may surprise there are an estimated 65,000 people entering into residential aged care each year. Every rural community will know someone who has gone into care but will they understand the complexities of this transition and how it can be managed to reduce the financial risks?
Aged Care
What is aged care?
Simply put, aged care is support, primarily physical. Aged care services are generally broken down into two types: the basic activities of each individual such as bathing, grooming, using the toilet, eating, walking, or getting in and out of bed, and then the activities that are required to maintain a household such as cooking, cleaning, laundry, sewing, and similar tasks. Often the ability to live independently has eroded gradually without the person, or their family, realising that help is needed until a crisis point arises.
Aged care can be provided through home-based care packages or residential care. Currently the statistics suggest that around 20% of aged care recipients will require residential care. It is residential care for which the majority of advice is sought perhaps because it is the service that involves the most money.
As children or carers of the elderly we need to understand the emotional pain these people will be going through when they have to admit to needing outside help for basic activities they learnt as a child. A decision to move into residential aged care will be made amidst strong emotions around a longing for the past and uncertainty about the future. It can be a challenging and emotional decision for the person moving and their family, their friends and carers.
Access to aged care services that are subsidised by government will require an Aged Care Assessment Test (ACAT). An ACAT assessment is simply a test of the activities an elderly person can currently undertake and will lead to a recommendation of the type of care that is required.
The ACAT assessment is the gateway to any service that is subsidised by the government and should not be feared.
Residential care
Residential care is heavily regulated and reflects the basic implied social contract made by successive governments that all Australians will have somewhere to live if they are not able to support themselves. Consequently the government asks people to pay for what they can afford, subject to caps, and the government (taxpayer funds) will cover the remainder.
The "quality" of each facility can be a large part of the conversation as we all want what's best. Each facility is different and while quality indicators are being developed you should always question staff and management until you are satisfied it will deliver the level of care and services you consider appropriate for your needs. The government website www.myagedcare.gov.au provides a list of accredited facilities along with a lot of other useful information.
How can you prepare?
Perhaps the most important part of this message is to understand the need to prepare. Once you reach age 65 the probability of you needing aged care services in the future is 68% for women, because they live longer, and 48% for men. Whether you will require residential or home-based care is of course unknown.
Aged care services are not something you can buy now and "store" for the future, but understanding the services that are available and how you can access them may be invaluable.
A summary of the fees you will expect to see in residential aged care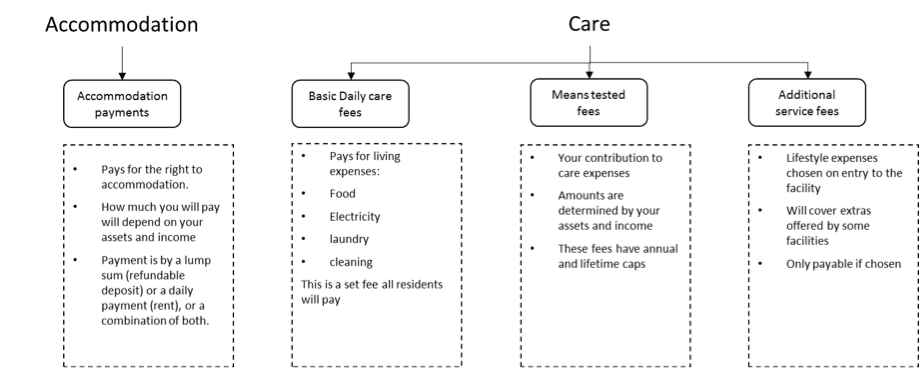 Click on table to view in larger format. Table adapted from Aged care steps available at www.agedcaresteps.com.au
Seeking financial advice
There is a great deal of complexity that results from shifting large sums of your assets to fund all or part of the accommodation charge. There is often a need to fund an income stream to support two households – home and the residential facility. Generally speaking each decision will have a consequence in another part of your life. Specialist advice can be required to ensure you have a favourable outcome. Mistakes can be costly and difficult to reverse.
Our experience has shown that having a formal written document that gives a detailed breakdown of the costs and how you would manage financially into the future when one or both partners are in care will provide considerable peace of mind. Families who have been unexpectedly charged with shared responsibility of care will find a great deal of value in a formal document.
When considering aged care services there is a lot of readily available information on the internet. When it comes to the allocation of capital to secure entry into a residential facility we strongly recommend you seek advice from an appropriately qualified professional so your decisions will provide you with some level of financial security.
For more articles on financial management for primary producers by this author click here
Graham Financial is a privately owned boutique financial planning practice which has been in operation since 1985. AFSL 327520. The advice in this article is general in nature; advice specific to your circumstances should be sought before acting on this advice. The author of this article can be contacted on (07) 4613 0514, by email at admin@grahamfin.com.au or online at www.grahamfin.com.au