NSW Police's Rural Crime investigators have established Strike Force Woden to investigate reports of a fraud currently targeting farmers from drought-stricken communities across NSW.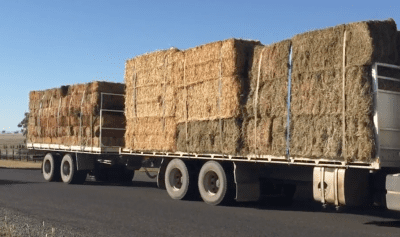 Police have received numerous reports of a person advertising hay bales on social media for a discounted price.
In each of the cases, the seller has taken an initial deposit for the fodder but has not delivered any product.
The fraud is not isolated to a specific area.
Police have received reports from the Mid North Coast, the Hunter Valley, the Southern Highlands, the Hills, and the Oxley, Nepean, and Port Stephens areas.
A number of people have lost money as a result of the scam.
NSW Police Force State Rural Crime Coordinator, Det Insp Cameron Whiteside, urged farmers and landholders to take extra care when purchasing fodder, water and other supplies to get them through the drought.
"These are difficult times, and it's disgusting to think anyone would seek to take advantage of people who have already been through so much," Det Insp Whiteside said.
"I would encourage anyone buying supplies online to only deal with people and businesses that have proven to be genuine in the past.
"Where possible, it is best to only hand over money until the goods are in your possession.
"And of course, the age old saying applies – if it sounds too good to be true, it usually is."
Minister for Police and Emergency Services David Elliott said anyone who takes advantage of drought affected farmers should face the full force of the law.
"At a time when we're seeing unprecedented levels of drought affecting every corner of NSW, it's unthinkable that anyone would seek to exploit those who most need our support," Mr Elliott said.
"This is a pathetic act and the Government will continue to back our police in their efforts to keep these online criminals away from communities struggling during these hard times."
Det Insp Whiteside also appealed for anyone who thought they may have fallen victim to the scam to come forward and report it.
"It is important not to be embarrassed – scams succeed because they look like the real thing and catch people off guard," Det Insp Whiteside said.
"Our officers need as much information as possible in order to investigate these crimes thoroughly and find those responsible.
"If you have any information that might assist our investigators, please contact Crime Stoppers on 1800 333 000, or https://nsw.crimestoppers.com.au."