The first three episodes in a podcast series of nine on the impact and management of fall armyworm have been released by the Plant Biosecurity Research Initiative (PRBI).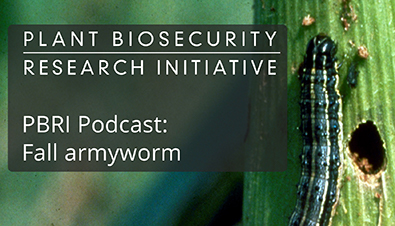 Stuart Kearns, National Manager for Preparedness and RD&E at Plant Health Australia, produced the podcasts specifically with growers in-mind.
"The podcasts were developed to inform growers about fall armyworm and the options for its management after the pest was found in the north of WA, NT and Queensland earlier this year," said Stuart.
They feature interviews with local growers and agronomists talking about their first-hand experience managing the pest; leading Australian researchers on their observations and latest findings; and international experts who share their experience and learnings. Each episode runs for about 30 minutes.
It's not feasible to eradicate the pest because the adult moth can fly long distances, has a high reproductive rate and the ability to infest over 350 plant hosts. It is a migratory species that uses prevailing winds and can also be spread by humans on infested plant materials.
The larvae can feed on many types of crops grown in northern Australia including maize, sorghum, sweet corn, vegetables, pulses, winter cereals, sugarcane, rice and cotton.
"With welcome rains falling in some regions, producers are considering summer crop options such as maize, which is one of fall armyworm's favourite crops," said Stuart.
"Fall armyworm can be highly destructive if it's not managed and has become resistant to many chemical treatments in other parts of the world."
"Knowing how and when to look out for them, how to identify them, and determine whether they are in significant numbers to warrant spraying, is important information to have so growers are not wasting time or money."
Funded by PBRI members, the podcasts are available for free from the PBRI website and will also be made available through Apple Podcasts, Google Podcasts, Spotify and Fireside for growers to listen to while driving the tractor or working on the farm.
Further episodes in the series will be released over coming weeks.
This PBRI coordinated project was co-funded by the Cotton Research and Development Corporation, AgriFutures Australia, the Grains Research and Development Corporation, Hort Innovation and Sugar Research Australia.
Source: Animal Health Australia. More information about the PBRI and the projects it funds is available on the PBRI website.