The Australia Bureau of Statistics has reported an increase in consumption of meat and dairy substitutes in 2020-21, however the trend has not resulted in a decline in traditional meat sales.
Data released this week showed the amount of meat and dairy substitutes purchased from Australian supermarkets and other food retailers jumped by 14 percent in 2020-21. This followed a 14pc increase between 2018-19 and 2019-20.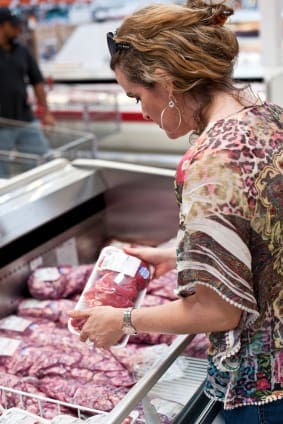 The statistics included all meat and dairy products made from non-animal ingredients, such as soybeans and other legumes, grains, nuts and fungi.
ABS health statistics spokesperson, Paul Atyeo, said the data represented a continuous and ongoing increase in the consumption of these products.
"The per person apparent consumption of dairy and meat substitutes was 20 grams per day in 2020-21, up a total of 29pc from 15g per day in 2018-19," Mr Atyeo said.
However, this result may not be as bad for the meat industry as it first appears, with Mr Atyeo revealing that most of the increase in intake came from dairy substitutes.
"About 17 grams of apparent consumption per person per day came from dairy milk substitutes like soy milk or almond milk," he said.
"This is equivalent to about half a metric cup per week.
"Consumption of dairy milk substitutes rose 4g per day between 2018-19 and 2020-21 mirroring a 4g per day fall in dairy milk over the same two-year period."
Meat consumption stable
Despite this growth in plant-based proteins, the gross annual consumption of meat (including poultry) saw a slight rise from 1.298 million tonnes in 2019-20 to 1.321MT in 2019-20.
This equates to a minor mean daily per person intake rise of about 2g.
While poultry was the main catalyst for this intake jump, the 'unprocessed beef, sheep and pork' sub-category did report a slight increase in annual consumption from 449,000t to 453,700t.
Some processed and niche meat products did see drops in consumption, with offal products showing the sharpest decline of about 20pc between 2019-20 and 2020-21.
This appeared to follow a trend for organ meats, which also saw a decrease of 16.7pc from 2018-19 to 2019-20.
Sausages, frankfurts and saveloys were the only other meat product to record a decline in intake, recording a reduction of about 5t gross annual consumption or about 0.5g per day.
The statistics are part of the 'Apparent Consumption of Selected Foodstuffs, Australia, 2020-21' report.
Released once a year, the reports seek to measure the amount of food and non-alcoholic beverages purchased (based on sales data), from the food retail sector in Australia.
It does not measure actual consumption and does not account for alcoholic beverages, purchases from the café, restaurant and takeaway food sector, home grown or produced foods, wild or harvested foods, or products not consumed due to waste or storage.