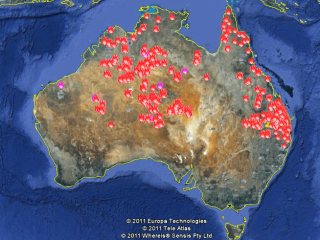 A smoke hazing is blanketing rural Australia as a combination of hot temperatures, windy conditions and widespread stands of dry grass create havoc for rural fire authorities.
Severe fire warnings have been issued for parts of the Northern Territory, Queensland, New South Wales and South Australia.
The Queensland Rural Fire Service yesterday responded to more than 180 vegetation fires across the State.
"There is no doubt that weather conditions of high temperatures, north to north westerly winds and low humidity, which we are experiencing now, are perfect conditions for fire," QFRS Acting Assistant Commissioner for Rural Operations Paul Adcock said.
Queensland has declared a Fire Danger Period which prohibits the lighting of fires without a permit until midnight on January 1, 2012. The QFRS had postponed a number of permit burns across the state and asked holders of valid permits to rethink the need to light up over the coming days.
"Landowners who have conducted hazard reduction burns recently are strongly encouraged to take immediate steps to ensure that their fire has been properly extinguished or to make sure the residual fire is contained so that it will not escape."
Warnings have been issued asking people not to throw cigarette butts out of car windows and to exercise caution when operating machinery in grassed areas.
The NSW Rural Fire Service has responded to hot, dry and windy conditions by imposing a total fire ban in that state today, the first of the season.
"Forecast high temperatures and strong winds mean that the risk of grass fires starting and taking hold is significantly increased," NSW RFS Commissioner Shane Fitzsimmons said.
"In these types of conditions it is crucial that the community understands the risk, takes the necessary precautions and remains vigilant.
"It's important that the wet weather seen over winter hasn't lead to complacency. There is a very real potential for fire, and everyone in and around the areas of Bourke, Broken Hill, Central Darling, Brewarinna and Cobar should remain alert and ensure that themselves, their families and properties are suitably prepared."
Commissioner Fitzsimmons said that where there is a Severe fire danger rating, only homes that are adequately prepared and actively defended may offer safety during a fire.
"Leaving early is always the safest option and a completed Bush Fire Survival Plan will help prevent families from having to make decisions at the last minute.
The northern Australian fire information service which monitors bush fire activity across northern WA, the Northern Territory and northern Queensland reported 735 active hot spots as at 5am today.
The Country Fire Service in South Australia has issued a severe fire warning for the Northeast pastoral zone of the State, and has imposed a total fire ban in the region for 24 hours.
The Country Fire Authority in Victoria and Fire and Emergency Services Authority in Western Australia have no current rural fire warnings issued.