Beef Central publishes an occasional list of recent appointments, departures or achievements occurring across the red meat supply chain, both private sector and government. Details for submissions for future listings are provided at the bottom of this article….
New GM for MLA's marketing operations
Aussie takes up key NZ animal health and traceability role
Horizon Scholarship recipients announced
National Young Auctioneer award winners
Opportunities increase for Indigenous pastoral enterprises
New AMIC Qld member services manager
Scholarship funds double degree for Longford winner
Former MLA staffer joins JBS
AgForce Cattle names Sam Becker as a leader of the future
Colliers recruits valuer for rural property team
New GM for MLA's marketing operations
Meat & Livestock Australia has made an appointment to head up the industry service delivery company's international and domestic marketing operations, following the departure of Michael Edmonds.
Lisa Sharp will start next Monday week as MLA's new general manager for central marketing & industry insights.
Ms Sharp's resume displays extensive senior leadership, marketing and consumer insight experience, having worked for a number of global consumer goods and food and beverage companies. She has led global category teams with responsibility for strategy development and commercial implementation across markets in the UK, West Africa and Eastern Europe.
Most recently she was head of marketing for Novartis Consumer Health, and has held senior management positions at PZ Cussons, Coca-Cola Amatil and Goodman Fielder. Ms Sharp also held a senior management position at SPC Ardmona, gaining experience working within Australian agriculture and marketing reputable Australian food to the world. She started her career as a financial accountant after completing an economics degree.
Aussie takes up key NZ animal health and traceability role
Former Australian Meat Processor Corporation chief executive, Michelle Edge, has taken up a new position as CEO of New Zealand's OSPRI.
OSPRI's primary role is to help protect and enhance the reputation of NZ's primary industries. It was formed as the result of a merger between NZ's Animal Health Board (TBfree) and National Animal Identification and Tracing programs, allowing the two organisations to better meet farmers' needs. Shareholders include Beef+Lamb New Zealand, DairyNZ and Deer Industry NZ.
OSPRI chairman Jeff Grant said Ms Edge brought a wealth of industry experience to the position having had an extensive career spanning scientific research, government regulation, policy and industry organisations within Australian agriculture.
Most recently she spent four years as CEO of AMPC – a levy-funded organisation responsible for investing in R,D&E on behalf of the Australian meat processing industry and the supply chain.
Prior to joining AMPC, Ms Edge held senior positions in the Victorian Government involving the development of the national RD&E Strategy for the Primary Industries Ministerial Council, and developing the Victorian Livestock Management Act and associated regulations.
Ms Edge takes up her new role at the end of April, based in Wellington.
Horizon Scholarship recipients announced
Thirteen young Australians with a love of agriculture and the capability to be future leaders have each been awarded a prestigious Horizon Scholarship for 2015.
Developed to help address the shortage of trained professionals entering primary industries and promote the diverse career pathways that agriculture offers, the Horizon Scholarships attract Australia's best and brightest young tertiary students.
The students are studying for degrees such as agricultural science and animal and rural sciences at universities across the country, and all are committed to a career in primary industries after their studies. Under the scholarship, which is an initiative of the Rural Industries R&D Corporation, industry sponsors support the students throughout the course of their undergraduate studies providing financial assistance and professional support in the form of mentoring, professional development workshops and industry placement.
The 2015 scholarship students include:
Caitlyn Daffey from Ballarat, Vic; Bachelor of Vet Science, James Cook U. Sponsor: Meat & Livestock Australia
Jasmine Whitten from Hughenden, Qld; Bachelor of Rural Science, UNE. Sponsor: Australian Egg Corporation
Camilia a'Beckett from Middle Park, Vic; Bachelor of Agriculture, U of Melbourne. Sponsor: Cotton Research & Development Corp
Scott Nevison from Gordon, NSW; Bachelor of Food and Agribusiness, U of Sydney. Sponsor: CRDC
Royce Pichford from Echunga, SA; Bachelor of Ag Science, U of Adelaide. Sponsor: Australian Wool Innovation
Matthew Champness from Hamilton, Vic; Bachelor of Ag Science, Charles Sturt U. Sponsor: Grains Research & Development Corp
Nicholas Grant from Temora, NSW; Bachelor of Ag Science, Charles Sturt U. Sponsor: GRDC
Elicia Jitming Lim from Beverley Hills, NSW; Bachelor of Food and Agribusiness, U of Sydney. Sponsor: GRDC
Eliza Seymour from Buderim, Qld; Bachelor of Science/Commerce, U of Qld. Sponsor: GRDC
Jack McIntosh from Bathurst, NSW; Bachelor of Ag Science, Charles Sturt U. Sponsor: RIRDC
Roxanne Mostert from Redmond, WA; Bachelor of Ag Science, U of Western Australia. Sponsor: GRDC
Alison Gill from Craigburn Farm, SA; Bachelor of Science (Advanced), U of Adelaide. Sponsor: GRDC
Amy Munro from Cumnock, NSW; Bachelor of Veterinary Biology/Vet Science, Charles Sturt U. Sponsor: RIRDC.
Click here to view profiles on the 2015 scholars.
National Young Auctioneer award winners
Last week's Sydney Royal Show saw a win in the National Young Auctioneers final for promising young Elders livestock salesman, Nick Gray.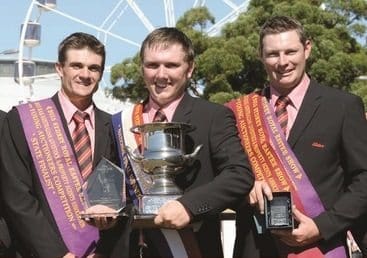 Nick, who calls the bids at local stock sales from his base at Elders' Ararat office in Victoria, beat a strong contingent of young auctioneers from across Eastern Australia. Runner-up for the national title was Chris Gooch from Ray White Garven & Cousens, in Tamworth, NSW.
The event was broadcast live over the internet and there were some very talented young auctioneers strutting their stuff.
In the NSW state final held earlier, first was Blake O'Reilly (Ray White Guyra/Armidale), and second Tom Boyle (AgNVet Henty).
Opportunities increase for Indigenous pastoral enterprises
A new officer has been appointed to work with Indigenous pastoral enterprises in the Kimberley and Pilbara regions, as part of the WA Government's Northern Beef Futures (NBF) project.
Dave Barker recently started at the Department of Ag and Food's Broome office as the Indigenous Supply Chain officer. NBF is a four-year $15m project led by the department and made possible by the Royalties for Regions program. NBF aims to transform the northern beef sector to become a more prosperous and resilient pastoral industry.
NBF project leader Brad McCormick said an important part of the project was to develop and integrate Indigenous pastoral supply chains. "Dave will work with Indigenous pastoral enterprises to increase economic development and participation," he said.
Mr Barker has experience in natural resource management and working with Indigenous ranger groups throughout the Kimberley in his previous role at the Kimberley Land Council. His new position is also supported by the Indigenous Landholder Service (ILS), a joint venture between the department and the Indigenous Land Corporation.
ILS project manager Mark Chmielewski said well-established networks through the ILS would be used to help Indigenous pastoral business operators identify broader opportunities within the burgeoning beef sector. As the project progresses, Mr Barker will organise Indigenous training and workshop activities and assist station owners to build capacity.
New AMIC Qld member services manager
The Australian Meat Industry Council has appointed a new Queensland member services manager, following the retirement to Melbourne of popular, long-standing manager, Gail Butler.
Rob Mollison took on the role in January, bringing 30 years of retailing sales and marketing experience, including terms with Woolworths, Arnotts and managing his own family-owned supermarkets and transport operations. For the past five years Mr Mollison has worked in the wine industry, leading a national sales team.
Scholarship funds double degree for Longford winner
Young Tasmanian tertiary student Emily Jones has been named this year's winner of the $12,000 Greenham Agritas Scholarship, helping fulfil her dream to one day work as a specialist in the Australian beef industry.
The twenty-two year old grew up on her family's farm outside Longford. After finishing Year 12 she moved to the NT to work as a Jillaroo on AA Co's Anthony Lagoon station. Following that, Emily worked at TAP AgriCo as a grain tester and also spent a period working on a NSW sheep and cattle station.
She has now begun the third-year of a double degree Bachelor of Agricultural Science / Bachelor of Business course at La Trobe University, Melbourne.
Her family runs two properties –a 2700ha beef, sheep and cropping operation at Campbell Town and a second 400ha beef block at Elizabeth Town. Both have been in the family for four generations and are run by Emily's father and uncle.
Emily looks back on her time as an observer at the Intercollegiate Meat Judging Competition and presentations by Meat & Livestock Australia analysts as the impetus for aspiring to work in the beef industry. She now plans to use part of her scholarship grant to finance the final year of study in Melbourne as well as enter the next Intercollegiate Meat Judging competition. "The course is an opportunity for me to learn more specifically about beef specifications, the requirements of end-users and new technologies in development and current use", she said.
The Greenham Tasmania Scholarship is now in its 12th year.
Former MLA staffer joins JBS
Former Meat & Livestock Australia senior staffmember Stephen Edwards has joined JBS Australia in a lamb export sales and marketing role, working out of JBS Southern's Melbourne operations.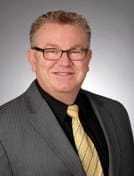 He took up his new position last month, after taking a redundancy from MLA as part of the industry service delivery company's recent staff reduction process.
Mr Edwards comes well-equipped for his new hands-on marketing role, having worked in MLA's global marketing department for thirteen years – most recently as business manager for international markets. Prior to that, he spent five years in Washington leading MLA's marketing, business development and market access strategies as regional manager for North America.
Before joining MLA Mr Edwards was a chef working in Australia and Europe, including running his own restaurant.
AgForce Cattle names Sam Becker as a leader of the future
AGFORCE has announced the appointment of talented Central Queensland beef producer, Sam Becker, as an AgForce Cattle youth director.
Twenty four-year-old Sam heads up marketing and brand management of his family's integrated beef operation, Jarrah Cattle Co, as well as the general day-to-day running of the cattle operation which spreads across six properties in Qld's Dawson Valley.
Also a Cattle Council of Australia NAB Agribusiness Rising Champion, Sam said he was honoured to have been selected for this innovative role at AgForce.
"I think the more involvement young producers have with industry the closer we will come to overcoming the age discrepancy and building a strong future," he said. "As we see cattle production falling across the globe, I believe that with smart efficient beef production we can set ourselves up as true industry leaders."
AgForce Cattle President, Bim Struss, said Youth Directorships gave young producers the ability to help drive the future of the beef sector in Queensland. "We know the average age of the farmer is more than 50 and that we must give careful consideration to who will lead our industry moving forward," he said.
Colliers recruits valuer for rural property team
Shaun Hendy has joined Colliers International's rural & agribusiness division as valuation director.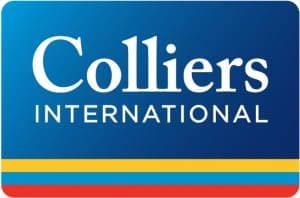 This newly-created role continues the expansion of the national Rural & Agribusiness team within Colliers.
Mr Hendy has more than 25 years' industry experience and is a qualified agricultural economist in addition to his valuation qualifications. In his role at Colliers, he will be responsible for the expansion of the valuation team in northern Australia to service traditional banking and private clients, institutions and investors providing them with strategic property advice on their rural and agribusiness assets.
Most recently, he was director of agribusiness valuations at CBRE and was responsible for Queensland and NT specialising in broad acre irrigation, farming and grazing sectors and intensive livestock.
Colliers national executive director Will Doherty said Mr Hendy's appointment reinforced the importance of the Rural and Agribusiness sector to the business. "The experts within our team across both valuation and transaction services allow us to service all of our clients' needs across each sector," Mr Doherty said.
Mr Hendy will work out of the Colliers Toowoomba and Brisbane offices servicing Queensland, northern Australian regions and northern NSW.