Beef Central publishes an occasional list of significant recent appointments, departures or achievements occurring across the red meat supply chain, both private sector and government. Details for submissions for future listings are provided at the bottom of this article….
New pastoral and feedlot managers for Stanbroke
AA Co's new chief financial officer
Cruden finishes as Livingstone Beef project manager
MLA's Alex Ball takes 12-month role with Teys
Promotion for MLA R&D manager
Young Tasmanian meat processor earns ARLP position
Beef connection for new RACQ president
New Charolais role for ABRI staffer
New GM for processor labour resourcing group
NFF rural affairs manager moves on
INGLIS group expands into rural property
Livestock manager appointment at Geraldton
President returned for LRTAQ
McDonald's annoints new global head
New pastoral and feedlot managers for Stanbroke
Integrated northern beef producer Stanbroke has appointed a new group property manager, following the recent resignation of John O'Kane.
Taking up the position in a transitional phase this month is experienced agribusiness manager, Mark Perkins.
Mr O'Kane, who leaves the company around Easter, has worked with Stanbroke for 20 years. He started with the company straight from school as a jackeroo at Abingdon Downs in 1982, and became head stockman at Donors Hill in 1986. Two years later he was awarded a Churchill Fellowship to study aspects of the US cattle industry.
His first management appointment was at Islay Plains in 1991, before going on to manage Kamilaroi, Fort Constantine and Helen Springs, where he became a group manager overseeing Stanbroke's Barkly properties.
Immediately following original owner, the AMP Society's sale of the company in 2003, Mr O'Kane took up a management position with Australian Country Choice based at Roma, before returning to Stanbroke in 2009 as general manager of pastoral operations based firstly at Warren Vale, in the Gulf, and more recently at Stanbroke's Grantham head-office. He finishes up around Easter.
His replacement, Mark Perkins, has had a lengthy and diverse career across northern pastoral operations and agribusiness.
Mr Perkins has held a number of senior positions in corporate agriculture throughout his career, beginning as a livestock marketing manager with Colonial Agricultural Co, before progressing to the roles of station manager and general manager for seven years. During his time with Colonial, he oversaw the day-to-day management and livestock marketing for eight cattle stations running around 130,000 head of cattle, plus leased property and custom lotfeeding operations.
In recent times Mark also acts as a consultant in land acquisition for resource and infrastructure projects including compensation and lease management of rural property, in his capacity as a director of Lane Infrastructure.
New feedlot manager
In other personnel developments at Stanbroke, the company not long ago appointed experienced feedlot operations manager Andrew Rushford to manage its 25,000 head Stanbroke feedlot near Chinchilla.
Mr Rushford has been out of the lotfeeding industry for some years, working in the gas industry for CSG, but earlier spent a lengthy period managing Teys Australia's Miamba feedlot near Condamine.
In January he replaced David Harris, who has managed the Stanbroke feedlot for the past five years. Mr Harris has returned to his family's meat wholesale business at Molong, NSW.
AA Co's new chief financial officer
Australian Agricultural Co has appointed a new chief financial officer, following the departure last July of former CFO Craig White.
The company last month named Andrew Slatter as its new CFO. He joins AA Co from the banking sector where he was regional head of Asian agribusiness for ANZ based in Singapore.
Most of Mr Slatter's career since 2002 has been with ANZ, in analysts and agribusiness roles. Earlier, he had a five-year stint with Elders which included time in the Elders International meat division based in Japan.
He holds a masters degree in agricultural economics from Sydney U and a Masters in Applied Finance from Macquarie U. He is a 1994 Farm Management Graduate from Marcus Oldham College and a past recipient of the Austrade Asia Pacific Fellowship.
Mr Slatter's appointment fills a six-month gap since Craig White's departure, following his resignation last July to pursue other opportunities. An AA Co statement at the time said existing internal resources would manage the CFO responsibilities until a replacement was found.
In other staff developments at AA Co, project manager at the company's Livingstone Beef processing facility south of Darwin Stu Cruden left the company suddenly on Thursday.
Mr Cruden, general manager of North Australian Beef Pty Ltd, oversaw the project from its earliest stages in 2012 to its recent completion. AA Co currently has a 'leadership team' in place in Darwin, but no clearly-defined general manager for the processing operations. It indicated there was a possibility such an appointment might be made at some future time.
MLA's Alex Ball takes 12-month role with Teys
Meat & Livestock Australia's Dr Alex Ball is taking a 12-month leave-of-absence from the industry's service delivery company, accepting a role as group manager – beef production systems innovation with Teys Australia.
Over the next year he will be utilising his skills in meat science and carcase and live animal assessment working with Teys on developing a progressive approach to valuing beef and sheep meat in the red meat production supply chain.
Dr Ball will play a key role in Teys' Value Based Marketing and Eating Quality based branding strategies which are key components of the company's 2015 Strategic Plan. In addition, he will help adapt Teys information systems and key new technologies to better meet the needs of our key customers and suppliers.
Dr Ball has been at the forefront of MLA's work into genetic improvement, the Sheep CRC and objective carcase measurement. He will continue to be involved in some MLA activities during the next 12 months, working on a case-by-case basis. This will include continuing some involvement with the beef language white paper and OCM. He plans to return next year to a senior innovation role within the industry service delivery company.
Dr Ball's former role as general manager, Livestock Productivity has been filled by Dr Jane Weatherley, who has spent the past three years as MLA's manager for R&D communication and extension.
Dr Weatherley has spent the past 18 years working in agriculture R&D, particularly in areas of understanding commercial drivers through the supply chain. She previous served as MLA's research adoption manager for five years from 2006, and three years as a red meat extension officer with the Tasmanian Government. She takes up her new post on 1 April.
In other MLA appointments, the industry service delivery company has appointed Mary Johnson as its new Communications Manager – Stakeholder Engagement.
Ms Johnson has served most recently as Communication & Stakeholder Relations officer with Cattle Council of Australia. She starts in her new role at MLA North Sydney head office in early March.
Young Tasmanian meat processor earns ARLP position
The Australian Meat Processor Corporation has invested in capable meat industry leaders through the Australian Rural Leadership Program for many years, and the 2015 recipient of the scholarship is young Tasmanian, James Lord.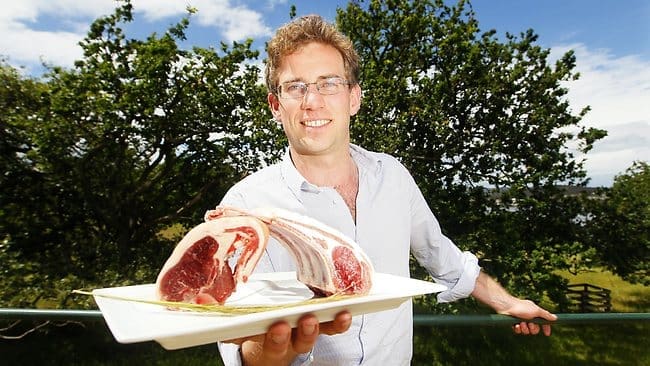 Mr Lord, pictured, is owner/director of the Huon Valley Meat Co, in southern Tasmania. He is an eighth generation Tasmanian who has operated the small processing and wholesaling facility south of Hobart since 2011.
Huon Valley Meat Co has forged strong relationships with dedicated producers and Mr Lord has successfully developed his business to focus particularly on the supply of niche premium beef products to customers across Australia.
"Participating in the ARLP will provide a great opportunity in developing my leadership skills and will give me the opportunity to collaborate with industry leaders to share best practice and maximise the opportunities for rural Australia and the red meat processing industry," he said this week.
The ARLP was established in 1992 to respond to emerging challenges for rural, regional and remote Australia. It exists to create a network of leaders with compassion and commitment, strategic thinking and negotiation skills, and the foresight to influence communities, industries and policy-makers into the future.
AMPC is interested in discussing the ARLP scholarship with interested future participants. Contact Justin Roach on (02) 8908 5500 or j.roach@ampc.com.au
Beef connection for new RACQ president
Chief executive of the North Australian Pastoral Co, Nigel Alexander, was recently elected as the new president of the Royal Automobile Club of Queensland (RACQ).

He has sat on the RACQ board for the past 15 years, continuing a strong tradition of beef industry connection with the club's board. Stockyard chairman Robin Hart spent ten years or more on the RACQ Board, and western Queensland beef and sheep producer Richard Pietsch was president for several terms until 2010.
RACQ this year celebrates its 110th year, and in an article in the club magazine, The Road Ahead, Mr Alexander drew parallels between NAPCo and the RACQ. He saw both as long-standing Queensland icons (NAPCo was founded in 1877, 30 years before RACQ), focussed on ensuring that they are around for the long-term.
New Charolais role for ABRI staffer
Former stud manager and long-standing Australian Business Research Institute staffmember, Colin Rex, has been appointed breed development manager for the Charolais Society of Australia.
During 12 years at ABRI he has managed a range of livestock breeds for members, including Red Angus, Brangus, Red Poll and Highland cattle, as well as Dorper sheep.
Earlier he spent six years as stud manager at Airlie Charolais near Bowral, during which time he encouraged the business to become a lot more mobile and visual in its marketing strategy.
His new role at the Charolais Society will involve increasing the Charolais brand and investigating opportunities to develop the breed. He takes up his new position next month.
New GM for processor labour resourcing group
Nathan Buckley has been appointed general manager of the meat processing division of specialist labour hire firm AWX Agri.
He previously worked as manager of AWX's Meat Inspectors Pty Ltd, the company's specialist independent third party meat inspection arm.
Mr Buckley earlier spent seven years working within the MSA program, including some years as national operations manager. He started in one of the first intakes of MSA carcase graders.
"MSA was an integral part of my career development, in particular providing exposure to all elements of beef processing and the supply chain," he said.
Inglis group expands into rural property
William Inglis and Son Ltd, best known for its Bloodstock marketing interests, is moving into rural property marketing. The company has recently appointed Sam Triggs as its rural property sales manager.
William Inglis and Son Ltd has held a long association with rural Australia via its Camden Livestock selling centre and its position as Australia's leading Bloodstock Sales and Auctioneering business through Newmarket in Sydney and Oaklands in Melbourne.
The 148-year-old company saw it as a 'logical step' to take a stronger position in the rural and agri-business asset transaction and sales market. The existing bloodstock business has an extensive range of international clients from the Middle East, Europe, North America, Asia and South Africa and all across Australia, which will provide a strong prospective buyer audience.
Mr Triggs was previously rural property sales manager with Meares and Associates, Sydney. He will work alongside experienced livestock and property agent and Inglis director Jamie Inglis.
Inglis plans to focus its rural property business on broadacre rural and bloodstock properties along with select high-quality 'rural lifestyle' assets on the eastern seaboard.
Livestock manager appointment at Geraldton
Experienced stock agent and cattle buyer Brad Roe has been appointed livestock manager with Geraldton Meat Exports in WA.
He previously worked as live export manager with Primaries of WA and was Elders livestock sales manager in Tasmania. Earlier still he spent five years as cattle buyer with BE Campbell in Sydney and ran his own agency business for 13 years in Penola, SA.
LRTAQ president returned for another term
Livestock and Rural Transporters Association of Queensland president David Scott has been returned for another term as the organisation's head.
There was a strong attendance of members at LRTAQ's  annual conference held last week on Moreton Island, near Brisbane. An industry forum held as part of the program devised an Industry Action Plan which will guide the association's activities for the next 12 months.
Mr Scott owns and operates Scotts Haulage out of Roma, in the state's Maranoa district.
McDonald's annoints new global head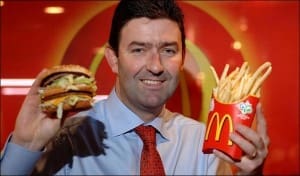 McDonald's global chief executive officer Don Thompson officially stepped down from his role on Saturday, after just two-and-half years in the chair.
Steve Easterbrook, (pictured), previously the company's corporate senior executive vice president and global chief brand officer, takes over. Mercifully, he also gets to shorten his job title.
The McDonald's Corp annual report filed this week gives a glimpse into some of the reasons for Mr Thompson's departure, and the challenges that await Mr Easterbrook. McDonald's is losing sales, customers and market share globally.
Global systemwide sales last year  were $87.8 billion, down 2pc on the year before. But the sales slide may not be the worst problem. McDonald's saw global guest counts decline 3.6pc, meaning it is leaking customers more than dollars.
NFF rural affairs manager moves on
The National Farmers Federation recently said goodbye to rural affairs manager, Dave McKeon, as he left the peak farm body to serve as GrainGrowers general manager of policy and advocacy.
He joined the NFF in March 2012 as manager of rural affairs. His portfolio at the NFF included R&D, drought policy, telecommunications, transport, farm chemicals and food policy.
Over the past three years, he played a key role in bringing farmers' voices to Capital Hill.
Most recently, Dave led the sector's defence of the agricultural levy system.  He developed long-term drought policy principles and successfully guided the farm chemicals legislation through the Senate.
Send your significant industry personnel movements, milestones or achievements for inclusion in this occasional column to: cath@beefcentral.com