Beef Central publishes an occasional summary of appointments, departures and achievements occurring across the red meat and livestock supply chain. Send details for entries to admin@beefcentral.com
Hancock, NAPCo appoint new station managers
Woolies meat head moves on
New southern Qld/NSW cattle buyer for Mort & Co
Inspector-General to oversee live animal exports regulation
New Inspector-General of biosecurity appointed
AMIC appoints new policy manager
Tully student earns Agribusiness Australia scholarship
Opportunity excites new Heritage Seeds sales manager
RIC board appoints Bruce King as CEO
AMPC director named NSW Business Woman of the Year
New CEO for Global Compliance
Hancock, NAPCo appoint new station managers
Tim Milne, who previously managed North Australian Pastoral Co's Alexandria Station, has taken up a new appointment with Hancock Prospecting as manager of the group's Inverway and Riveren Stations aggregation in the Northern Territory's Victoria River District.
Mr Milne managed Alexandra since 2015, after shifting from AA Co.
Promoted in his place by NAPCo to fill the manager's position at Alexandria is Steve Drury, who with his wife Kate has recently managed NAPCo's Landsborough station lease, near Nebo. He has worked for NAPCo for the past 12 years or more.
Covering some 1.6 million hectares across the NT's Barkly region, Alexandra typically runs about 80,000 adult equivalents depending on season, but this year, like much of the Barkly region it is under considerable drought pressure.
It's anticipated that Hancock will make further operations management appointments known in the company's Wagyu division after Easter.
Woolies meat head moves on
The head of Woolworths Group's meat business, Chris Croese, is moving on to a new role with poultry industry heavyweight, Inghams. Woolworths is yet to announce a replacement for Mr Croese in the head of meat role.
New southern Qld/NSW cattle buyer for Mort & Co
Experienced stock agent and cattle buyer Bill Burton has joined Mort & Co as a cattle buyer, servicing the southern Queensland and NSW region.
Mr Burton spent 25 years in the livestock agency industry, starting in 1987 with the old Primac company before later becoming a founding partner in Dalby based private agency, Eastern Rural.
More recently he worked as Western Qld based cattle buyer for NH Foods, purchasing feeder and slaughter cattle for the company's plants at Oakey and Mackay. Following this he took a cattle buying/logistical role for a specialised Wagyu supply focused live exporter/feeder. Throughout his career he has built close links with many cattle producers and has worked closely with the feedlot industry. He owned cattle properties on the Darling Downs before venturing west to settle at Saltern Creek, Barcaldine. He will operate out of the new Mort & Co head office in Toowoomba. Bill can be contacted on 0436 808 480.
Independent Inspector-General to oversee live animal exports regulation
Ross Carter has started in his interim role as Australia's Inspector-General of Live Animal Exports (IIGLAE), to provide independent oversight of the regulator.
Agriculture minister David Littleproud said Mr Carter's appointment would bring impartiality and extensive experience to the role.
Mr Carter is well-placed to oversee live animal export regulation, having some 20 years' experience in regulatory practice, public administration and related academic studies. In his new role he will audit and review the systems and processes that underpin the department's regulation of livestock exports.
Establishing the IIGLAE and the appointment of an Inspector General was a recommendation of the recent Moss Review.
"This oversight will improve confidence for our farmers, industry and the community in the regulation of livestock exports," Mr Littleproud said.
Mr Carter has been engaged to fill the role of IIGLAE for 12 months, pending completion of legislation to establish the statutory appointment. A full merit-based selection process involving a selection committee and advertisement in the national press and online was used to fill the role.
New Inspector-General of biosecurity
In a similar appointment, agriculture minister David Littleproud also recently announced the appointment of Rob Delane as Australia's next Inspector-General of Biosecurity.
The IGB helps keep Australia safe from exotic pests and diseases through independent evaluation and verification of the nation's biosecurity system.
"The Inspector General of Biosecurity provides a valuable independent perspective, assessing and improving how Australia's biosecurity is managed," Minister Littleproud said.
"Increased passenger movement and trade means more biosecurity risks and challenges, so it is important to review our systems to make sure they are effective."
Mr Delane has been appointed as IGB for a three year term, replacing current inspector general Dr Helen Scott-Orr in July. He is well qualified for the role, having 40 years' experience in science-based work, including biosecurity programs across animal and plant industries.
"We need a strong biosecurity system to protect our farms, our $60 billion farm industry, our environment and our way of life, which could all be threatened by pests and diseases," Mr Littleproud said.
New policy manager for AMIC
The Australian Meat Industry Council recently appointed Mike Darby as its new policy manager.
Holding a degree in agricultural science and a masters in industry policy, Mr Darby brings a wealth of domestic and international experience to the role in agriculture, trade and energy. He has delivered projects for Meat & Livestock Australia, Australian Pork Ltd, NSW Agriculture, NSW Farmers Association, Cattle Council of Australia, as well as the Californian Department of Food and Agriculture.
Mr Darby has authored numerous articles for World Perspectives Inc, a Washington DC based think-tank engaged in global agricultural policy discussions. He also spent more than a decade providing research, trade policy analysis and reporting support to the US Department of Agriculture's Foreign Agricultural Service.
He will be responsible for the research and development of policies and advocacy positions on issues that affect processors, particularly matters related to the post farm gate supply-chain that impact on the profitability and sustainability of AMIC members. He will operate from AMIC's Canberra office.
Tully student earns Agribusiness Australia scholarship
A TULLY North Queensland secondary school student passionate about the agriculture industry was recently awarded a prestigious agribusiness scholarship.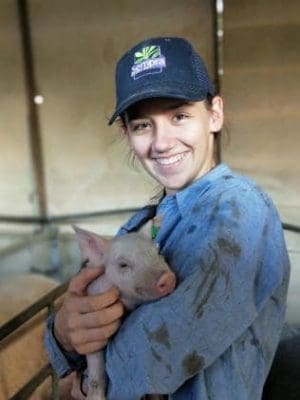 Claire Lowe was recently awarded the Agribusiness Australia Scholarship to help further her university studies next year. She will use the $3000 scholarship to support her dual degree of agribusiness and sustainable agriculture, which she intends to study at the University of Queensland, Gatton Campus.
"Combined with my passion of agriculture, I aim to use this degree to eventually return to the Far North and start an agricultural consultancy business of my own. I also hope to encourage more women to become involved in the agriculture industry," Claire said.
Queensland Agriculture Workforce Network Far North Queensland Manager Leanne Kruss said Miss Lowe's win was a testament to her dedication to a career in agriculture.
"I'm also equally thrilled for Warren Giffin, agricultural co-ordinator at Tully High School, who is so dedicated to keeping his students at the forefront of what is happening within industry, and continuously leads the way in showcasing the high achieving students of Northern Australia on a national level," she said.
New chair for Food Safety Information Council
The Food Safety Information Council has appointed Cathy Moir is the body's new chair, replacing retiring chair Rachelle Williams.
A food microbiologist and group leader with CSIRO Agriculture and Food, Ms Moir is a long-term member of the Council and was previously deputy chair. Through her various roles at CSIRO and Food Science Australia, she has developed extensive knowledge of and expertise in the microbiology of a wide range of foods and food processes.  She provides expert professional services and advice to assist industry and government with matters relating to food safety hazard identification and characterisation, risk assessment and management of the microbiological safety and stability of food.  She is also actively involved with the Australian Institute of Food Science and Technology.
Opportunity excites new Heritage Seeds sales manager
Heritage Seeds has appointed Toby Brown as the company's new National Sales Manager.
Mr Brown has had 25 years' experience across the agricultural chemical, machinery and wool sectors, and said he was excited about the new opportunities presented within the pasture seeds and fodder crop industry.
He worked with Fox & Lillie in the wool industry before starting with Nufarm in its Croplands Equipment business as a territory manager for Victoria and Tasmania during a time when self-propelled sprayers were being introduced.
He rose through the ranks at Nufarm in marketing and other roles and was Country Manager in the UK for three years after managing the company's commercial business in Africa and the Middle East, together with its non-crop business in Europe, based from Germany.
More recently, Mr Brown worked in the company's industrial sales and its partnership with Farmers Edge, which provides precision digital solutions to help guide farm management decisions.
He said the scheduled opening of Heritage Seeds' new $15 million world-class facility at Toowoomba in Queensland later this year was a positive development and testament to the ongoing investment by the Barenbrug Group in Australian agriculture over the last three decades.
He said expansion of the northern Australian agricultural industry, including intensifying irrigation across northern Australia, was another exciting future opportunity.
RIC board appoints Bruce King as CEO
The Regional Investment Corporation board recently appointed Bruce King as the body's inaugural chief executive.
Mr King comes with over 15 years' experience in agribusiness and finance. He's held senior positions at Rabobank in Australia and New York, and more recently has been an investment manager specialising in water and agricultural enterprises, as well as running his own agribusiness consulting business since 2017. His early career was in grain trading.
Mr King lives on a property near Orange with his wife and young family.
Announcing Mr King's appointment, RIC chair David Foster said Mr King has the credentials and broad experience for the job, and importantly a genuine understanding of the agriculture sector.
"Mr King has a deep understanding of Australian agricultural production systems and the investment decisions required to underpin their long term success."
The Regional Investment Corporation's focuses is unlocking the full potential of Australia's regions, providing smart finance options for farmers in need, and state and territory governments for transformative water infrastructure projects. Its concessional farm business loans provide breathing space for farmers hit by events outside their control but they also present an opportunity to modernise, diversify and head in a new direction. Loans are designed to encourage growth, investment and resilience in Australia's regional communities.
AMPC director named NSW Business Woman of the Year
Australian Meat Processor Corporation boardmember Leanne Heywood was recently named NSW Business Woman of the Year for 2019.  The Award, which recognises and celebrates the outstanding contribution made by women across NSW to industry, communities and society, was presented last month on the eve of International Women's Day. Described as an inspirational leader, Ms Heywood has served on the AMPC board as a special qualifications director, and continues to make an outstanding contribution to the processing industry.
New CEO for Global Compliance
Livestock export industry service provider Global Compliance has appointed Cristina de Leon as its new chief executive. Global Compliance is an independent third-party service provider delivering control and traceability services to Australia's livestock exporters, ensuring that they comply with their Export Supply Chain Assurance System responsibilities.
Global Compliance underpins the model known as CSAW (Collective Standards Animal Welfare) in the Vietnamese live export market and monitors 80pc of Australian cattle sent to this growing market. CSAW has created a higher level of transparency and accountability that has strengthened the supply chains that are involved.
Send your significant industry personnel movements, milestones or achievements for inclusion in this occasional column to: cath@beefcentral.com