Beef Central publishes an occasional summary of appointments, departures and achievements occurring across the red meat and livestock supply chain. Send details for entries to admin@beefcentral.com
CSU students get valuable immersion in Macca's supply chain
Changing of the guard at ARCBA secretariat
Gundagai CEO receives business leader award
KPMG agribusiness role for young industry leader
Red meat research earns science and innovation award
New president for Santa Gertrudis breeders
Young Angus breeder returns from US scholarship
CSIRO strengthens board with high-profile appointment
New advisory council steps forward for young farmers
CSU students get valuable immersion in Macca's supply chain
Two young Charles Sturt University students have recently undertaken an immersion in the McDonald's restaurant operations, learning valuable business and supply chain lessons about large integrated food industry networks.
The process will be repeated next year, with applications soon to open for two additional paid internship placements for CSU undergrad students who have a focus on agriculture, for 2019.
The two CSU students who recently completed the inaugural internship program are Will Atkinson and Macky Lawrence, both studying for their Bachelor of Agricultural Science degrees at CSU Wagga.
During their placement, they spent time working at Keystone Foods (global burger pattie supplier to the McDonalds restaurant network in Australia, and overseas); with cattle producers; and in McDonalds supply chain department, learning how the company does business. Will also spent time in McDonald's marketing and corporate relations department, and had face-to-face time with the company's Australian chief executive.
"Macca's is so much more than burgers and fries," Will said. "Their footprint in the Aussie agriculture sector is enormous, and it's great that they're committed to helping set us up for a career in the industry. The program helped me learn so much about the real-world business of agriculture," he said.
$15,000 for 12-week placement
As part of its investment in the Australian agricultural industry, McDonald's will repeat the program with CSU next year, with two paid internships each worth $15,000 for a 12-week placement within the business soon to open for candidates. The program is designed to give each student a bespoke experience that enables them to gain relevant, practical, on-the-job skills.
McDonald's Australia supply chain director, Robert Sexton, said as partners in the Young Farmers program, the company was committed to teaming-up and using its scale to help give young people an opportunity to develop their skills and kick-off a career in the Australian ag industry.
CSU executive dean of science, Prof Lyn Angel said workplace learning was a key component to studying at CSU.
"Coupling this experience with financial support for the students over a 12-week period enables the students to fully focus on their placements without the added stress of funding the cost of living for that time. Partnering for the benefit of students, industry and the sector is key to universities driving our future workforce in relevant and engaging ways," she said.
Applications for the 2019 Macca's and CSU Young Farmers Program will open in November.
Changing of the guard at ARCBA secretariat
The Australian Registered Cattle Breeders Association's executive director  Steve Skinner retired at the body's recent AGM in Brisbane, ending nine years of professional service.
Replacing Mr Skinner in the part-time role as executive director is Alex McDonald. Mr McDonald is one of the most experienced and highly-regarded professionals in the beef breeding industry. He started his career as a beef adviser in the Victorian Department of Agriculture before being seconded to ABRI as the National Coordinator of field operations for BreedPlan.  From there he was appointed as CEO of the Limousin Association where he spent 22 years.
In this period he also furthered his work in carcase quality and more recently in genomics and performed a mentoring role in Southern Beef Technology Services. At the end of his appointment he took on a two-year assignment as managing director of ABRI and has represented ARCBA on the Cattle Council of Australia, Animal Health, Welfare and Biosecurity advisory committee for the last six years.
The culmination of this work saw Mr McDonald receive ARCBA's prestigious RW Vincent award for outstanding services to the cattle breeding industry.  More recently he has taken the part-time role as genetics editor for Beef Central.
Gundagai CEO receives business leader award
Gundagai Meat Processors chief executive officer Will Barton won the Outstanding Business Leader award at the recent 2018 Murray-Riverina Regional Business Awards.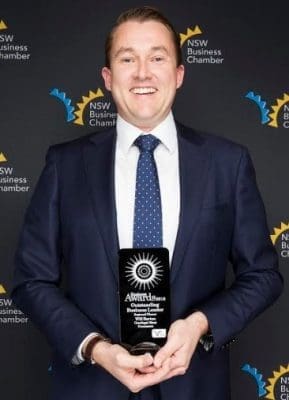 Mr Barton received the award for his role in spearheading the GMP business to a world-class level and the positive impact that has had on the local community, particularly in the area of employment.
The Gundagai plat's recent $30 million state-of-the-art expansion was also recognised in the Excellence in Innovation category as a finalist.
Mr Barton, pictured, will now progress to the NSW state final, being held on 23 November.
He said it was an honour for the company's team to be recognised.
"Our team have been working hard to make GMP a world-leading business in our industry," he said.
Through the adoption of new technology and automation including the complete automation of the plant's carcase chiller and sortation system, GMP has been able to grow its workforce and increase production capacity by 70 percent, as well as gaining organic certification and accreditation to export to the US.
"All of which means significant benefits for our employees, producers, clients and community," Mr Barton said.
Gundagai Meat Processors is owned by the Barton Group. The Barton family have been associated with Gundagai's meat industry for almost 100 years, spanning three generations. The business remains family owned and operated, with Will Barton now managing the day-to-day operations. Operating exclusively on a fee-for-service basis, GMP processes from a state-of-the-art Tier 2 Export Certified processing facility.
KPMG role for young industry leader
High profile young ag industry stakeholder Georgie Aley has taken up a new role with national financial firm KPMG's agribusiness team.
Ms Aley has worked in senior management and non-executive director roles within the Australian food and agribusiness sector for the past ten years. Most recently she was the chief executive of the Australian Institute of Food Science and Technology – Australia's independent voice and network for food industry professionals.
Prior to that she was managing director of the Grains & Legumes Nutrition Council and currently serves as a Director of Pulse Australia, Agribusiness Australia and Workforce Consulting.
In 2013, Georgie was peer-nominated as the inaugural recipient of the Rabobank emerging agribusiness leader of the year award. In 2014 she was recognised in the Inaugural 100 Women in Australian Agribusiness, and in the same year he Australian Financial Review named her one of Australia's 100 Women of Influence for 2014.
"Georgie brings some great skills to KPMG in strategy, organisational and industry restructure and turnaround, as well as a strong background in policy, corporate affairs and government relations," said KPMG's national lead partner for agribusiness, Robert Poole.
New president for Santa Gertrudis breeders
Third generation Queensland stud breeder David Greenup was recently elected president of Santa Gertrudis Breeders Australia Association.
Mr Greenup, from Rosevale Santa Stud near Jandowae, took over the breed society's reins from Scott Ferguson, Glenn Oaks Santa Stud, Nobby, who served as president for three years.
He follows his father Grahame (1992-93) and grandfather George (1971-73 into the president's role.
Red meat research earns science and innovation award
Murdoch University PhD student Maddison Corlett recently received acknowledgement for her red meat research work at the 2018 Science and Innovation Awards hosted by the Department of Agriculture and Water Resources.
Maddison's award, presented by the Australian Meat Processors Corporation, acknowledged her project which sets out to determine the ideal oxygen concentration in modified atmosphere packing (MAP) used in the retail sector to maintain the red colour consumers prefer when buying red meat. She is working with a consumer taste-testing panel to gather information on tenderness, juiciness, flavour and overall eating quality, using different combinations of MAP gasses.
"The meat processing industry has invested heavily in MAP technology, so we are testing whether decreasing the oxygen content within the packaging will improve the taste and tenderness of red meat, while still maintaining the cherry red colour that consumers prefer," Maddison said.
"I hope the research findings will greatly benefit the industry and can be widely adopted."
The DAWR's Science and Innovation Awards are designed to encourage young scientists, researchers and innovators with original projects that aim to keep Australia's rural industries sustainable and profitable.
Young Angus breeder returns from US scholarship
Young Angus breed supporter Samantha Neumann recently returned from a six-month scholarship to Kansas State University in the US. Sponsored by the Angus Australia Foundation and Semex, the $10,000 annual scholarship provides an Angus Australia member with the opportunity to study at Kansas State U for a semester.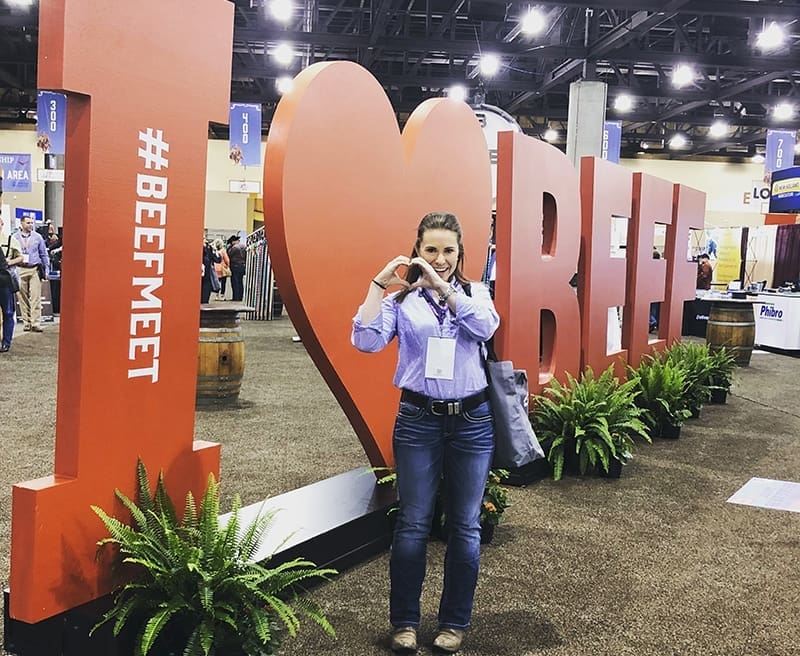 Samantha, who is employed by Elders as the e-commerce coordinator in the company's national livestock team based in Adelaide, returned from her trip in August.
"What an incredible six months I have had – I still pinch myself to see if it was real," Samantha said.
She spent the first four months studying during the spring semester at KSU, where classes included ruminant nutrition, beef science, principles of feeding, reproduction, cow-calf health, livestock & meat evaluation, livestock sales management and beef systems management.
Samantha travelled with the KSU Collegiate Cattlemen's Club to the National Cattlemens Beef Association Conference in Arizona and also took part in their spring tour through southern Kansas and into Oklahoma, visiting DewEze and Sooner Land and Livestock. Mid way through the semester, she went on Spring Break to Montana, travelling through the state with classmates from KSU to their homes and ranches, including the Vermillion Angus Ranch sale, which sells more than 500 bulls each year
"I capitalised on any time that I was not in class," Samantha said.
"I fed cattle in four feet of snow in Montana, moved cows on horseback in Texas – where the 52 inch rainfall means reduced nutritional content of the pastures. I inducted cattle into Kansas seed stock operations, tagging, vaccinating, drenching, tattooing and tail bleeding all for the first time. I was lucky enough to spend three precious days shadowing Dr Tom Noffsinger, a vet dedicated to improving animal welfare through low stress handling," she said.
The Kansas State scholarship is open to young beef cattle enthusiasts who are members of Angus Australia wanting to increase their knowledge of all facets of the beef industry.
CSIRO strengthens board with high-profile appointment
Engineer and experienced senior executive, Kathryn Fagg, has been appointed to the board of CSIRO for a five-year term.
The president of the Chief Executive Women organisation, Ms Fagg replaces outgoing board member Hutch Ranck.
Industry, Science and Technology minister Karen Andrews said Ms Fagg's background in engineering, combined with her executive skills and wide business experience, made her an excellent choice.
Ms Fagg has held senior executive roles in logistics, manufacturing, resources, banking and professional services, including with Linfox, BlueScope Steel and ANZ. She is the chair of Boral and a director of Incitec Pivot, Djerriwarrh Investments and Note Printing Australia. She was formerly a Reserve Bank board member.
New advisory council steps forward for young farmers
A dynamic and multi-talented group of young Victorian agricultural leaders met for the first time recently as the state's latest Young Farmers Advisory Council.
State minister for agriculture Jaala Pulford addressed the eight-member council on the importance of engaging with young farmers across regional Victoria, as well as continuing discussions on dry conditions in East and Central Gippsland and what support may be needed.
The Council includes regionally-diverse representatives with a wide range of skills and expertise as leaders in the livestock and horticulture industries, community advocacy, workforce development and wellbeing.
Four new members have been selected for the Young Farmer Advisory Council including Dustin Kemp, from Rochester; Sarah McLean, Purnim; Jennifer Zappia, Mildura; and Alastair Tame, Strathbogie.
Two returning members, Sarah Thompson and Tom McGrath, have been reappointed to the Council. They will be joined by Pete Burgess from the Young Agribusiness Professionals and Jess Pilgrim from the Victorian Young Farmers Network.
The Council will provide advice to the Victorian Government on issues affecting young farmers and delivery of programs to support young people in agriculture.