Beef Central publishes an occasional summary of appointments, departures and achievements occurring across the red meat and livestock supply chain. Send details for entries to admin@beefcentral.com
Australian heads OIE World Assembly
EU FTA committee role for Jason Strong
New southern Asia regional marketing manager for MLA
Geneticist receives RW Vincent award
Beef Achiever accolade for successful organic beef producer
ACCC appoints Mick Keogh deputy chair
JBS appoints head of ethics and compliance
Regional Investment Corp role for leading cattle breeder
MSA's new Producer Engagement Officer
Mungallala student announced as Gus McGown bursary winner
Australian heads OIE World Assembly
Australia's chief veterinary officer, Dr Mark Schipp, has been elected as the new president of the World Organisation for Animal Health (OIE) World Assembly.
The announcement was made last week at the OIE's annual meeting in Paris. The OIE is instrumental in developing worldwide animal health and welfare standards that inform the international guidelines of the safe trade of animals across 182 OIE member countries, including Australia.
The OIE was founded in 1924. Its objective is to improve animal health and welfare worldwide and one of its key missions is to ensure transparency of the global animal health situation including zoonoses (diseases that transfer easily from animals to humans).
The peak body for veterinarians, the Australian Veterinary Association, welcomed Dr Schipp's election. AVA president, Dr Paula Parker, said Dr Schipp was an outstanding leader of the veterinary profession, highly regarded and well-renowned for his work in promoting One Health.
"The AVA is thrilled to see Dr Schipp elected to this prestigious role. We know that the OIE will be well-served by his effective and strategic leadership during his term as president over the coming three years," Dr Parker said.
EU FTA committee role for Jason Strong
Well-known industry stakeholder Jason Strong will chair a red meat industry committee in upcoming negotiations with the European Union over the establishment of a Free Trade Agreement with Australia.
Mr Strong is well versed with the political and meat trading environment in the EU, having spent two years in Brussels as MLA's European regional manager, before joining AA Co in 2012. He resigned as AA Co CEO last August, before taking on a new role as chief executive of Smithfield Cattle Co in February.
Last week, the EU announced the commencement of negotiations on a landmark Free Trade Agreement with Australia. The EU has also announced a similar negotiation with NZ, which will be negotiated simultaneously.
EU Trade Commissioner Cecelia Malmström will visit Australia next month to formally launch negotiations. The Australian Meat Industry Council said the red meat industry will be looking for an 'ambitious and comprehensive' agreement that includes significantly greater access for beef, sheepmeat and goat meat.
While being tightly controlled by import quotas for almost 40 years, the EU market has consistently been the highest value market for Australia's beef. Australia and the EU share a commitment to the rules-based global trading system and to open markets.
Mr Strong will chair a committee responsible for the meat industry position in the negotiations. It's anticipated that there will be strong opposition to any increase in current quota levels from the EU farm groups, especially given that the NZ FTA will be negotiated at the same time.
New southern Asia regional manager for MLA
Meat & Livestock Australia has appointed Ellen Rodgers to the role of International Business Manager for the Southern Asia region. She replaces Andrew Simpson, who readers may remember left MLA's employ recently to take up a new role back in Australia – a senior sales position with Bindaree Beef.
Ms Rogers will be based in Singapore – a location she already knows well, having spent the past three years there as regional marketing manager for Treasury Wines. She has ten years' experience in sales and marketing roles within the wine industry, with Yalumba and Treasury Wines. With experience in delivery of branded marketing campaigns and events through the region, and a strong knowledge of the retail and foodservice distribution network, Ms Rodgers was a strong addition to the MLA international business team, MLA managing director Richard Norton said.
She had her first real taste of the beef industry attending Beef 2018 in Rockhampton earlier this month.
Popular geneticist receives RW Vincent award
Respected genetics consultant Don Nicol received the prestigious RW Vincent award for services to the genetics and seedstock industry during a presentation at beef 2018 in Rockhampton earlier this month.
Mr Nicol has had a long and distinguished career in the Australian beef industry, as well as working for lengthy periods in genetics and breeding projects overseas.
Born in Scotland and still retaining a faint touch of brogue, Mr Nicol managed a 16,000ha cattle ranch in Venezuela for four years after leaving Scotland in 1969, owned by Vestey Group.
For a decade after arriving in Australian in 1974, he worked as a senior beef cattle husbandry adviser with the Queensland Department of Primary Industries, based in Bundaberg. From 1984 to 1986 he was national coordinator of the National Beef Recording Scheme, supervising the launch of BreedPlan in all Australian states. In 1986 Mr Nicol established his Breedlink a beef cattle breeding management consultancy and technology transfer business, based firstly in Armidale, and later Brisbane, with clients in the beef cattle breeding, backgrounding and finishing sectors.
For a decade from 1986, he acted as technical consultant to the Angus Society of Australia, a leading beef cattle society with advanced genetic evaluation systems, developing field recording systems and educational programs for 800 members, and pioneering a joint Trans-Tasman genetic evaluation with New Zealand Angus. He also pioneered carcase evaluation and Days-to-Calving EBV systems of genetic evaluation during this period. He received life membership of the Angus Society of Australia in 1997 for excellent service as Breed Development Consultant over the previous ten years.
Mr Nicol also consulted widely to the private sector, including ten years from 1987 with the Australian Agricultural Co, advising over the company's Brahman & Santa Gertrudis seedstock herds; importation of Senepol genetics & Bonsmara semen for development of two new tropical composite breeds for the Barkly Tablelands and Gulf; and development of the first herd of Senepol cattle in Australia. He later joined AA Co as a full time employee in 1996 as divisional manager, Value Adding Systems, directing genetic programs, R&D, lotfeeding, and herd management.
From around 1997 he extended his consultancy work into the emerging Wagyu industry, working with leading edge groups like Westholme, and more recently, Stone Axe Pastoral. He became a member of the Beef Marketing Intelligence Service Advisory Committee of MLA, and of the MLA Consultative Group to the Animal Genetics and Breeding Unit; and the management committee for MLA's Beef Genetics Extension Team.
Mr Nicol today works with leading-edge seedstock producers like Nindooinbah at Beaudesert, and the Australian Registered Cattle Breeders Association.
He continues to wage a campaign lobbying for greater access for Australian genetic material exports.
Beef Achiever of the Year reflects OBE ethos of doing good
Also during Beef 2018 in Rockhampton, organic beef supply chain manager, Dalene Wray, was named Rabobank/Queensland Country Life 2018 Beef Achiever of the Year.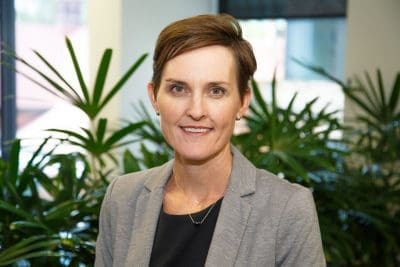 The chief executive of OBE Organic Beef, Ms Wray received the award for her work on boards and collaborative projects that benefit the Australian beef industry and her dedication to the organic beef sector of the industry.
The award recognises her work to make a sustained contribution to the Australian beef industry, although Dalene is the first to say her work is supported by two big advantages.
First, she acknowledged her 'fabulous team' at OBE Organic. And second, she said she was simply following the OBE Organic tradition of wanting to make a positive impact for farmers everywhere.
"Just as everyone in the bush knows they need to help out past their farm gate if they want to build a better community, for over 20 years OBE has known it needs to think past its short-term interests if it wants to build a better industry," she said.
Recognition of Dalene's achievements over the past 12 months included contributing time to Boards and groups that support the beef industry, including the DFAT Council for Australian Arab Relations; Telstra Queensland Regional Advisory Committee; Department of Agriculture and Water Resources Australian Government Farm Cooperation and Collaboration Pilot Program Industry Advisory Group; the Australian Meat Industry Council's Industry Reference Committee for Advocacy & Communications; the Australian Government Organic Industry Roundtable; and the Australian Organic Industry Working Group.
During the past year OBE also implemented one of the beef industry's first sustainability programs, FLOURISH, and initiating projects which include the Feedback Loop project, co-funded by MLA Donor Company, to use slaughter data to help producers improve animal health and productivity. OBE was also one of the first agribusinesses in Australia to initiate a Reconciliation Action Plan; and has partnered with organisations like Grazing BMP, NRM Spatial Hub and Livestock Biosecurity Network to help all organic – and in most cases all conventional – beef producers improve profitability.
ACCC appoints Mick Keogh deputy chair
ACCC Chairman Rod Sims recently announced that current ACCC Commissioner Mick Keogh has been appointed Deputy Chair of the consumer watchdog from the end of May for a period of five years. Mr Keogh will oversee the ACCC's small business work in addition to his current role leading its agriculture work.
"Mick's vast experience working with small businesses in the agriculture sector will greatly assist him in his new role as deputy chair, working with small business right across the economy," Mr Sims said.
The announcement came as the ACCC prepares to farewell current deputy chair Dr Michael Schaper tomorrow, May 30.
JBS appoints head of ethics and compliance
JBS's US beef division, which includes operations in Australia, has appointed Lance Kotschwar to lead its ethics and compliance department.
Mr Kotschwar will join the JBS USA leadership team, reporting directly to president and chief executive André Nogueira. He will oversee the company's global compliance policies and programs, including the code of conduct, whistleblower hotline, global anti-corruption policies, antitrust and competition law, trade compliance and conflict of interest policies.
Mr Kotschwar has spent a decade in agriculture, implementing and managing compliance programs and regulatory issues, as well as nearly two decades of US Federal legislative and regulatory experience with the US Department of Agriculture.
"The appointment reinforces our long-standing commitment to conduct our business in an ethical, responsible manner,"​ Mr Nogueira said. "Lance is an expert in agricultural regulatory policy and compliance and has extensive experience with the laws that govern the rules of conduct for our business today. We are honoured to add a professional of his calibre to our leadership team."​
In his new role, Mr Kotschwar will work with the JBS USA Independent Advisory Board, which feeds into the executive leadership on corporate governance, government and regulatory affairs, commodity risk management and marketing.
Regional Investment Corp role for leading stud breeder
Prominent agri-businesswoman Prue Bondfield has been appointed as a member of the Board of the Regional Investment Corporation.
As general manager and director of Palgrove, a stud stock business with properties in Queensland and New South Wales, Ms Bondfield has gained significant agribusiness and farming expertise. She has a background in law and has demonstrated strong corporate governance skills, developed through professional training, her own business enterprise and various other industry roles.
She has held recent positions as the chair of the Beef Industry Sustainability Framework steering committee, a director of the State Management Council for the NSW Livestock Health and Pest Authorities, and has been a director of the Beef Improvement Association. The appointment of Ms Bondfield will enhance the capacity and capability of the current board to deliver for rural and regional Australia, an RIC statement said.
The Regional Investment Corporation (RIC) will commence operations from 1 July, administering the Coalition Government's $2 billion farm business concessional loans program and the $2 billion National Water Infrastructure Loan Facility. Consolidating the delivery of the farm business concessional loans under the RIC will streamline the process for farmers and ensure national consistency in decision-making.
Mungallala student announced as Gus McGown bursary winner
Queensland state farm organisation AgForce recently announced that Emma-Lea Compagnoni from Mungallala will receive its $5000 education scholarship as the 2018 winner of the annual Gus McGown bursary. Emma-Lea has grown up on her family's cattle and sheep property, Umberill, near Mungallala in south-west Queensland, and is currently studying a Bachelor of Animal Science, majoring in livestock production, at the University of New England.
AgForce president Grant Maudsley said Miss Compagnoni had a strong commitment to the future of Queensland agriculture and was a deserving winner of the bursary. "Emma-Lea is in her second year of her university studies and plans to use the knowledge she gains about animal nutrition, sheep and wool, and livestock production when she comes back to the family property," Mr Maudsley said. "We hope this helps her further her career in agriculture, while also giving us all a chance to remember Gus McGown, one of Queensland's finest graziers."
Miss Compagnoni said she was honoured to be awarded the bursary and had enjoyed working in agriculture from an early age. "Being the recipient of this bursary shows that there is support available to young people like me who want to come back and work in agriculture, while it will also help me deal with the hidden costs that can occur when living away from home," she said. "I want to use the knowledge that I gain from university to help provide food and fibre for our ever-increasing population."
MSA's new Producer Engagement Officer
A keen interest in the science and on-farm factors which influence eating quality has now become a full-time career for Laura Wishart, the new Meat Standards Australia Producer Engagement Officer with Meat & Livestock Australia.
Laura took over the role in January from Jarrod Lees, who is now a MSA Business Development Officer. Working in the red meat industry and particularly for MSA is the realisation of her "dream job", having first-hand experience in many facets of the supply chain.
She grew up on a mixed farming enterprise on the south coast of Western Australia near Bremer Bay, where her interest had "always been in cattle."
"We have a 1000-head Angus breeding herd and a small feedlot, so you could say it's in my blood."
After finishing school, Laura started studying Law before moving to Ag Science.
"In my second year at university I did an 11-month, full-time industry placement with JBS, based in Melbourne, working in the farm assurance program. That involved working with the JBS buyers, supply chain manager and JBS beef and sheep producers. Specifically, it introduced producers to carcase feedback systems, including Livestock Data Link."
While at university, Laura was also involved in the Australian Intercollegiate Meat Judging Association program, which educates students about meat quality, carcase specifications and provides training and guidance for personal development. She competed in the ICMJ competition as part of the Marcus Oldham team in her first year at university, before going on to coach the Marcus Oldham ICMJ team for the next two years.
"I was always interested in eating quality and the science behind it, especially when I started to understand how much went into it," she said. "I also really liked the grounding of working with producers during my time with JBS."
Laura said she's looking forward to working with producers and stakeholders in the supply chain in her role with MSA.