Beef Central publishes an occasional summary of appointments, departures and achievements occurring across the red meat and livestock supply chain. Send details for entries to admin@beefcentral.com
New CEO at NAPCo
JBS's Berry elected AMPC chair
New directors join Australian Wagyu Association board
Australia Day award for CSU student
Marking 20 years of service for Droughtmasters
VFF appoints new CEO
Phil Cummins appointed CEO at NAPCo
The North Australian Pastoral Co has appointed Phil Cummins as its new chief executive officer.
Mr Cummins has held senior positions with NAPCo's majority shareholder, QIC for the past 12 years, including his most recent role as principal of QIC's global private capital team. He led QIC's investment into NAPCo in 2016 and has been responsible QIC initiatives in food and agribusiness.
He has served as QIC's representative and Chairman of NAPCo board prior to taking over the role as CEO.
He replaces Stephen Thompson, who resigned as NAPCo chief executive last October to pursue other interests.
Prior to joining QIC in 2006, Mr Cummins was a business director with brokers, Wilson HTM, focused on Australian middle market growth companies, and spent time as an investment banker in San Francisco, working with Deutsche Bank and Thomas Weisel Partners. He holds a Bachelor of Commerce degree.
NAPCo is one of Australia's oldest pastoral companies, tracing its origins back to 1877. It runs about 180,000 head of cattle on 13 well-located properties across Queensland, plus a large feedlot on the Darling Downs.
JBS's Berry elected AMPC chair
The recently elected board of the Australian Meat Processor Corporation met this week for its first board meeting for 2018, electing processor director John Berry as the body's new chairman.
Mr Berry replaces independent chairman, Peter Noble, who led AMPC for the past three years, after spending nine years on the board in total.
AMPC is the Rural Research and Development Corporation that supports the red meat processing industry throughout Australia. AMPC's mandate is to provide research, development and extension services that improve the sustainability and efficiency of the sector.
Mr Berry is a director of JBS Australia, the nation's largest beef processor, and heads the company's corporate and regulatory activity. He joined JBS's predecessor, Australia Meat Holdings, in 2000, having previously worked for the Queensland Government leading infrastructure and industry development.
To Beef Central's knowledge, it's the first time a JBS or AMH representative has chaired a red meat industry peak council or sectoral R&D company since AMH's Rod Hadwen sat as president of the Australian Lot Feeders Association from 1989-92.
Elected AMPC's deputy chair at this week's meeting was Melissa Fletcher, a newly-appointed AMPC processor director and chief executive of Fletcher International. See Beef Central's recent profile on Ms Fletcher here.
In other board appointments made this week, Bruce Rathie, a newly-appointed AMPC special qualifications director will chair the audit and risk committee, along with newly-appointed AMPC special qualifications director Leanne Heywood, and long-time AMPC processor director and former deputy chair, Gary Hardwick of Hardwick Meatworks.
Returning to the board this year are processor directors Simon Stahl of Northern Co‑operative Meat Co, Tom Maguire of Teys Australia and Dean Goode of Kilcoy Pastoral Co.
Three directors join Australian Wagyu Association board
The Australian Wagyu Association has elected three new directors to its board.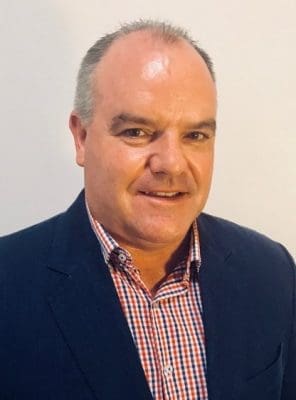 Joining the board for the first time are prominent Queensland Wagyu beef producer, exporter and retailer Peter Cabassi (pictured left), together with Roma (Qld) Wagyu producer Selwyn Maller and Charlie Perry, Trent Bridge Wagyu, Inverell.
Stepping back from the board this year are Tasmania's John Hammond, Hammond Farms; Ron Fitzgerald and Nathan Roberts.
Western Australian Peter Gilmour, Irongate Wagyu, was re-elected AWA president for another 12 month term.
Australia Day award for CSU student
Preventing disease to produce healthy livestock is what motivates Charles Sturt University student Cara Wilson, who was honoured last week for her early career research.
The National Council of Women of NSW presented Ms Wilson with an Australia Day Award during a lunch at Parliament House in Sydney to further her postgraduate studies.
The award sponsored by the Sydney Mechanics School of Arts recognises her leadership and achievement in the study of veterinary epidemiology.
Originally from Mudgee in Central West NSW, Ms Wilson's research through the Graham Centre for Agricultural Innovation is investigating the impact of the hydatid tapeworm on the beef industry. Hydatid disease is rarely fatal in livestock but infected organs identified at slaughter are either thrown out or downgraded to pet food causing financial loss.
Her research is investigating the financial impact of the disease on the industry and the risk factors associated with the infection in beef cattle to enable the industry to target control strategies.
"I grew up on a 16 hectare property surrounded by horses and a few cattle and I have always been interested in animal health and agriculture," Ms Wilson said. "The empowerment of women is a dominant theme in the agricultural sector at present. We play a key role in the industry so I am honoured to receive this award."
Marking 20 years of service for Droughtmasters
Popular Droughtmaster Society chief executive Neil Donaldson* received a special presentation last week marking his 20 years of service to the breed society.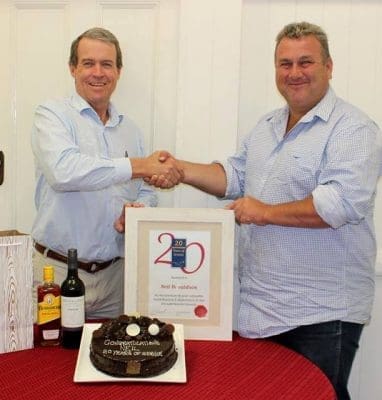 Society president, Paul Laycock, and southern zone director, Sharon Harms, presented Mr Donaldson with a certificate with Neil's family and the Droughtmaster staff also in attendance.
Neil has had a varied and colourful career in the livestock industry and travelled extensively as a Primac livestock salesman throughout southern and western Queensland to branches at Wandoan, Oakey, Quilpie and Murgon. He later had six years' experience in Papua New Guinea with Primac's subsidiary company New Guinea Pastoral Supplies, before management appointments at Primac Theodore, Eidsvold and Biloela branches.
Neil's extensive livestock industry experience also included stints in the early days of CALM (now AuctionsPlus) as a field officer, Assistant Livestock Manager (Feedlots) with AMH, and a contract with MLA & Queensland DPI as a consultant on a number of projects.
He joined the Droughtmaster Society in his current role in 1997, and over the past 20 years has helped guide the Society to financial stability and solid membership growth. Membership has increased by 70pc and female inventory by 82pc over the past two decades.
VFF appoints new CEO
The Victorian Farmers Federation recently announced the appointment of its new chief executive officer, Stephen Sheridan.
Mr Sheridan, who had been acting CEO, was chosen from a field of more than 50 candidates.
Mr Sheridan has a unique combination of skills and attributes including extensive commercial expertise and experience developed in various senior management roles in a large corporate agribusiness, several years already with the VFF gaining experience across all levels of government and industry, and his own personal experience and empathy for the sector being raised on a mixed cropping, livestock and irrigation property," VFF president David Jochinke said.
Mr Sheridan looked forward to addressing the challenges that VFF faced as an organisation and across all agricultural sectors.
Mr Sheridan's appointment comes at an important time, as the VFF works to increase agriculture's influence in the next state election, potential federal elections, and the ongoing organisational issues that all not-for-profit advocacy bodies face as industries consolidate and the number of farm businesses decrease.