Meat scientist Alex Ball finishes up at MLA
AMPC's CEO David Lind departs
New role for Indo feedlot veteran
New chairman for AMIC
Changes in MLA's feedlot R&D program roles
New Asian region sales manager for AA Co
Elders honours its high performers
B+LNZ appoints chief executive
WA future agri-leader in running for trans-Tasman award
Qld's Ruralco businesses expand into NT
Cedar Meats founder among ethnic business award winners
NT CVO steps down
Irwin moves on to US role
Meat scientist Alex Ball finishes up at MLA
Meat & Livestock Australia's general manager for red meat innovation, Alex Ball, has handed in his resignation and will leave the producer-owned service delivery company in April.
Dr Ball has spent the past 18 years with MLA in a variety of R&D roles, mostly in genetics and meat science. Earlier in his career he was heavily involved in sheep genetics, drawing together the major databases and setting up MerinoSelect, leading to dual purpose merinos, and the development of southern lamb systems and new traits driving change through the lamb industry.
More recent working in the development of MSA Optimisation model and MSA indexes for beef and lamb. In recent years he has taken a higher industry profile, leading producers and other industry groups through the exciting and fast-paced developments taking place in the introduction of new technologies to provide objective livestock and carcase measurement, for better quality and yield understanding of beef and lamb carcases. He also served on the Industry Language White Paper project.
"I've been very, very lucky to be part of some really strong innovations and changes across the industry, and have enjoyed every minute of it," he told Beef Central. Dr Ball has not made future plans, but said he was "really keen to remain totally engaged with the livestock industries."
AMPC's CEO David Lind departs
The Australian Meat Processor Corporation's chief executive officer David Lind has left AMPC – the research and development corporation that supports the Australian red meat processing industry. He was appointed to the role in January last year, after filling-in since 2014 for former CEO, Michelle Edge, after she decided not to return to work after taking maternity leave. Mr Lind's departure follows the recent resignation of former AMPC chair, Stephen Kelly, who has left the processing sector to pursue retail interests in Sydney. Recently-elected AMPC chairman Peter Noble will take on some of the executive functions in the interim, until a replacement is appointed, Beef Central understands.
New role for Indonesian feedlot veteran
After running Elders' integrated cattle importing, feeding, processing and beef marketing business in Indonesia for the past 14 years, Dick Slaney is moving on to a new challenge. The former Charters Towers lad is leaving Elders next month to lead a new cattle industry project for Coffey International Development. The project, being funded under the $60 million Indonesia Australia Red Meat Cattle Partnership, is focused on promoting sustainable commercial scale beef cattle breeding in Indonesia.  As Beef Central reported in this profile a few years ago, Dick has developed an extensive range of experience at all levels of the cattle and beef supply chain both in Australia and South East Asia. Elders managing director and CEO Mark Allison told Beef Central that Dick had been instrumental in growing Elders' business in Indonesia, as well as strengthening the company's relationship with Indonesia and its broad network across Australia. "In his time with Elders, Dick has built a strong team, and as he departs, this team will keep operations in Indonesia running successfully. We have no doubt that Dick will continue to play a crucial role in the development of Indonesia's beef industry, and that we will continue to work alongside him."
New chairman for AMIC board
Non-packer exporter Lachie Hart is the new board chairman of the Australian Meat Industry Council, taking over from Victorian processor Frank Herd. Mr Herd, chairman of MC Herd, based in Geelong, completed his four year term in December.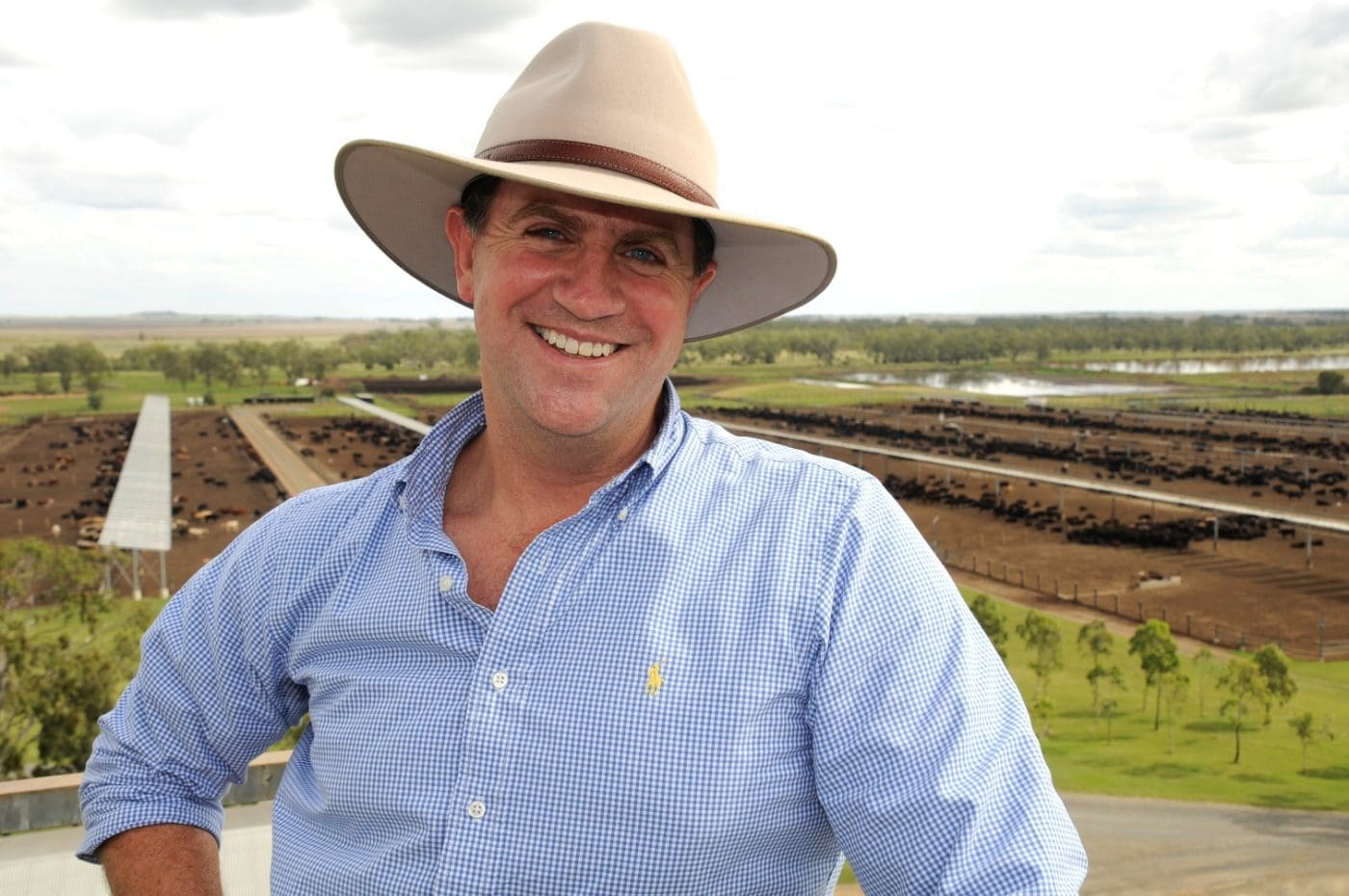 Mr Hart, pictured, is chief executive of Stockyard Beef and managing director of Kerwee Lotfeeders, an integrated supply chain based in southern Qld producing high quality Wagyu and conventional beef primarily for the export market. He is also deputy chair of the Australian Processor Council, within AMIC.
The AMIC board includes retailers, processors and smallgoods manufacturers, all represented under the AMIC banner. Separate member-elected industry councils operate under AMIC for retail, processing and smallgoods sectors. Deputy chairman of the new AMIC board is smallgoods representative, Brad Thomason.
Changes in MLA's feedlot R&D program roles
A new structure allocating more industry resources into the feedlot R&D area has led to a recent appointment. Dr Joe McMeniman has joined MLA as the feedlot R&D project manager within the on-farm innovation & adoption unit. Des Rinehart, who previously filled that role, is now promoted to grainfed, live export and goat program manager with MLA.
Dr McMeniman is well known across the feedlot industry having practised as a consultant nutritionist and advisor to lotfeeders for many years through Nutrition Services Associates. Based in Brisbane, Dr McMeniman has responsibility for managing the portfolio of feedlot projects.  He graduated from the University of Qld in animal science, earning a University Medal, before completing his Masters and PhD at Texas Tech University.
Under the new structure, MLA's goat R&D and live export R&D managers will also report to Mr Rinehart.
In another recent MLA appointment, former Liberal National Party Qld state director Brad Henderson has joined the red meat industry service delivery company in a newly-created communications role. Mr Henderson's is MLA's group communications, promotion and stakeholder manager, working out of the company's Brisbane office. His prior work experience in the world of politics involved membership services and communications, stakeholder management, issues management, marketing strategy and policy development. As part of his role, he will have a particular focus on stakeholder engagement – given his extensive experience in this area.
New Asian region sales manager for AA Co
Popular former operations manager for the industry's Meat Standards Australia grading program, Terry Farrell, has joined the Australian Agricultural Co in a career move into meat sales. Mr Farrell is AA Co's new regional sales manager for North Asia, with responsibility for Japan, Korea, China and Taiwan. Prior to joining MSA as supply chain manager in 2012, he worked in animal genetics with Pfizer Animal Genetics.
Mr Farrell, pictured, joins a growing list of former MSA staff now filling important supply chain functions with processors and brand managers, in recognition of the growing importance of MSA in their programs. Included in that list are Edwina Lord, who took a new role as MSA supply coordinator for Teys Australia before moving to HW Greenham; Mark Inglis who manages JBS Australia's southern MSA brand programs, and Sean Johnson, who joined Teys Australia in a processing management role.
MLA has not yet made plans for a replacement as MSA operations manager, but the position is likely to be advertised soon, Beef Central understands.
Elders honours its high performers
Elders has recognised its high achievers for 2015 at an annual awards night in Adelaide. Major award winners on the night included:
Thomas Elder Employee of the Year: Steve Ridley, livestock manager – Goulburn
Annual Safety Award: Fiona Stuckey, communications manager – Adelaide
Annual Performance Award: Kelvin Hancey, Livestock Manager – Broome
Pink Shirt Branch of the Year: Elders Bendigo, Victoria
Alexander Lang Team of the Year: North Australian Cattle Company
Employee of the year, Steve Ridley, Elders livestock manager at Goulburn, sells 13,000 commercial cattle and more than 70,000 sheep each year but is also heavily involved in 15 stud cattle sales and 12 stud sheep sales annually. "Steve continually endeavours to increase sales and opportunities every year and has an output that others find difficult to match," Elders' managing director and CEO Mark Allison said. "Nevertheless, Steve finds time to provide buying support to his colleagues around the state and always has an 'in training' junior stockman in tow with whom he shares his knowledge and passion."
Annual performance award winner Kelvin Hancey, livestock manager at Broome, played a key role in the sale of 20,000 cattle worth more than $16 million in 2015, as well as the sale of an iconic 400,000ha property in the Kimberley.
The Team of the Year award recognised the North Australian Cattle Co's success in loading more than 40 shipments and 120,000 head of cattle in Darwin, Townsville and Wyndham and discharging them throughout Vietnam and Indonesia during 2015. Fiona Stuckey, Elders communications manager, was honoured for her work in developing the Stand-Up, Speak-Up safety campaign which was embraced beyond Elders to the wider rural community. The driver safety instalment received more than 60,000 views on Facebook and was shown at the International Rural Women's Conference.
New B+LNZ chief executive appointed
Beef + Lamb New Zealand has appointed Sam McIvor as its new chief executive. Mr McIvor will replace current chief executive Dr Scott Champion on April 1. He will also have the role of chief executive of the NZ Meat Board.
B+LNZ chairman James Parsons said Mr McIvor was an experienced CEO who brought strategic thinking and management experience to support both organisations' work for NZ's sheep and beef farmers, and the broader sector. Mr McIvor is currently the group general manager, farm operations, at Ospri and has held CEO roles earlier at Preston Corp and NZ Pork.
WA future agri-leader in running for trans-Tasman award
A young Western Australian agri-business professional has made it through to the finals for the 2016 Zanda McDonald Award. Wesley Lefroy, a soil scientist with Precision SoilTech, WA, has been selected as a finalist alongside New Zealand's Dean Rabbidge, a dairy, beef and sheep farmer and Erica van Reenen, an agricultural and environmental consultant. The three, who attended interviews in Brisbane late last year, will join the PPP 'Capital Connections' Conference in Wellington in March – where the award winner will be announced.
Shane McManaway, award judge and chair of the Platinum Primary Producers (PPP) group – the trans-Tasman networking group behind the award – says the future of agriculture in Australasia lies in the hands of young leaders like Dean, Erica and Wesley. "These individuals have a most impressive skill set. They are intelligent, hands-on, practical, personable, innovative and visionary. They are the ones who will take agriculture forward and the PPP Group is delighted to be able to help them along the way," he said.
The award prize package, valued at around $30,000, includes a tailored mentoring package whereby the winner spends time with relevant PPP members, a place on Rabobank's Farm Manager's program and a cash component. Judges include Shane McManaway; Emily Crofoot from Castlepoint Station in NZ; MDH Pty Ltd's Julie McDonald; CPC's Troy Setter; respected Victorian sheep farmer Charlie de Fegely; and Pat Gunston of Allflex Australia.
Qld's Ruralco businesses expand into NT
Queensland-based Ruralco joint venture businesses Grant Daniel Long (GDL) and Northern Livestock and Property (NLP) have expanded into the Northern Territory by jointly buying Jock McPherson's share of Alice Springs-based Ruralco JV Territory Rural McPherson (TRM). As reported by Beef Central late last year, Mr McPherson, one of Central Australia's best-known cattle and rural property agents, has decided to sell his share of the business he established in 2008 and will relocate to Cairns. He continues to remain actively involved in TRM as a rural property consultant.  GDL has a significant network of livestock and property agency branches throughout southern Queensland while NLP operates in central and western Queensland and the Barkly region. GDL principal Peter Daniel said the purchase in conjunction with NLP created an integrated business into Central Australia that will also work closely with Ruralco live exporting arm Frontier International Agri. "Rather than doing it individually we all got together and said it is a much better idea having all of us involved," Mr Daniel said. "The beauty of Alice Springs is that you are right in the centre, you can market your cattle in any direction." Well known Brisbane valley agent David Eagleson has been appointed to the position of livestock manager for TRM.
Cedar Meats founder among ethnic business award winners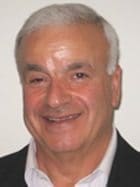 A family who fled war torn Lebanon in 1973 to create a new life in Australia has taken out one of the top prizes at the Federal Government's prestigious Ethnic Business Awards. Joe Kairouz (pictured) and his family established Cedar Meats based in Brooklyn, Victoria, with a small butcher shop. Today Cedar Meats employs 400 people exporting sheepmeat products to the US, EU and China.

Cedar Meats won the medium to large business award at a glittering ceremony at the Adelaide Hilton late last year. Still family owned and operated, Cedar Meats and the Kairouz's second brand – Jimba Premium Lamb – are recognised worldwide, generating exports in excess of $100 million annually. In their 27th year, the National Australia Bank Ethnic Business Awards are a celebration of Australia's multicultural endeavours.
NT CVO steps down
The Northern Territory's Chief Veterinary Officer, Malcolm Anderson, finished up at the end of December. Mr Anderson said it was with 'considerable sadness' that he was stepping down from the role, but due to personal family matters it was necessary for him to move south, long term.
"I have loved living and working in the NT and at the national level. I am grateful for the support I have received from all quarters," he said before finishing up. Mr Anderson served as NT CVO for three years. Prior to that he worked as a veterinarian with the NT Government Department of Primary Industry for eight years.
Irwin moves on to US role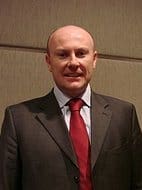 Agribusiness identity Mark Irwin has taken a position in the drilling industry in the US, having finished up in his strategic advisory role with Hewitt Cattle Co. During January he took a job as vice president, commercial and marketing with Boart Longyear Drilling Services in the US state of Utah. Mr Irwin spent almost two years as strategic advisor to Hewitt Cattle Australia, during the company's growth period. HCA is a company owned by the Hewitt family, and an overseas pension fund, currently running  about 50,000 cattle in central and southern Queensland, and looking at growth opportunities. He earlier spent 20 months as managing director and CEO of Consolidated Pastoral Co and worked at one point in a senior management position at Graincorp.
Send your significant industry personnel movements, milestones or achievements for inclusion in this occasional column to: cath@beefcentral.com