First published 24 Oct; updated 10am 25 Oct.
Beef Central publishes an occasional summary of appointments, departures and achievements occurring across the red meat supply chain, both private sector and government. Send details for entries to admin@beefcentral.com
New marketing head for MLA, as Andrew Howie moves on
Marketing manager leaves AA Co
Brahmans appoint new CEO
Key management changes at AMIC
ALPA salutes Elders Adelaide staffmember
Vale Alan Roe
Award recognises services to the meat industry
Profitable Grazing Systems coordinators appointed
Elders in hunt for new board member
New marketing head for MLA, as Andrew Howie moves on
Meat & Livestock is close to making an announcement about a new group marketing manager, following a decision by Andrew Howie to leave the industry service delivery company to join Westpac's marketing team.
Mr Howie has spent the past five years with MLA, orchestrating some original and memorable red meat marketing strategies for beef and lamb along the way. He displayed strong passion, energy, enthusiasm and creativity to the role during his term, and presented his strategies well to producer audiences.
He has held a number of senior marketing positions with MLA, including for the last two years as group marketing manager, with responsibility for all consumer and customer marketing initiatives in the Australian market. He finishes with MLA next month.
Following a recruitment process to fill this position, a candidate with a strong consumer food marketing, category management and account management background in Australia and overseas has accepted the position. A formal announcement will be made in coming weeks.
Meanwhile, MLA has also engaged the services of leading strategist and marketer Chris Bulford from Circ Consulting to assist chief marketing & communications officer Lisa Sharp in supporting MLA's domestic marketing team, including in the management of the upcoming summer lamb campaign, until the new group marketing manager commences.
Marketing manager leaves AA Co
In another industry marketing manager departure, respected marketing professional Sabina Kindler has left the Australian Agricultural Co suddenly as part of the changing of the guard following CEO Jason Strong's recent departure.
Ms Kindler has acted as marketing manager for AA Co's re-launched branded beef program for the past four years.
During her term in the role, AA Co has significantly refocussed its brand programs under the tag, "Perfecting the Art of Australian beef."
Brahmans appoint new CEO
THE Australian Brahman Breeders Association has appointed a new chief executive officer.
Taking on the role is Anastasia Fanning, who brings strong beef industry and business credentials to the position.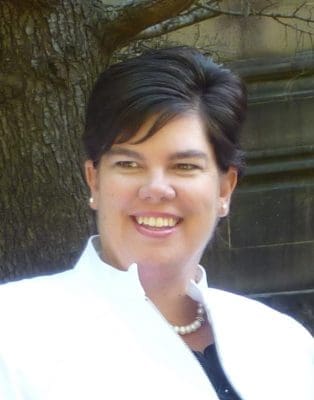 For the past 15 years she and her husband, Corbmac have run their own Stock and Station Agency business in conjunction with a commercial Brahman crossbreeding and fattening operation in Central Queensland.
As the fourth generation of a farming and cattle enterprise, Ms Fanning, pictured right, has been involved in developing Santa Gertrudis and Poll Hereford studs, with an on-site embryo transfer centre.
She has shown stud cattle at local, state and royal levels in both England and Australia and has judged at a range of feature shows and other industry events.
The ABBA position came up after previous appointee Robert Biddle left the role after only six months. Ms Fanning will start in her new position on December 4.
Key management changes at AMIC
Following the recent departure of Mark Beecham from the Australian Meat Industry Council executive team, AMIC has appointed Stacey McKenna as manager for industry research, standards and capability.
Ms McKenna comes from a strong meat processing background and was most recently assistant quality assurance manager with Bertocchi Smallgoods, and prior to that HR manager with Teys Australia. She started with the AMIC team this week, working from AMIC's Melbourne office undertaking a national role as a member of the AMIC processor group.
ALPA salutes Elders Adelaide staffmember
The Australian Livestock and Property Agents Association has announced that Simone Dand from Elders in Adelaide is the winner of the 2017 ALPA Agency Award.
Joining Simone were finalists Murray Bullen from Rodwells & Co in Wodonga, Victoria; Luke Kenniff from Harvest Agents & Advisory in Sydney; Samantha Neumann from Elders in Adelaide; and Rebecca Oakley from Roberts Ltd in Western Junction. Tasmania.
Simone, pictured left, received the Mike Nixon Shield for Excellence in Marketing and a fully paid trip to the 2018 Calgary Stampede, compliments of Quadrant Ag Tours. She will be joined on the tour by the 2018 ALPA National Young Auctioneer of the Year.
The award aims to recognise an innovative marketing campaign from an agent with less than 10 years industry experience. The nomination process assesses a candidate's expertise, focusing on innovative marketing, industry awareness, business relations and ethical behaviour and presentation and elocution – all imperative qualities of a well-rounded marketing professional.
The award was inaugurated in 2005 following the untimely death of Mike Nixon, Victorian Stock and Land rural journalist and livestock commentator. In recognition of Mike's involvement with the agency industry the award was originally established to reward excellence in livestock marketing, but has now evolved to incorporate all facets of agency marketing including livestock, property, wool, merchandise and insurance.
Vale Alan William Roe
Well-known and respected NSW livestock agent Alan Roe died suddenly at home in Coffs Harbour last week, aged 77. Alan was a long-time employee of Elders and was the NSW state stud stock manager for a lengthy part of his career. He joined Computer Aided Livestock Marketing in the early days of the electronic selling platform, and was one of the program's first CALM field managers in NSW. He trained many of the current day long-standing AuctionsPlus assessors.
Alan was regarded as a great judge of cattle, and was a very astute assessor for CALM, before it became AuctionsPlus. "Mangers like Alan did a fantastic job, pre-internet," AuctionsPlus general manager Anna Speer said. "Alan's attention to detail and the pride he took in his assessments was amazing. All his work was done truly sight-unseen, trading with no photographs, and green screens," she said.
On leaving CALM, Alan started his own private agency and contract assessing business.
Award recognises services to the meat industry
Meat industry training stalwart Clive Richardson, was announced as the recipient of the inaugural Eddie Andriesson Award at the recent MINTRAC meat inspection and quality assurance conference.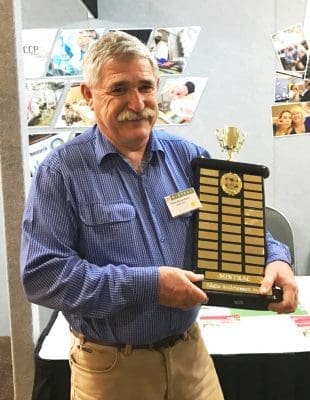 The Eddie Andriessen award was set up to recognise Mr Andriessen's services to the meat industry as well as to acknowledge the services and skills of meat inspectors and quality assurance officers and the importance of their role in the Australian meat industry.
Eddie, a retired veterinary surgeon, wrote the book Meat Safety Quality and Veterinary Public Health, for many years the key textbook for meat inspectors. He has also written training and assessment materials for meat inspectors, acted as a consultant during the development of training and assessment materials and been a regular speaker at industry conferences.
Eddie has known Clive for more than 20 years, and saw him as a fitting first recipient of the award.
"Clive's been a devoted supporter of the meat industry for many years" Mr Andriessen said. "I'd consider him the founder of quality assurance training in the meat industry and it's great that he is being recognised for the contribution he has made."
Mr Richardson, pictured left, senior project officer and primary technical advisor at MINTRAC, has led and guided changes to the training system which have significantly impacted on the meat industry, particularly in the areas of meat inspection and quality assurance.
He helped develop the first nationally-accredited qualifications for meat inspectors and quality assurance staff and continues to be involved in developing meat inspection and quality assurance training materials and professional development opportunities.
Recognising the importance of animal welfare in meat processing plants, Mr Richardson developed the Animal Welfare Skill Set, a qualification that is now standard across the industry. Recently he worked with Charles Sturt University to develop a model for meat inspection training after realising the challenge the industry was facing in recruiting new meat inspectors.
Clive also established the Meat Inspection and Quality Assurance (MI&QA) Network, a state based network of researchers, quality assurance staff, trainers and regulators which has been successfully running for over twenty years. Eighteen years ago, he helped set up the first MI&QA conference, an event that has grown to be one of the largest meat industry conferences in Australia.
Profitable Grazing Systems coordinators appointed
Being part of MLA's new adoption and extension program, Profitable Grazing Systems (PGS), has been made easier for red meat producers and service providers with the establishment of dedicated central contact-points for each state and territory.
PGS state coordinators have been appointed for Queensland, NSW, Victoria, Tasmania, southern Western Australia, northern Western Australia and the NT.
MLA has appointed Dr Christine Purdy as program manager for the Profitable Grazing Systems program. Dr Purdy was previously project officer for the Animal Health and Welfare team in MLA's Research, Development and Innovation business unit.
"Dr Purdy has extensive professional experience in business development, training and assessment, business brokerage and private vet practice, and brings a wealth of knowledge and skills to this important new leadership position," MLA's general manager for producer consultation & adoption, Michael Crowley said.
The PGS program provides cattle, sheep and goat producers with long-term guidance from specialist coaches to help boost their management skills and increase on-farm adoption of R&D. The supported learning environment involves a local, group-based approach to extension and adoption.
The new coordinators, listed below, will help link producers with the service providers who were delivering the PGS program throughout Australia:
Qld – Andrew McCartney, Condamine Alliance
NSW – Peter Schuster, Schuster Consulting
Victoria – Lyndon Kubiel, Victoria Department of Primary Industries
Tasmania – Mel Rae, Macquarie Franklin
WA (South) – Rebecca Wallis, AgInnovate
WA (North) and NT – Rebecca Mohr-Bell, ArGyll Consulting.
Elders in hunt for new board-member
Elders Ltd board-member James Jackson will stand down at the company's annual general meeting in Adelaide on 14 December 2017.
He joined the board in early 2014. Chairman Hutch Ranck acknowledged Mr Jackson's skills and knowledge, particularly in relation to capital markets, which had contributed significantly to the capital restructuring and refinancing of Elders that has occurred during his tenure.
"James has made a valuable contribution as a non-executive director, including his strategic insights and his role as chair of the Remuneration and Human Resources Committee. The board thanks James for his contribution and wishes him well in his future pursuits," Mr Ranck said.
A new director is expected to be announced at the AGM.