NTCA confirms new CEO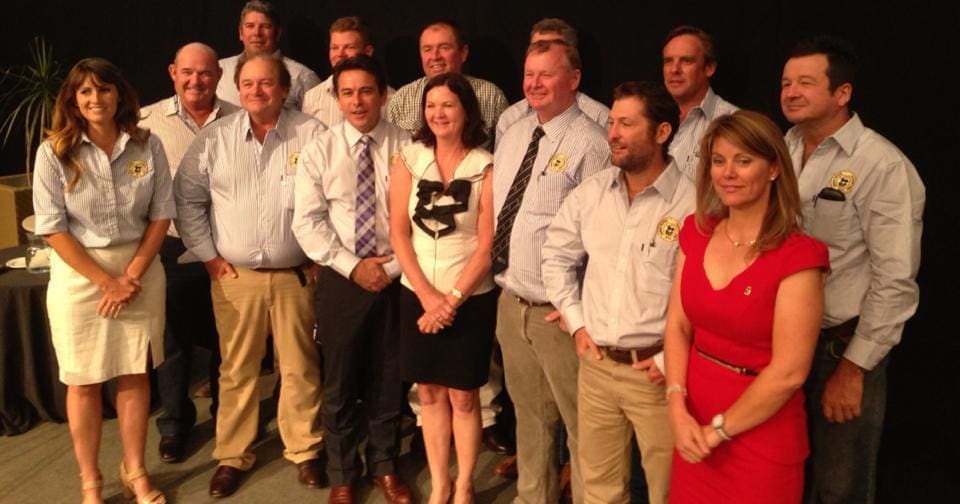 The Northern Territory Cattlemen's Association will have a female at its executive helm for the first time in its 30-year history after confirming yesterday the appointment of Tracey Hayes to replace Luke Bowen as executive director. From Alice Springs, Ms Hayes is well known to the Northern Territory cattle industry, having served in recent years as the NTCA's executive officer, its delegate to the National Farmers Federation and as acting executive director since Mr Bowen stepped down in March.
A popular choice, official confirmation of her appointment on the NTCA's Facebook page yesterday afternoon was followed by several enthusiastic messages of support and congratulations from NTCA members. NTCA president David Warriner expressed his pleasure at the appointment, noting that Ms Hayes has a deep and abiding commit to, and passion for, the NT pastoral industry. "Given that Tracey has worked well and tirelessly as the Executive Officer with previous Executive Director Luke Bowen for a period of time means that the succession should be smooth and efficient."
After leading the organisation through six tumultuous years that included the major upheaval caused by the June 2011 ban on cattle exports to Indonesia, Mr Bowen stepped down from the position at the NTCA AGM in March to pursue new challenges. He is currently a member of the Agricultural Industry Advisory Council established earlier this year by federal agriculture minister Barnaby Joyce, and continues to work in a consultative capacity for the NTCA on key projects including the Australia-Indonesian Pastoral Student Program. He is yet to indicate publicly what his next career move will be. Mr Warriner, Ms Hayes, Mr Bowen and NTCA deputy president Chris Muldoon are currently on a two-week NTCA trade delegation investigating market opportunities in China, Vietnam, and the Philippines.
MacKinnon takes up Landmark livex role
A well-known face in the Australian livestock export industry has returned to take up a new role in the trade after a one-year study sabbatical in Scotland. Former Australian Livestock Exporters Council chief executive officer and Northern Territory Livestock Exporters Association CEO Lach MacKinnon has recently accepted the positionof manager of the Russian and CIS region for Landmark Global Exporters, based in Melbourne.
Lach served as ALEC CEO for four years before relocating with his family to Scotland for 18 months where he completed a Masters of Business Administration at the University of Edinburgh. Lach told Beef Central he was excited to be back working in the live export trade and in the Southern Australian cattle industry where he grew up.
David Krause joins AAA board
The Agribusiness Association of Australia (AAA) has appointed BDO National Lead Partner for Food & Agribusiness David Krause to its board. Mr Krause said he was looking forward to giving something back to the industry that has given so much to him. "I'm extremely passionate about agriculture in Australia and the potential that exists at the moment in the industry," Mr Krause said. "There is enormous potential for Australian producers if we can be smart about taking advantage of the opportunities available." Mr Krause has had significant experience with a number of industries within the agricultural sector including grain and meat processing, dairy, beef and nuts. Additionally, Mr Krause also has an active investment in the beef industry, providing him with insight into the practical issues facing the agribusiness sector.
Foodbank chair pays tribute to outgoing CEO John Webster
Australia's largest food relief agency Foodbank Australia has appointed Jason Hincks as its Chief Executive Officer, replacing former MLA senior manager John Webster who retired from the role after five years in late April. Prior to his time at Foodbank Mr Webster held several high profile positions in the agricultural sector including managing director of Horticulture Australia Limited, general manager of Meat & Livestock Australia, program manager with the Meat Research Corporation and manager of trade policy and European marketing with the AMLC. "Under John's stewardship we've achieved unprecedented growth," Foodbank Australia chairman Enzo Allara said. "John has worked tirelessly to increase Foodbank's volumes and enhance our capability to deliver the key staple foods that are the lifeblood of our supply to charities. His legacy will underpin our future expansion as we strive to ensure that no Australian in crisis goes hungry," he said. "On behalf of the Foodbank Australia Board and I'm sure our many partners, I would like to thank John Webster for his outstanding contribution and wish him well in his retirement. Incoming CEO Jason Hincks joins Foodbank from the highly successful men's health charity Movember, where he was Chief Operating Officer. Prior to moving into the not-for-profit space, he developed his marketing, management and strategic skills in organisations both in Australia and the United States. He holds a Bachelor of Business and an MBA, with a speciality in International Business and Strategy.
UNE student wins Chris Russell Medal
University of New England student Lucinda Frizell has won the 2014 Chris Russell Medal of Excellence presented by the Ag Institute of Australia NSW Division. Lucinda made a video presentation from the USA to the finalist judging panel on April 15. Her winning research project was on the challenges of managing root-lesion nematode in grain crops. Runner up was Andrew O'Carrigan from the University of Western Sydney, with James Murray from the University of Sydney third.
Beef specialists in new Qld Govt appointments
Two specialist beef industry positions have been created among 10 new frontline agricultural staff appointments announced by the Queensland Government this week. Queensland agriculture minister John McVeigh said the creation of the positions reflected the Newman Government's commitment to rebuilding agricultural capacity in Queensland following years of cutbacks under previous Labor Governments. Along with a number of agronomy and horticultural appointments in regional Queensland, the new positions include two beef specific positions. Based in Toowoomba, graduate Thomas Callaghan will work in the intensive beef industry (feedlots) across the southern region and also in the area of drought support. He will also work with other members of the south region industry development group to assist in a collaborative research project with UQ regarding the Coal Seam Gas Industry and the effects of CSG on above-ground farm productivity. For feedlots, Thomas is currently investigating potential projects to aid the industry in overcoming challenges and capitalising on opportunities. Based in Rockhampton, graduate policy officer Emily Barbi is working across a range of policy development areas for the department. With a Bachelor of Applied Science Degree majoring in Production Animal Science at the University of Queensland Gatton, Emily is particularly interested in beef cattle production. She also gained a Pregnancy testing and AI certificate and has spent time with producers undertaking different breeding programs.