MORE than 200 young cattle producers from almost every state of Australia have gathered in Roma, the home of Australia's largest cattle selling centre,  this week for the 2017 Young Beef Producers Forum.
The event is an initiative of the Future Farmers Network, and ranks as one of the largest annual gatherings of young farmers in the country.
The opening day of the two-day forum on Thursday saw a stellar line up of speakers offer many words of advice to the 20- and 30-something beef producers in attendance.
Succession planning, the importance of collaborating with others to build strong teams and mutually beneficial partnerships, and the need to embrace technology and training were key messages on Thursday.
Here are just some of the pearls of wisdom provided on day one of the 2017 event:
'Make the unspoken… spoken'
The importance of having early and open conversations about succession planning was visited by many speakers on Day 1. David Stone from the Agribusiness Development Institute (ABDI) told the forum that there are many questions that don't get asked in family businesses simply because they are difficult. However, going through the process of using independent advisors and developing a vision and systems in a family business can create the capacity to get open conversation happening, and to get the clarity required.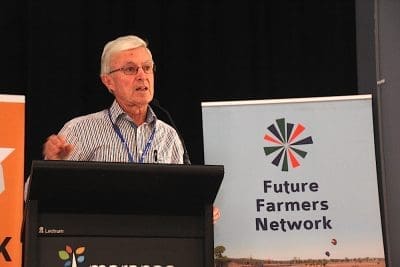 Veteran stud cattle breeder Anthony Coates AM said the secret to success in agriculture was to keep the lines of communication open. "Discuss things openly, if there is anything worrying you, don't let them fester within you, even if it is just a phone call, say can we meet about this to keep those communication lines open so the little walls don't get built too high you can't climb over them. "
"Don't be the seedy guy standing in the corner stalking everybody"
Get connected, get online and embrace social media was one of many tips given to the crowd by Roma business consultant Carmen Roberts, Compass West.
"Social media is a great way to inform yourself, strengthen your brand and to feel connected in a very isolated industry. Remember social media is just one really big conversation, try not to be the seedy guy standing in the corner stalking everybody and don't broadcast your opinion blindly, get involved, engaged and create conversation and you will find the rewards are plentiful."
'Pursue laziness'
"I encourage you to pursue laziness. I know that sounds like a ridiculous thing to say to a room full of hard working people, but if you are lazy or you want to be then the best way to get there is to be efficient, innovative, and automate and not duplicate. You will have a great team who work hard for you, even when you're not working hard, and if you put in effort the first time, the results will show. " – Carmen Roberts again.
Build wealth by accumulating revenue generating assets, and monitoring their performance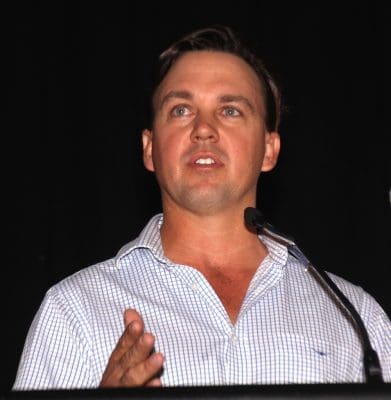 After returning home from Toowoomba Grammar School to the family property at Longreach, James Walker demonstrated a keen eye for a trade, starting with mobs of sheep and then cattle, and embracing early online livestock trading. At one point he leased a 60,000 acre paddock at Camooweal to run 8000 breeders and traded about 150,000 sheep in a supply chain partnership with an abattoir. The only thing he was lacking was a tool to provide an instant snapshot of financial status at any given point, a dashboard to show how his business was performing, and to assess how the next opportunity or idea stacked up. He has since developed Farm ECCO, a software solution for use at home by all farmers to improve the monitoring and evaluation of their revenue generating assets in agriculture (sheep, cattle etc). The easy-to-use, visually-appealing program simplifies the process of feeding-in data to capture the various financial and production elements of a farming enterprise, which can then give the producer infographic reports, including the live value of their livestock daily or the net wealth position of their farming business. It can also generate a series of bank ready documents. A primary purpose is to use the program to assess how ideas or opportunities stack up financially. "It is all about everyone knowing exactly what the opportunity is, and being able to identify what is their real opportunity in the business." The program helps farmers to monitor the performance of their revenue generating assets, so they can understand where they are at, at any given time and so they change the direction of it.
'Involve your bank'
"They are often the largest partners in your business, and because you are dealing with people, it is only human nature they wish you to succeed as well." – Katrina Gibbs, Westpac
'Never plan for three average years in a row'
"There is one thing for sure in agriculture, and that is there are times of plenty, and times of famine. Never plan for three years average in a row, because I haven't seen it happen and I don't think many managers have." Katrina Gibbs, again.
The sooner you start planning for the future, the better
"It is a long journey, you do need to be proactive and you need to start the conversation early and have a think about what you want to do as an individual, and how that comes into the business." Agribusiness consultant Gabriel Passmore, Chapman Eastway.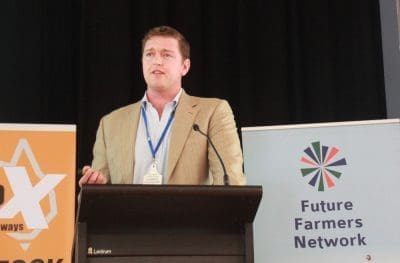 Don't rely on verbal promises in succession planning
"You cant rely on verbal promises, it is really important that when we go through this process we have agreements and documents drawn up. It is also really important that there are independent people advising you, and facilitators as part of those discussions so that everything goes along at the pace that it should and in the direction it should." – Gabriel Passmore, Chapman Eastway.
'Always leave something in the kitty for the people you are dealing with'
"One of the philosophies my uncle Barney Joyce gave me very early in my career was that if you want to build up a clientele that is going to stick with you, you must always be sure there is a little bit left in it for them. If they're not going to be profitable out of what they bought from you, don't expect to see them back again. The people you are dealing with, you need to leave some in the kitty for them, so they go away happy, and you can sleep well at night." – Anthony Coates
'Listen more than you talk'
"Pick up what you can along the line. Understand and look at the people you are dealing with, see the reaction that you are getting from them, and I know you will sleep a lot better at night if you walk away from the conversation and if the people you have been dealing with go away thinking that it was worthwhile." – Anthony Coates
"6 out of 10 things work"
"A piece of useful advice that was given to me about 10 years ago, just remember that 6 out of 10 things work well, and 4 out of 10 things go pear shaped, so keep on looking for the six and move past the four." ABDI's Gordon Stone.
Travel to broaden your education
Gabriel Passmore urged delegates to travel to different states, and to different countries, to learn more about agriculture in other areas. "Anything that gets you thinking," he said. "I have been lucky enough to be able to educate myself through travel (to NZ, China and Hong Kong), and see some incredible things that I have never seen before, and I would encourage all of you to try and get outside the farm gate and do that yourself."
An unsolicited endorsement of MLA
Anthony Coates opened his address by urging the crowd to understand the work Meat & Livestock Australia does on behalf of the industry: "I just must give MLA a plug, too often the MLA gets rubbished for some reason. The beef industry at the moment, it may not be riding on top of a wave, but it is up on a good crest, and I believe that a lot of that is due to MLA's efforts. Little things that were mentioned like beef promotion in the supermarket with roast beef now being sold, when it was only roast chook before  MLA's efforts are what is helping our industry, and I believe that you as young beef producers ought to stick with MLA and understand what they're doing. I do believe that and I think they really deserve the accolades."
CONFERENCE PICTURES