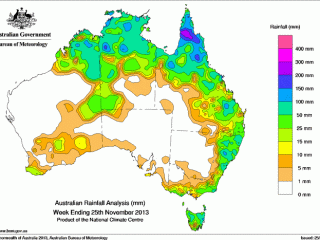 Rainfall across dry northern Australia has once again been characterised by hit and miss totals over the past week, but forecasts of more storm activity and rainfall continue to offer hope to the many who have so far missed out.
One system under close watch at the moment is the tropical low that remains from ex-Tropical Cyclone Alessia, which crossed the Northern Territory's western coast on Sunday.
The low is currently tracking east across the Northern Territory into the Gulf of Carpentaria, and there is a slight chance it could re-intensify into a weak tropical cyclone over the next 48 hours.
Senior meteorologist with The Weather Channel Tom Saunders said current modeling suggests one of two outcomes is likely: the system will remain in the Gulf until Friday where it could re-intensify into a cyclone, or it could do a u-turn and track back across the NT and out towards the Timor Sea.
Either way, the system is expected to generate monsoon rain and storms across northern coastal areas for the remainder of the week.
The past seven days have seen some substantial totals measured close to northern coastal regions and in some inland centres, but once again there was a significant variation in recorded totals from one property to the next.
As a guide to where rain was received, selected rainfall totals recorded across Northern Australia in the past seven days to this morning have included:
Northern WA: Country Downs 40mm; Dampier Downs 25mm; Drysdale River 37mm; El Questro 55mm; Gibb River 33mm, Halls Creek 100mm; Kilto Station 42mm; Kununurra 46mm, Marion Downs 60mm; Mount Barnett 90mm; Mount Elizabeth 104mm; Mount Winifred 56mm; Siddins Creek 56mm; Sophie Downs 72mm; Sturt Creek 53mm.
Northern Territory: Darwin Airport 109mm; Adelaide River 53mm; Elizabeth Downs 25mm; Litchfield Station 74mm; Legune 49mm; Pigeon Hole 30; Wave Hill 65mm; Mount Sanford 138mm; Waterloo 39mm; Old Delamere 51mm; Victoria River Downs 79mm; Brunette Downs 17mm; Tennant Creek 38mm.
Queensland: Georgetown 100mm; Forsayth 28mm; Charters Towers 33mm; Hughenden 4mm; Werrington 15mm; Bowen 277mm; Collinsville 29mm; Cloncurry 38mm; Mt Garnet 146mm; Normanton 98mm; Moranbah 39mm; Moura 133mm Capella 17mm Blackall 19mm; Biolela 115mm; Monto 43mm; Taroom 56mm; Injune 34mm; Eidsvold 72mm; Jandowae 32; Warwick 40mm; Drillham 24; Wallumbilla 41; Roma 28mm; Surat 18mm; Mitchell 14mm; Mungallala 20mm.
New South Wales: Grafton 59mm; Kyogle 27mm, Armidale 29mm; Glen Innes 37mm, Inverell 54mm, Tenterfield 44mm; Barraba 96mm; Coonabarabran 12mm; Breeza 29mm; Gravesend 44mm; Warialda 59mm; Burren Junction 22mm; Narrabri 71mm; Pallamallawa 50mm.
In north western Queensland, which remains one of the most drought-affected regions in Australia, last week's falls were extremely patchy.
AgForce Queensland's northern region manager Paul Burke said most producers in the region were still very much in need of rain.
"For most people the situation is still really critical, it wasn't enough to put anything in the dams," he said.
"Basically even the guys who got 20-30mm, because they hadn't had anything or so long, a lot of it just ran off."
Cattle prices were providing some upside, he said, with members receiving around 330c/kg dressed weight for steers direct to works in Townsville and 173c/kg live weight for steers up to 600kg delivered to Cloncurry for the live export trade.
"People who have got any condition cattle are doing pretty well," Mr Burke said. "Those who got their weaners off early and have had a feeding regime have got some okay cattle."
In another measure that will help to provide some short term relief where it is needed, a Queensland drought committee meeting was yesterday informed that a large volume of molasses has been freed up from an export order which will help to supplement supplies for drought-stricken western producers for at least another month.
Mr Saunders said six tropical cyclones are expected to hit northern Australia this wet season.