A Spanish traveller to Australia has paid the price for failing to declare biosecurity risk items.
Travellers trying to enter Australia with prohibited food products in 2023 are being hit with the country's toughest biosecurity infringements under new measures introduced to protect Australian agriculture from foot and mouth disease and other threats.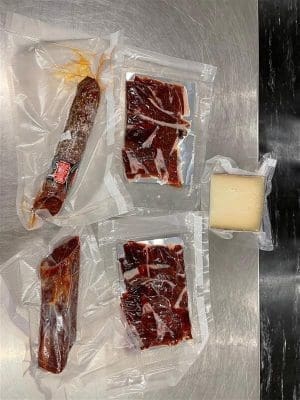 Last October, the Federal Government announced it would increase the infringement amounts for people caught with banned items, to stop diseases and pests entering and establishing in Australia.
On January 1, a 20-year-old Spanish man became the first person to have his visa cancelled and fined $3300 for carrying over a kilogram of undeclared raw pork meat and cheese in his luggage.
Previously, a 12-penalty point infringement was $2,664.
Officials stopped the man in Perth last Tuesday, and discovered 275g of non-commercial pork pancetta, 665g non-commercial of pork meat, and about 300g of goats' cheese in his luggage which was not declared.
Travellers who have their visa cancelled are removed from Australia on the earliest available flight and can face an exclusion period of three years before they are able to reapply for a visa.
Minister for Agriculture, Fisheries and Forestry, Murray Watt said it was a strong reminder that travellers will be caught and punished for breaking Australia's tough biosecurity laws.
"I hope this man regrets his actions – his visit to Australia was over before it even began, and he's been sent packing with a hefty fine," Minister Watt said.
"We are serious about keeping foot and mouth and other diseases out of the country, and travellers need to remember that when they're trying to enter Australia.
"This was a serious breach of Australia's biosecurity laws and could put Australia's agricultural industries at risk, as well as our environment and international trade reputation.
"I'd encourage all international passengers to think carefully about their passenger declarations, and if in doubt, just declare it."
Find out more about your responsibilities when travelling to Australia.