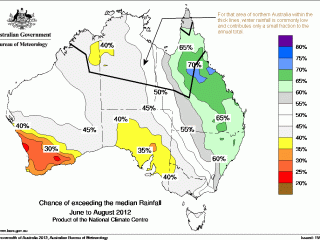 The Bureau of Meterology's national rainfall outlook for June to August points to a wetter than average winter season over large areas of Queensland and parts of north-eastern NSW.
However the outlook suggests higher odds of a drier than normal season for south west Western Australia, much of South Australia and parts of north-western Victoria and north west Australia.
The Bureau says the pattern of seasonal rainfall odds across Australia is mostly a result of warmer than normal waters in the Indian Ocean.
The chances of receiving above median rainfall for winter are over 60 percent across the eastern two-thirds of Queensland as well as in parts of eastern and northern NSW.
Odds exceed 70pc in parts of northern Queensland. "Such odds mean that for every ten years with similar ocean patterns to those currently observed, about six or seven years would be expected to be wetter than average over these areas, while about three or four years would be expected to be drier during the winter," the Bureau says in its winter outlook released this morning.
"It should be noted that rainfall is commonly low over much of tropical northern Australia at this time of the year and contributes only a small fraction of the annual total."
In contrast, the chances of receiving above normal rainfall are between 25 and 40pc over southwest WA.
Odds are around 40pc over southern and central SA, and the far western border regions of Victoria and southwest NSW. In other words, the Bureau explains, the chances of below normal rainfall are between 60 and 75pc in these areas.
Over the rest of the country, the chances of a drier or wetter winter are roughly equal.
Longer term, all key indicators remain at neutral, or in other words not at not El Niño or La Niña levels.
The Bureau says climate models indicate that the tropical Pacific Ocean will continue to warm over the next six months, with most models approaching or exceeding El Niño thresholds during the second half of 2012.
Winter temperature outlook
The winter 2012 temperature outlook indicates that warmer days are more likely over the western half of Australia, and southern Australia and warmer than average nights are more likely across southern WA, and large parts of the eastern mainland of Australia.
The chances that the average maximum temperature for winter will exceed the long-term median maximum temperature are above 60 percent across WA, SA, Victoria, Tasmania, the western NT and the southwest half of NSW. Odds exceed 80pc across western WA.
The chances that the average winter minimum temperature will exceed the long-term median minimum temperature are 60pc-70pc over the southern half of WA, and much of eastern mainland Australia.
"This means that for every ten years with ocean patterns like the ones currently observed, winter would be expected to be warmer than average in about six or seven years over these areas, with the other three or four years being cooler," the Bureau said.
"Over the rest of the country, the chances of being warmer than average are similar to the chances of being cooler."