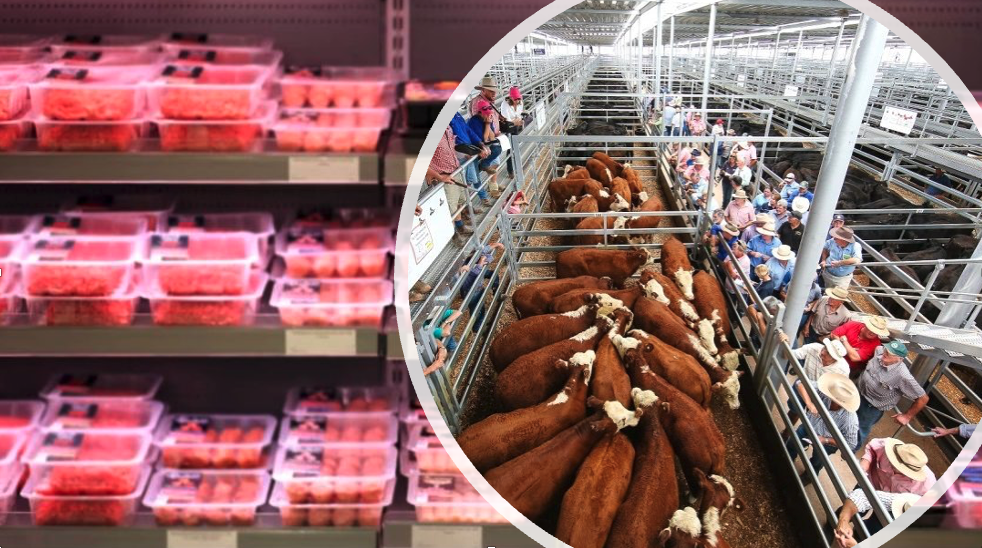 Since February 2022, Australian cattle indicator prices have been in a downward trend with the fall accelerating over recent months and livestock prices now almost half what they were in February 2022.
Despite this, beef retail prices have been stubbornly resistant to decreases.
Whilst Meat & Livestock Australia collects data on livestock prices and reports them in the form of indices on a regular basis, nobody seems to collect, hold and interpret beef retail prices to provide transparency at that end of the supply chain.
The result is that purchasers have perfect information on costs of livestock, whereas the sellers (producers) have no information on what consumers are paying and what should be a fair price for their livestock.
In 2013, the Australian Beef Association and University of Tasmania cut out a typical beef carcass into retail cuts in order to provide some transparency to retail margins on beef and where the share of the retail $ ended up.
The model developed established the yield of common retail items from a carcass so that a total return for a carcass cut up to standard retail items could be calculated based on collecting and entering retail prices.
At that time, retail beef prices were collected from a number of the major supermarkets over a three-month period and entered into the model.
The producer's share of the retail dollar at that time was around 40 percent with the balance being shared between the processors and retailers.
At the time, the MLA was quoted as saying they had a similar model that showed similar results.
Things have changed since 2013 in a number of ways as follows:
1. There are less in-store butcheries with the majority of retail items now being prepared in central facilities and shipped into stores shelf ready. This has a number of consequences which in the main, reduce the cost to the retailer. Skilled butchers are no longer required in each store, all that is needed is relatively unskilled shelf stackers. Wastage is reduced as it is easier to control and shelf life before product deteriorates beyond saleability is extended reducing discounting to clear. Dedicated cleaning teams are no longer required in store and the need to dispose of waste items such as fat, bone and packaging is now the responsibility of the retail ready processor and there is the option to use multiple use plastic cartons instead of single use cardboard for shipping retail ready packs, further reducing in store waste and again costs. The space previously dedicated to in store preparation can now be utilized for retail purpose and the previously necessary preparation equipment is no longer needed (band saws, stainless steel cutting benches, mincers, knives, steels, weigh scales and all manner of other equipment, even sausages were made in store years ago). Having centralized preparation of retail ready packs allows retail chains to tailor product mix according to each stores customer base further reducing wastage and cost.
2. The range and style of product has changed with significantly more value adding (for instance butt cuts are less often sold as steak and more often sold as stir fry strips or sizzle/minute steak and high-grade mince). Portion or pack size has been reduced and there is much more modified atmosphere and vacuum packed product displayed where in the past, overwrapped polystyrene trays was the main form of product on offer. There was a period when both retail ready prepared and in store prepared product shared the offer and some of the largest stores had an up market in store butcher, however these seem to have been phased out meaning the offer in many urban stores is exclusively retail ready product prepared outside and brought in to be stacked on the shelf already labelled and priced for sale. In an attempt to rekindle the interest in transparency at the retail end, we resurrected the old ABA/UT model putting current prices in to see if things had changed much. Perhaps the most surprising thing in looking at current retail offers in the two major supermarkets is that of the 17 major beef items reviewed, the price of eight of them was identical. The prices per kg were not close but were IDENTICAL. This would of course be coincidental wouldn't it! Other prices were similar. The end result was that with the two majors (lets call them red and green) the producer's share of the retail dollar has fallen to 36 percent. Of further interest was that on a basket of beef items, average beef price was $24.34 for the red national chain, $24.42 for the green national chain and for the third national retailer (blue) was sitting 20% lower at $19.46 per kg.
My conclusion is that retailers have substantially increased their margins on beef at the expense of the producer as retail prices have been stubbornly resistant to declines that should accompany falling livestock prices.
At the same time these retailers have reduced their cost base in terms of both fixed costs and variable costs by shifting costs back down the supply chain and eliminating the need for in store skilled butchers, floor space and equipment.
Whilst we have seen fruit and vegetable prices fall to pre covid levels, red meat prices have been stubbornly resistant.
There is no transparency in pricing beyond the farm gate on red meat and development of indexes for transparency was a recommendation of past enquiries. This is a tool sorely needed by the industry as the concentration within retail more than limits competition.
On a good note, I yesterday picked up some eye fillet at $29.99 per kg, almost half what the reds and the greens were asking at an independent in Bondi Junction. Not the sort of place I would expect to find a bargain!
Andrew Dunlop has spent 40 years in the meat and livestock industries including two tours of duty to Japan totaling 15 years. As well as Batchelors and a Masters Degrees in Animal Sciences (University of Sydney), he was awarded a post graduate fellowship with the Science and Technology Agency of Japan where he spent 2 years with Japan's National Meat Research Institute in Shimane Prefecture, the home of Wagyu Meat Science and of Wagyu breeding. He held senior positions with meat exporters out of Australia, Meat Business Managers positions with national retailers and with a Japanese meat importer in Japan. Now semi retired, he continues to own and run a beef cattle operation on the Monaro in southern NSW. Mr Dunlop has contributed this article in his personal capacity as a cattle producer from southern NSW. The views and opinions expressed in this article are those of the author and do not necessarily reflect the views or positions of any entities they represent.