US professor Frank Mitloehner, an animal scientist who works on the effects of animal agriculture on air quality, has emerged as a prominent scientific voice in public discussions around the issue of livestock and greenhouse gas emissions in recent years.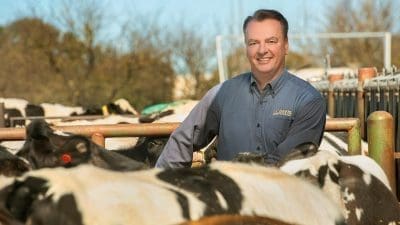 Professor Mitloehner works with the livestock sector to reduce the emissions it produces, while also challenging those who overstate what the science says about the contribution of cattle to climate change.
Despite his work with industry to reduce environmental impacts, he has recently been singled out for attack in "coordinated hit pieces" by the New York Times and Greenpeace.
Professor Mitloehner rose to international prominence when he challenged a widely reported 1996 United Nations publication which claimed that meat consumption did more harm to the planet than all of the world's fossil-fuel powered transport sources combined.
He demonstrated that the comparisons used in the report were flawed and resulted in a highly distorted and inaccurate conclusion, which, to their credit, the authors publicly acknowledged upon review.
But by that time the damage was done, with the message already reported far and wide that eating a single steak would do more harm to the planet than driving for hours in a car while leaving all the lights at home.
News media showed less interest in reporting the latter development that their initial reports were wrong. The misleading information lives on in media reports today, aptly referred to as 'zombie science' – old research that keeps rising from the dead despite having been debunked or killed off long ago.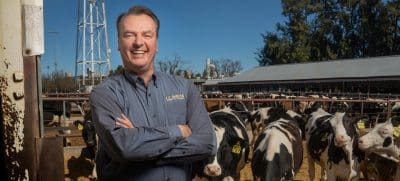 In his work with the University of California Davis, Professor Mitloehner and his team at the Clarity and Leadership for Environmental Awareness and Research (CLEAR) Centre work with the livestock sector to provide a clear understanding of the emissions livstock produce and ways to reduce that impact.
In Beef Central's experience, Professor Mitloehner is routinely clear in his message to livestock producers that livestock emissions are a problem that needs to be reduced – which it should be acknolwedged is being achieved through the help of research from the CLEAR Centre and many scientists around the world through a variety of breeding, technological and management approaches.
Through his willingness to give presentations across the world, he has become a genuine force for proactive change throughout the global livestock industry.
He also uses his voice to try to ensure public discussions about livestock and greenhouse gas emissions remain science-based. On social media he regularly calls out examples of media reporting or public comments that overstate what the science says about the contribution of cattle to climate change.
Despite his positive work to work with producers to reduce emissions, it seems his calls for balanced, science-based discussions have earned the ire of people, groups and media organisations fundamentally opposed to animal agriculture and meat consumption.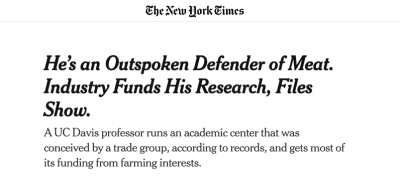 In a recent front-page article under the headline "He's an Outspoken Defender of Meat. Industry Funds His Research, Files Show", The New York Times launched a 'play the man, not the ball' style piece seeking to discredit Professor Mitloehner by implying that he has engaged in nefarious dealings because some of his research is funded by the livestock sector.
What the piece purported to 'uncover' has always been publicly disclosed by the CLEAR Centre on its website – that is that it receives industry funding.
Not only is that voluntarily and transparently communicated on the website, Professor Mitloehner has openly and directly discussed the fact that agricultural research receives three times as much funding from the private sector as the public sector in a blog post.
The NYT article conceded there was no indication Professor Mitloehner has "violated disclosure requirements", but yet the newspaper  still felt a personal attack on a respected and distinguished scientist was warranted.
Professor Mitloehner has responded with his own blog post titled "Full disclosure: I work to reduce the footprint of animal agriculture".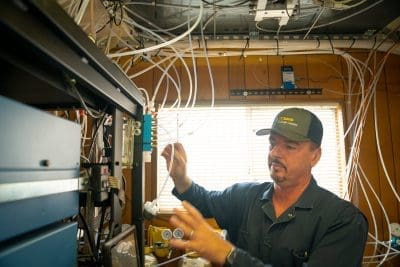 "There is a shocking revolution out there, and I am at the heart of it. Are you prepared for this?," he writes.
"Animal scientists work with animal agriculture. That's it. That's the expose, the conspiracy that so many activists and journalists want to share with you."
The post explains how CLEAR Center works with the livestock sector with both public and private grants, and questions why those who purport to be concerned about livestock emissions want to attack those working to reduce them.
"If I get weary, it's because I continue to answer the same questions for the story that keeps getting written. The New York Times is simply the latest in a long and steady stream of media outlets that think they're on to something…
"I find it disheartening to be accused of wrongdoing by working with the livestock sector. Who else is supposed to fund research to mitigate emissions from animal agriculture? If Greenpeace's leaders are interested in that, I'd love to talk about it, but I don't think it will happen. In the meantime, I'll continue to work with the sector to help reduce its environmental footprint."
He concludes by calling on those who criticise to come and meeting him and his team personally to udnerstand the work that they do:
"To them I say: Come and visit us. See the lab. Meet our students and colleagues. Talk to the farmers and try to understand – as we do – how committed they are to the important role they play in simultaneously feeding the world and safeguarding our planet.
"I think you would be surprised by what you see and hear.
"I think you would find a new and better story to tell."
You can read his full blog post on the CLEAR Centre website here
Animal geneticist and fellow UC Davis professor Alison Van Eenennaam has also penned a detailed response to the NYT article, emphasising the point that Professor Mitlohener works within the science and "has never made a statement that was not supported by peer-reviewed papers".
"What the NYT failed to show in these stories was that either of these public sector scientists, whose reputations the NYT has forever brought into question, ever made statements that were unsupported by peer-reviewed literature.
"There is a term for when someone attacks the character, motive, or some other attribute of the person making an argument, rather than the argument itself; it is called an "ad hominem" attack".
Professor Alison Van Eenennaam said the evidence relied upon by the NYT article to attempt to discredit Professor Mitleohner came down to a statement by Matthew Hayek, an assistant professor in environmental studies at New York University, claiming the UC Davis professor "downplays every impact of livestock" – "His communications are discordant from the scientific consensus, and the evidence that he has brought to bear against that consensus has not been, in my eyes, sufficient to challenge it," Hayek was quoted as saying.
To that Professor Van Eenennaam responds: "I am not sure exactly which specific scientific consensus Prof. Mitloehner's communications are discordant from, but in presentations I have not heard Dr. Mitloehner make a statement that was not supported by peer-reviewed papers. I have heard him clearly state on multiple occasions that livestock are responsible for 14.5% of global emissions, and that cows and other ruminants account for 4% of US greenhouse gases (GHG) in concordance with the scientific consensus."
In response to questions by US agricultural media outlet Drovers about the personal attacks, Professor Mitloehner commented: "My critics don't question my science because they can't. So, they resort to attacking me."
While those attacks appear likely to continue, also evident on social media has been an outpouring of support for Professor Mitloehner praising him for his work and for letting science do the talking in the face of a coordinated attempts to silence him.
Thanks you for the fantastic work you are doing. We need sound scientists like yourself standing strong. We need to stand beside you and with you. Your research is very important.

— Jenny O'Sullivan (@0sullivanjenny0) November 1, 2022