As the Global Roundtable for Sustainable Beef moves to develop global agreement on a definition for sustainable beef, grazier and founder of the 'Carbon Grazing' principle Alan Lauder discusses here how future graziers should see themselves as 'managers of carbon'. The Carbon Grazing principle focuses attention on the short period after rain which is when the level of carbon flowing through the paddock is set, something many producers are currently applying through various management systems but others are paying the price for failing to manage. The information package around Carbon Grazing supplies some information and understanding around carbon flows that is currently not supplied by other extension processes. This is an extract of a broader discussion paper that appears on Mr Lauder's Carbon Grazing website. You can read the full article by clicking here.
The Global Roundtable for Sustainable Beef is looking to define the Principles and Criteria that must be addressed in order to achieve sustainable beef production systems and value chains around the globe.
This discussion paper supplies another angle for the Roundtable to consider in defining sustainable beef production.
The roundtable has stated that because of the broad range of ecosystems in which beef can be produced, it makes a "one size-fits-all" global standard unrealistic.
However there is one aspect of sustainable beef production that is common to every country and every farm and this relates to the proper management of "carbon flows".
There are many different aspects to sustainability. Producers need to be able generate enough production and cash flow to remain viable. The resource base they manage needs to be maintained in a healthy and resilient state for future production. The environmental outcomes have to be consistent with the expectations of the rest of society. These different aspects all relate directly to carbon flows.
The carbon flows concept is the package of knowledge that provides an understanding of why there has to be adequate carbon flowing through the paddock to ensure beef and other agriculture production is sustainable.
Carbon flows involve very little long term carbon
The bulk of the carbon movement in a paddock does not involve long-term carbon. Instead, it involves mainly short-term carbon, some medium term carbon and a little long term carbon.
Changes in land management are initially reflected in short-term carbon levels, not long-term carbon. This is simply because management changes are reflected in the level of carbon flowing through the paddock. Chan et al demonstrated this via soil carbon changes in the pie graphs below.
While the below discussion relates to soil carbon, carbon also flows above ground. Management changes also influence the level of ground cover, remembering that grass is 45pc carbon when dried. Ground cover in the form of pasture is short term carbon, another example of carbon flows being mainly short term carbon.
The red section is the faster moving short term carbon and the black section is the very slow moving long term carbon.
When soil organic carbon went from 1.5% to 2.5%, the change was driven by increases in the short term carbon called labile carbon. Look closely at the actual size of the black section, which is non labile carbon (long term carbon), and there is virtually no change. The percentage of long term carbon has changed on the left hand diagram, but this is because of the increase in the labile carbon (red section) has changed the total.
Chan's diagram is consistent with scientific understanding that long term carbon is slow to change. Logic dictates that if long term carbon is slow to change then long term carbon can't be responsible for short term changes in production levels.
Carbon trading is more focused on the slow moving stable forms of carbon, while rural producers set out to increase the volume of the faster moving short term carbon. If you want to increase production in the short term, it is the fast moving carbon that increases production, not slow moving carbon. Ground cover is what cattle eat and it is short term carbon.
Carbon flows versus carbon stocks
Perhaps because of carbon trading, we have become too preoccupied with carbon stocks and measuring carbon and not paying enough attention to carbon flows. Just talking about carbon stocks is far too narrow. If you want to understand how your paddocks function, how to make more money, how to produce better environmental outcomes including greenhouse, how to reduce the impact of dry times, then all these things will be clearer if you understand the concept of carbon flows.
The movement of carbon activates so many processes that occur in the paddock.
How much grass grows from a current rainfall event, especially in marginal years, is influenced by how well carbon flows were managed in the past.
Carbon flows build resilience which helps define sustainability. Resilience is more than soil resilience, it also includes plant resilience.
Carbon is the main building of all life, be it grass, cattle or the smallest of soil life. Humans are 18% carbon. Carbon is also responsible for keeping all life functioning by transporting energy. If carbon is not flowing then it does not become available to support all the life that should exist in the paddock.
If cattle are not managed properly, then they reduce the ability of grass and other plants to initially instigate the flow of carbon into the paddock via photosynthesis.
It is how well producers manage the flow of carbon through their paddocks that determines how many cows there will be in the paddock. Remembering that grass is 45pc carbon when dried, there will be no grass in the paddock without carbon flows. Also, no ground cover to protect the soil. Making the decision on how much ground cover to let the cattle consume, is the secondary decision producers make after applying management to maximise carbon flows. Grass is short term carbon which is why carbon flows have to be maintained.
Roundtable can fill gaps in extension
One of the goals of the roundtable is to enhance environmental stewardship via education and partnerships. The carbon flows concept is an area that provides opportunities to promote a better understanding of how paddocks function and how to keep them sustainable.
It is understandable that carbon trading is focused on measuring carbon stocks, given trading can't occur without measurement. Unfortunately, this emphasis on stocks and measuring has been allowed to dominate extension and held back broader discussion on how landscapes really function.
Carbon flows is the aspect of carbon that we pay too little attention to in extension.
Cattle producers are not going to change unless they can see logic in changing. This is why it is so important to supply them with practical information using language they can relate to. Then they are positioned to understand why it is in their interest to change their management and better manage carbon flows.
For those interested in long term carbon, long term carbon starts the journey as short term carbon i.e. carbon flows.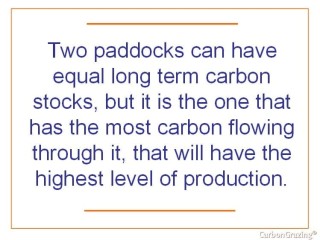 Carbon trading is more focused on the slow moving stable forms of carbon, while rural producers set out to increase the volume of the faster moving short term carbon. If you want to increase production in the short term, it is the fast moving carbon that increases production, not slow moving carbon.
As shown in Chan's pie charts, the energy is sitting in the red pool and energy is central to all agricultural production.
Linking carbon flows to resilience
Carbon takes many different forms after it moves from the atmosphere to the landscape via photosynthesis. These different carbon compounds add to the resilience of the landscape.
Landscape resilience relies on the resilience of both plants and the soil.
Allowing carbon to flow into plants increases their resilience by increasing internal energy reserves for them to call upon. Carbon flows have the added advantage of producing a more extensive and deeper root system to allow plants to source water and nutrients. Plant resilience is achieved by resting pastures immediately after rain.
Allowing plants to grow after rain and supply carbon compounds to the soil, increases soil resilience by allowing the soil biota to reproduce and restructure the soil.
Soils with a better carbon supply have improved water infiltration, increased water storage capacity and are more fertile.
Resilient landscapes reduce evaporation through more shading and lifting the wind. This is achieved by higher ground cover, which is influenced by carbon flows.
Resilient landscapes have so much more to offer because they are often cooler.
Resilient landscapes are more efficient at utilising rainfall to promote further carbon flows.
If we are going to build carbon reserves, be they short term or longer term, then it is critical to ensure that water leaves via transpiration instead of evaporation or runoff. The water must be used to produce carbon compounds.
Plants not rested after rain cannot extend their roots into the same percentage of the soil.
In dry times when labile carbon stocks are traditionally depleted, resilient landscapes have lower losses. This is because resilient landscapes can photosynthesise with isolated small falls of rain, while fragile landscapes remain dormant and the water only activates the soil microbes to consume organic carbon.
Resilient landscapes attract higher rainfall as they have different energy patterns. The same principles apply to the pattern of storms often following where the first one occurred.
The Carbon Grazing principle
It was during the late 1990's, while conducting a $272,000 Federal Government research project on land management, that I started to gain insights into the carbon flows concept. The final understanding is a combination of all the insights provided by many scientists over many years.
In 2001 the term Carbon Grazing was coined. The term represents the management action that maximises carbon flows in the grazing industry. The term was trade marked for the purpose of giving the debate a label and so allowing producers and others to make representations to consumers and the broader community regarding responsible land management.
Carbon Grazing is a principle and not a new land management system. The principle focuses attention on the short period after rain which is when the level of carbon flowing through the paddock is set.
In the grazing industry, all else being equal, the amount of rain should parallel carbon flows. However management can override this general relationship.
The Carbon Grazing principle sets big picture outcomes because if the fundamentals like carbon flows are not correctly managed, then everything else won't fall into place.
In 2008, the book "Carbon Grazing The Missing Link" was launched by Dr John Williams, the former head of CSIRO Land and Water. The book uses simple and easy to understand language to explain the many complex carbon processes that occur in a paddock. As custodians of the land, it is important that rural producers have an equal understanding of carbon processes to that of scientists and this is only possible if they can relate to what is being explained.
The book promotes a better understanding of the role that the different forms of carbon play in ensuring grazing landscapes remain functional and profitable i.e. sustainable. It also explains carbon flows through cattle and how to speed them up.
At the moment, plenty of producers are applying the Carbon Grazing principle in what on the surface appear to be different management systems. Unfortunately, there are still producers not getting the fundamentals right and they are paying the price along with the rest of society.
Conclusion
Producers in Queensland have already demonstrated that focusing on the carbon flows aspect of management has improved their production, regenerated their paddocks and reduced the human stress of the current drought.
The Carbon Grazing principle focuses attention on the short period after rain, which is the time when the bulk of carbon that flows through the paddock starts its journey.
With carbon, once you understand the flows, you see the dynamics of the whole landscape and how it functions.