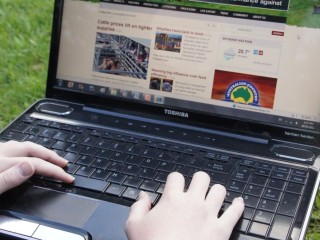 The strong uptake of the online option for lodgements in the recent national Australian Census has provided a portent for future opportunities to do similar things in the management of meat and livestock industry affairs.
More than two million responses, representing a surprising 30 percent of all Australian households, were completed using the eCensus option earlier this month.
Now Meat and Livestock Australia is raising the stakes in opportunities for livestock producers to engage in industry affairs more easily, by expanding the online options open to levy payers for the upcoming MLA annual general meeting.
Last year for the first time, MLA stakeholders had the opportunity to lodge their levies notice for voting online, but the process was not heavily promoted.
That option will again be available for this year's AGM voting process, but levy payers will also have online proxy lodgement access for the first time.
Last year, about 8pc of levies notice lodgements were carried out online, and MLA is hopeful the figure will rise significantly in 2011. In the corporate world, which has been using online voting lodgements for a longer period, responses are higher, typically 15-20pc.
"The adoption of online is all about trying to maximise the participation rate in the AGM voting process," MLA corporate communications general manager David Pietsch said.
Industry participation rates in the MLA voting process are notoriously low, with only 12 or 13 percent of industry levy-paying members feeling motivated enough to lodge a vote for last year's AGM.
"One of the beauties of the online process is that some people often receive forms in the mail, but put them to one side, electing to complete them later. This is something where we can send an email out in the days immediately prior to the October 5 lodgement for levies notices deadline reminding them, and it can be completed within minutes online," he said.
Provided a levy payer has his or her levy amounts or livestock numbers sold for the year on hand, as well as their MLA membership number, the online lodgement should take no more than 2-3 minutes, Mr Pietsch said.
Each member's details were included in the levies notice pack sent to all members a couple of weeks ago, but another handy access-point for the membership number is the front address sheet accompanying each copy of Feedback magazine. A card containing the number is also issued to members at time of joining.
This year for the first time, when voting forms go out to members, they will also be able to lodge their proxies online. That should not be confused with a direct vote on MLA resolutions, but in appointing a proxy-holder to vote on their behalf. Proxies can be left open, allowing the nominated proxy holder to vote as they choose, or they can be directed to vote a certain way by ticking the boxes according to the resolutions.
There is also a cost advantage in not having the reply-paid mailing component in hard-copy lodgements.
So is full-blown online voting on the horizon for MLA?
"The potential exists, but we are doing it in a staged process at this point. The current moves are based on constitutional changes made back in 2008, to allow a lot more electronic communication and governance to take place, in line with how most companies are moving," Mr Pietsch said.
A good example of this is the rapid transition into electronic forms of MLA's annual report. Members still have the option to receive a hard copy if they so choose, but it is increasingly less popular, now numbering less than 2000 out of 47,000 members.
That represents a massive $100,000 a year saving in printing, production and distribution cost to the producer-owned service delivery company.
"Our own research of our members shows that they are spending a lot more time online, so it is logical for MLA to move in this direction," Mr Pietsch said.

MLA has paid for an advertisement appearing on Beef Central, providing a 'call to action' over the AGM online lodgement process. It will appear up to the lodgement deadline of October 5.