DARLING Downs export beef processor Oakey Beef moved a step closer to a re-activated rail-based livestock delivery service last week, having reached agreement with Aurizon, Australia's largest rail freight operator, over the provision of livestock services out of southwestern Queensland rail-heads.
Under the agreement, Aurizon will schedule a minimum of 27 livestock rail freight services from the far west each year.
"The agreement effectively means we could book at least 27 services a year, starting tomorrow – if we had an operating rail siding here at the plant," Oakey general manager Pat Gleeson said.
The deal reached last week with Aurizon is an important foundation towards Oakey's discussion with Queensland Rail over the upgrading of a siding servicing the plant, located west of Oakey.
Management is hopeful of having the siding upgrade completed before the middle of 2016, in time for the traditional turnoff period for Channel Country bullocks out of rail-heads as far west as Quilpie.
"It's exciting, because we have now agreed in principle to terms with Aurizon, so we are 'half way there' in delivering on the objective," Mr Gleeson said.
Last week's discussions with Aurizon also included the prospect of delivery of chilled and frozen containers of beef from the Oakey plant to Port of Brisbane.
"That will be stage two: we are both keen to establish the livestock side of the service first, but Aurizon is keen to pursue container freight to port as well," Mr Gleeson said.
If fully utilised, 27 rail services from the far west to Oakey would remove road transport totalling the equivalent of 1100 decks, or 23,000 head of cattle from the over-worked Warrego Highway each year.
A rail service from the southwest to Oakey would also offer considerable cost savings to producers, as delivery by rail would be considerable cheaper than by road.
Mr Gleeson said State Government and Queensland Rail had told the company if it could reach agreement with Aurizon over the provision of rail services, QR would then begin to 'talk seriously' about the upgrade of the rail siding connection, necessary to service the plant.
"Now that that's completed, the ball is basically back in QR's court, to provide the link to allow us to get the cattle off the rail," he said.
"From our end, there's a little bit of detail to work out operationally, but the project is now back in QR's hands."
Oakey Beef has consistently rejected any suggestion it should contribute to the cost of the rail siding upgrade, estimated to be around $2 million, saying it was "not prepared to fund a state-owned asset."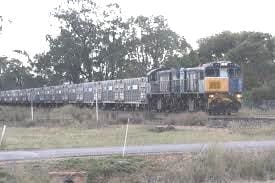 QR is understood to be working from a budget for $40-$50 million for southwest Queensland line maintenance.
In addition to the livestock freight service to Oakey and container freight to Port of Brisbane, Aurizon also plans to examine a container service and general freight out of the southwest, and back-freight opportunities.
"Through this agreement, Aurizon is signalling that it recognises that the gloss has gone off the coal boom, and it sees the next decade as being all about agriculture. The company is making a real play about trying to get into the ag space," Mr Gleeson said.
Aurizon last transported some 'serious' numbers of cattle from the far-west during the wet years of 2010-11, with basically no trains run in 2012 or 2013 due to the mining boom. Last year, services returned, but were very limited in number.
Oakey Beef has previously told media its planned $60 million plant expansion will not go ahead unless the Queensland Government pays for the railway siding upgrade.
Greater flow of southwestern cattle would play a significant role in a proposal to almost double plant throughput to about 11,500 head per week. Such an expansion would lift the Oakey workforce from 750 to about 1300 staff.
"Our position is that we are happy to invest a lot of money in the plant itself, which we already have the plans for and we're ready to go," Mr Gleeson said.
Oakey Beef has attracted support for its lobby from a recently-formed coalition of southern Queensland mayors.
"There's no point having a rail unless you have the capacity to use it," Quilpie mayor Stuart Mackenzie said.