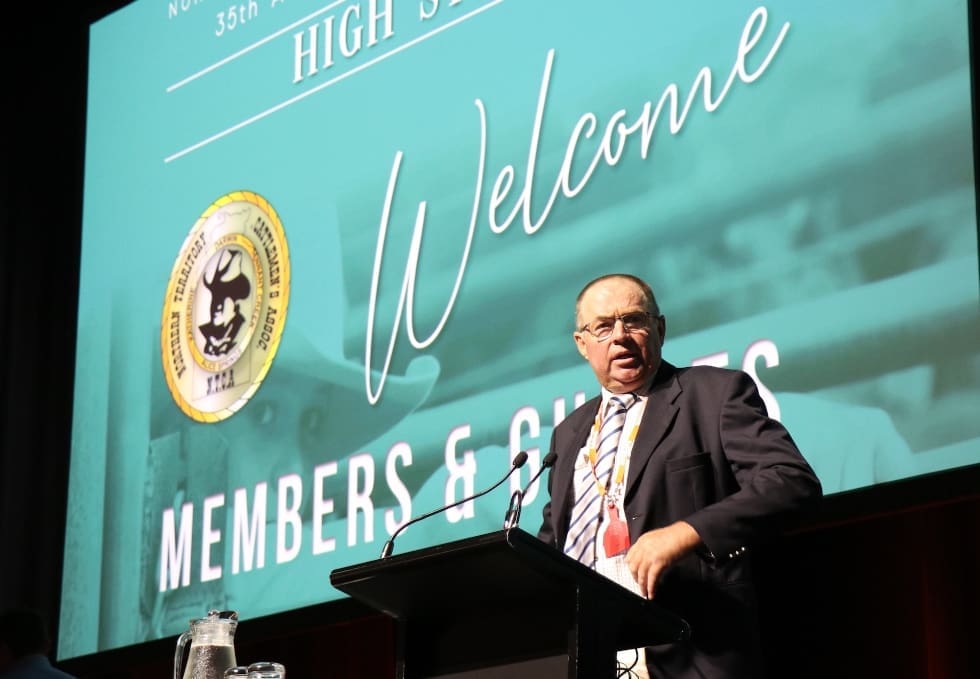 THE Northern Territory Cattlemens Association has called for an additional cattle levy to be raised to counter the rising challenge of animal activists.
Delivering his president's address at this morning's annual NTCA conference, president Chris Nott urged his members to "support a motion for an additional 50c levy for Cattle Council of Australia or a like body to maximise our resources for industry advocacy and education."
All four branches of the NTCA voted to support a levy-raising to fight animal activist activity.
"All around us there are threats and opportunities, some closer to direct impact than others, all of them with the potential to enhance and threaten our industry investments," Mr Nott told the annual conference this morning.
"What is more difficult to address is the diversity of these threats. Some like global protein competition come with a world made smaller by free trade. Others like the nuances of those same free trade markets, can undo certainty," he said.
"So too, can the fear of irrational government interventions. We know ourselves less than eight years ago the intervention of government in our industry banning live export was dramatic and with substantial consequences. We now see that same intervention with the live export of sheep," Mr Nott said.
"The existence of the entire live export trade could be gone at the stroke of a politician's pen. What industry in Australia faces such a threat – fuelled by well-resourced animal activists whose primary modus operandi is to undermine the very existence of an industry that has existed since time itself."
"It is why we at the NTCA have a motion this year calling on Meat & Livestock Australia to spend some money on selling the message of what we (members of the cattle industry) do, and how well we do it, through advertising and advertorials," he said.
Mr Nott said he would much rather see a billboard at Sydney Airport showing an Indonesian child "hoeing-into the protein of Australian beef" than the misrepresentation and misinformation being circulated about how cattle producers treated their animals.
"It has been said before, but there are few more honourable industries than ours. Generating food for others to eat must surely rank high. But these days the threats come from many different directions."
"It is why having a strong State Farming Organisation like the NTCA and a single voice is so critical. We can all have the policy debates and the differing opinions inside the tent, but at least being inside the tent you can make change," he said.
"If you are outside the tent, then you are a single voice – and as you can see by the challenges that lie ahead, the fight is that much harder."
Having strong state and national representative bodies was critical, Mr Nott said.
He acknowledged the presence in the audience this morning of National Farmers Federation president Fiona Simpson, saying NFF was doing a good job raising the profile of agriculture and bringing the issues to the forefront.
"However, Ms Simpson's position is entirely voluntary, and we need to pay for good people and fund good support structures for our national organisations to be successful, and get our message across to everyday Australians."
Mr Nott urged his members to support, as the NTCA executive had supported, a motion for a 50c levy for Cattle Council of Australia or a like body to maximise our resources for advocacy and education.
"Our industry is worth $11 billion and to attract executives of significant quality, we need to offer remuneration in line with the task," he said.
"My question for the audience in the room is: Do producers support a mechanism for collecting approximately 50c per beast, on top of cattle transaction levy, to fund a body that represents grass fed producers whether that remains CCA or something else? There would be an opt-out option," he said.
"We need this added representation because politically the North is left wanting. There are just one million people located above the Tropic of Capricorn, for nine House of Representatives seats. In the Territory we have just two Senators and two federal seats. Getting our voice heard in Northern Australia is that much harder, with such a small population – despite the fact that across from northern WA to Queensland, the region collectively produces 11.7 percent of Australia's GDP."
"We need loud voices," he said.
Beef Central's James Nason is at the NTCA conference, and will file more reports in coming days