A POLICE investigation is underway following reports of cattle fraud in New South Wales' south west.
Led by the Rural Crime Prevention Unit, Strike Force Seger was formed in April 2019 to investigate suspected cattle fraud in the Riverina region.
The crime, which investigators believe is worth in excess of $2 million, involves the alleged fraudulent sale and trading of cattle.
About 7am on Tuesday officers from the Rural Crime Prevention Unit, assisted by Riverina Police District, executed a search warrant at a rural property in Kyeamba near Wagga Wagga.
The search continued on Wednesday with investigators seizing computers, documentation and a number of angus cows and calves for examination.
More than 400 Angus cows and calves were inspected by rural crime investigators.
The animals will be checked over before being returned to their rightful owners.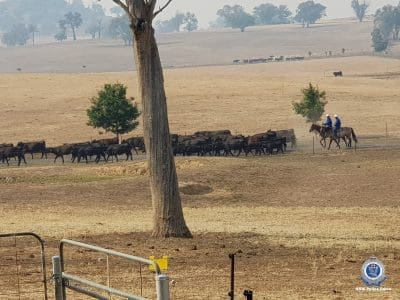 Riverina Police District Commander, Superintendent Bob Noble said local farm owners have been devastated in recent times.
"Our farming community is suffering at the moment with recent droughts and bushfires, so to go through loss of stock on top of that is devastating," Superintendent Noble said.
"Our rural crime prevention team and local police have been working tirelessly over the past two days to recover stock and work through documentation believed to be related to fraudulent activity.
"We will ensure those who are taking part in this illegal activity are dealt with accordingly.
"We urge the rest of the farming community to speak up if you've been affected by a crime such as this and report any suspicious behaviour."
Inquiries are continuing, and charges are expected to be laid.
Since 2002, there has been a 94 percent increase in the number of dedicated and specialised NSW police employees targeting rural crime.
More than 50 separate operations have been conducted and/or coordinated by members of the Rural Crime Prevention Team, relating to confiscation of offender's vehicles, hunting equipment and firearms; recovery of stolen firearms; multiple musters and recovery of livestock.
Source: NSW Police. Anyone who believes they may be victim to a similar crime is urged to contact local police or Crime Stoppers on 1800 333 000.