LIKE the ancient mariner's lament  'Water, water everywhere, nor any drop to drink', a cruel irony of the flood crisis in north western Queensland is that some surviving cattle will still die from thirst despite being surrounded by water.
"Talking to people at Winton and onto the Gulf, one of the biggest things they will face in the next couple of days is cattle perishing because they can't get to water," Australian Cattle Veterinarians Association president Dr Alan Guilfoyle told Beef Central.
"They're not going to walk off the safety of the sand ridges back into the mud."
It will take weeks before water and mud dries up sufficiently to make paddocks accessible which is frustrating efforts to save remaining livestock and wildlife affected by the floods.
Cattle which prior to this rain event were coming off years of drought are bogging up to their knees and dying from starvation. Clouds of sandflies, buffalo flies and other flying biting midges are now increasing the risk of infection from diseases such as three-day sickness in remaining stock, with immunity levels low after a run of dry years.
Dr Guilfoyle said stress is the number one suppressor of the immune system, and 8 to 10 days post-stress is the period when livestock are at their most vulnerable to illness or disease.
"They would be on that timeline right now, " he said.
"And then they would be getting a double whammy of added stress from fly."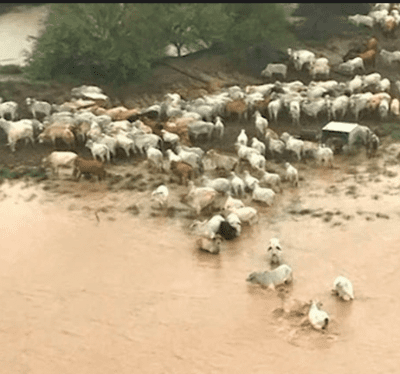 Producers would normally burn timber or cow pats to provide smoke relief for cattle from swarms of biting insects but even that option isn't readily available in a drenched landscape recently swept by floodwater.
"How do you find timber, how do you make smoke, there's nothing available, and you have to get to the cattle. Some of those properties stretch the equivalent of from Toowoomba to Warwick in distance."
Fatigue concern for chopper pilots
Dr Guilfoyle said concern is also growing about the levels of fatigue being endured by helicopter pilots who are spending days flying from one station to the next as they fly owners over their properties.
It is not only the long hours of sustained flying but the emotional burden they are having to cope with as well.
"Everybody jumps in the helicopters full of hope and they fly around and then they just see their heads go down, and then they drop him off and then go to the next place, so they're just wearing all of that emotion and grief being unloaded on them. They're not trained to be counsellors but that is part of the job they're facing."
'Say g'day, shout them a feed'
Dr Guilfoyle said as stations  become accessible one of the most important things people able to visit affected properties could do would be to simply bring "fresh bread, a dozen cream buns and a carton of beer."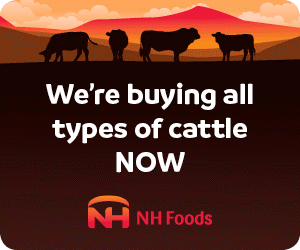 "Shout them a feed. That communication is what is really, really needed, I think that is the biggest help of all is just let people pour their guts out, talk to them.
"Ring a mate up, see how they are going, say g'day."
He said animal health companies were rallying to help and through the Australian Cattle Veterinarians Association were donating vaccinations and other drug supplies.
The Queensland Government is also currently talking to the Australian Defence Forces about helping with the sombre task of disposing of dead animals when paddocks become accessible.
Dr Guilfoyle said southern veterinary colleagues had also made offers to travel north to help with the grim task of shooting animal to remove affected landholders from that job where possible.
ANIMAL HEALTH AUSTRALIA MESSAGE ON BIOSECURITY IN WAKE OF NWQ FLOODS
In the aftermath of the North Queensland flood disaster in February 2019, surviving livestock can be impacted by comprised immune systems from metabolic disruption, trauma and exhaustion, which makes them more vulnerable to disease and infection of exposed wounds.
The most critical points of biosecurity in the coming weeks for livestock heath are:
Clostridial diseases (mainly botulism and black leg)
Flood waters can disperse clostridial spores commonly found in some soil types. Rotting vegetation may also be a concern for botulism due to sitting water. Ensure vaccinations are up to date (i.e. 5-in-1 or 7-in-1, plus a standalone botulism vaccine)
Leptospirosis
'Lepto' can be spread in floodwater, which also increases the likelihood of increased numbers of infected vermin moving into sheds and feed storage. Lepto is zoonotic and spread by infected urine, so ensure you are wearing appropriate clothing when handling livestock or are being exposed to increased populations of vermin, and wash hands regularly using soap. Ensure your livestock vaccinations are up to date (i.e. 7 in 1)
Exposed wounds
Exposed wounds can become infected. If livestock present with swelling, lameness or evidence of infection, immediate intervention is required either through care, veterinary attention or humane destruction
Biting insect populations
Diseases such as 'three day sickness' and Akabane are spread by biting insects. Monitor livestock for symptoms of disease, including sickness and lameness
Internal/External parasites
Moisture and warmth provides optimum conditions for parasites to flourish. Ensure drenching is up to date and treat for biting flies as required.
Cattle tick
You should continue to monitor livestock for cattle ticks and signs of tick fever in the aftermath of flooding and report them if found in the Qld cattle tick free zone
Spoilt hay and stock feeds
These can contain harmful mould toxins and bacteria. Inspect and do not feed off-smelling hay or feed
Carcase disposal and possible contamination
Carcases will ultimately need to be disposed of through burning or burial, to minimise scavenging and spread of disease. Consider your own personal heath when handling dead livestock and do not bury dead livestock near high water tables
Toxic plants
Toxic plants tend to get the jump on pastures after rain. Restrict access where possible or ensure there is an alternative food source to prevent livestock from browsing toxic plants
If you notice symptoms of illness in surviving cattle contact your local veterinarian or Biosecurity Queensland Stock Office (DAF office). More information: Disaster recover for livestock.
Links to more flood recovery resources from the Farm Biosecurity website here
FutureBeef guidelines for disposal of carcases: