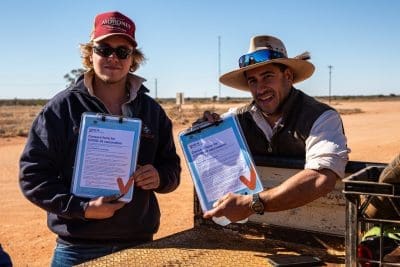 Northern Pastoral companies are preparing for their first mustering season with COVID cases. Source: RFDSWITH the Northern Australian mustering season set to start in the next two months, companies are preparing for their first season of COVID cases in their communities.
The latest Omicron wave has created significant disruptions to the beef supply chain, with processors struggling to keep up and lotfeeders having to hold onto finished cattle.
For stations in the north, the rapid spread of the virus has coincided with the quiet time of year and operations have seen little impact. But the start of mustering will see hundreds of staff move into the remote region – many of them from heavily impacted parts of the country.
The Western Australian and Northern Territory governments have made vaccinations mandatory for cattle station workers. Consolidated Pastoral Company CEO Troy Setter said the company decided to make them mandatory for all its operations across the country.
Mr Setter said the companies Northern Stations have continued to load ships, however could start mustering as early as next month on some stations – depending on the weather.
"Our team have had at least two vaccinations and they're all at various stages of getting their third vaccinations," he said.
"We have processes in place to segregate people and duties for when or if COVID hits. There's masks and rapid antigen tests on every property and people entering the property will be tested."
Mr Setter said the company already had some cases in its head office in Brisbane and had been dealing with major outbreaks in its Indonesian feedlots over the past two years.
"As a company we have been dealing with COVID for a long time, so it is not a new concept for us," he said.
"We have 600 team members in Indonesia and there has been a lot of cases over there, which the team has done an amazing job to deal with."
Events season potential for COVID spread
One of the major attractions for the northern mustering season is string of rodeos, campdrafts and race days – famous for their wild parties, but not known for social distancing.
"I really worry about that first rodeo or campdraft around April/May – when people have their first break," he said.
"The spread of sickness at those events is a real thing and we already have issues when people go to big events like the Katherine Show or the Mount Isa Rodeo bringing colds and flu infections back to stations.
"A lot of our stations are close to some really vulnerable and a lot of our staff are quite vulnerable – so we need to be mindful of that."
Beef Central has spoken to several other pastoral companies about their policies to manage COVID 19 spread on their staff. Some have also made vaccines mandatory for staff and others have not gone that far.
Alistair McDonald from McDonald Holdings said the company had not enforced vaccinations because of an enterprise bargaining agreement, but the vaccination rate among 120 staff was not an issue.
"A lot of people will be coming up from NSW and they have to be vaccinated to cross the border," Mr McDonald said.
"Everyone is vaccinated anyway – we all just went into town at the same there wasn't any push back."
The Royal Flying Doctor Service has been helping remote communities, including cattle stations, with vaccinations – providing jabs at its remote clinics. As of last November, the organisation said it had administered 62,328 doses across 300 locations.
RFDS told Beef Central its staff were on standby for any COVID cases which may require a hospital to treat and will be run as part of its usual service. The organisation said it had transported 6,110 COVID patients since the start of the pandemic, but mostly in the southern states.