The Newell Highway running southwest to northeast through Dubbo has become something of an unofficial boundary representing where the season cuts in and out in northern New South Wales.
Conditions to the west remain very dry, while areas to the east tend to be in better shape – albeit patchy – following more frequent and closer thunderstorm activity in recent months.
Paul Jamieson from Elders Dubbo said the Newell Highway currently forms "a very distinct line" between the contrasting seasonal fortunes.
"It is chalk and cheese either side of Dubbo," Mr Jamieson said. "Drive 45km east towards Wellington and it looks pretty good, drive 45km west to Narromine and it is terrible."
Yardings at the Dubbo cattle sales in recent weeks have also highlighted the deteriorating seasonal conditions in the west, with the majority of cattle coming in from areas such as Cobar, Broken Hill and Bourke.
Mr Jamieson said a percentage of cattle coming in from the west were of mixed or secondary quality, but their condition was not yet showing signs of poor seasonal conditions, suggesting western producers were pre-emptively off-loading before conditions deteriorate further.
"They have had a build-up in stock numbers over the two recent summers which were quite good, but those cattle are coming in in pretty good order," Mr Jamieson explained.
"They are not poor or overly store, they are still in remarkably good condition, but I think those fellas out there are probably being pre-emptive and saying we're carrying more than we probably need to given the circumstances so they're trucking a few out."
With some rain forecast for the rest of this week, Mr Jamieson said local producers were hoping for rain to fill in the areas that had missed out.
Recent rainfall patterns had taken the form of falling in dozens of little storm cells, rather than general rain across a wide area.
"The talk is, and we're hoping, that it will just fill in a little bit more and become a bit more general than these isolated storms and systems that we've been seeing over the past 10 days or so."
Cyclone Rusty bears down on Pilbara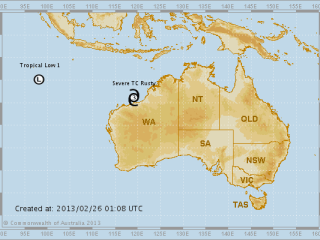 Meanwhile communities in northern Western Australia are battening down the hatches as Severe Tropical Cyclone Rusty builds up off the Pilbara Coast.
At 12pm Eastern Standard Time today the category 3 system was estimated to be 170 kilometres north northeast of Port Hedland and 320 kilometres northeast of Karratha and moving south at 6 kilometres per hour towards the coast.
The Bureau said its slow motion meant that it was very difficult to predictthe cyclone's expected crossing time and location, but severe warnings remain in place from Broome south to Mardie.
"The slow motion and large size of Rusty means that the destructive and very destructive winds will occur on the coast well before the centre crosses the coast, and will extend some distance from the centre, the latest Tropical Cyclone Advice reads.
"Wind gusts to 120 kilometres per hour are already being experienced in Port Hedland and conditions there are likely to get slowly worse during Tuesday and into Wednesday.
The advice includes warnings about very destructive wind gusts, heavier rainfall than that associated with a typical system, a very dangerous storm tide and significant flooding in Pilbara coastal streams.