AS many Australians were watching the rise and fall of Federal politicians in Saturday night's Federal Election, more than 2000 people were being treated to a spectacle of real-life thrills and spills at the 2022 Top End Mustering Rodeo at Kununurra's scenic Carlton Reach arena.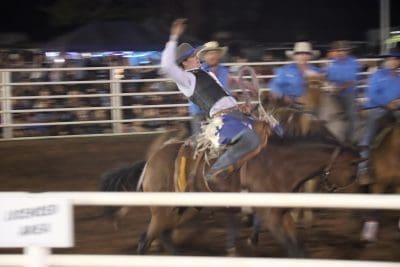 The strongly supported community event featured a high level of skill and fast-paced action as locals and staff from cattle stations across northern WA and the Northern Territory put their skills to the test in saddle bronc, station buckjump, bull and bullock rides and more.
A large section of the crowd accepted the invitation by the Wild Brumby Line Dancers to participate in a mass line dancing lesson, while the crowd partied well into the night with live music from Darwin band The Grind.
All the winners from the big events are listed below:
Junior Barrel Race
Krshaun Petrevski (Stoney) 15.50
Crystal Morris (Solider) 16.90
Kasey Ward (Solider) 17.50
Krshaun Petrevski (Rhianna) 18.00
Ladies Barrel Race
Mystique McGinty (Alyze) 14.74
Caitlin Bury (Lexa) 16.35
Addy Morrison (Garry) 16.91
Sarah Stenzel (Whitney) 17.19
Bullock Ride
Will Taylor 69
Dan Turnbull 64
Jordan Noakes 62
Station BuckJump
Jock Triggs 70
Aaron Thege 63
Clancy Malone 57
Poddy Ride
Andy Bedford 61
Trevor Bedford 50
Bill Worrigal 48
2nd Div Bull Ride
Odin Thomas 76
Cheyden Dolby 74
Will Taylor 72
John Welch 67
Saddle Bronc
Dan Turnbull 142
Tom Gibbs 137
Rhett Bennett 68
Cody Brennan 67
Bareback
Lance Bedford 74
Open Bull