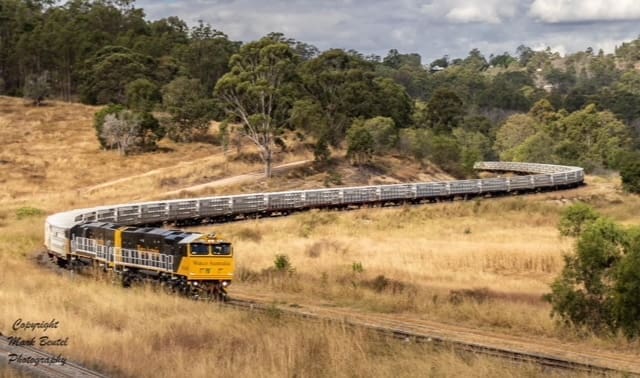 THE Queensland Department of Transport and Main Roads has announced a $4.26 million upgrade to a cattle loading facility on a major freight route in North Queensland.
Rail loading has been limited on the Mount Isa to Townsiville rail corridor after Aurizon put pad-locks on yards in Julia Creek, Richmond and Hughenden after it lost the contract to a new provider Watco East West. Aurizon said it was trying to come to a commercial agreement with Watco before letting the company use the yards.
On 21 July 2022 cattle were loaded at Maxwelton, between Julia Creek and Richmond, onto a train travelling to Rockhampton for the first time in years, with plans to updgrade the siding to take more cattle trains.
The upgrade is being delivered by Queensland Rail and will increase the siding length from 340 to 1,200 metres – long enough to accommodate a full-length train.
Watco East West Director Chris Hood said the siding would allow Watco East West to load up to 44 wagons of cattle onto a single train at Maxwelton.
"A new loading point on the rail line is an exciting chance to grow our service offering – we want more cattle on trains more often.
"Communities and industry across the North West region have been strong supporters of cattle rail services, so we will be working to assist with any transition to using the site."
Queensland Rail Head of Regional Jim Benstead said the works would support track, signalling and turnout installation, and would increase capacity on the Mount Isa line.
 "A full-length siding will allow trains to stow and other traffic to pass, which increases the overall capacity of the rail line, while also providing operational flexibility for other services in the area.
"We are also future proofing these works, so that the Maxwelton siding has potential to support other long-term freight opportunities if required."
Richmond Shire Council Mayor John Wharton said "We are very supportive of the Queensland Government upgrade at the Maxwelton rail siding and are investigating improvements to the associated yards such as new water troughs and possible extensions to hold more cattle.
"The future of Maxwelton is positive and there is great potential for works in the area such as a feedlot to be constructed close to the yards or other freight facilities such as grain handling. A dedicated cattle loading facility is a positive move forward."
McKinlay Shire Council Mayor Philip Curr indicated Council's support for the upgrade of the siding at Maxwelton as it will facilitate the interim loading of cattle onto rail from the broader Julia Creek area. Council is also planning a new cattle dip and is working with TMR on the plan for an alternate cattle rail loading facility at Julia Creek.
The Department of Transport and Main Roads and Queensland Rail say they will continue to work with local councils to investigate other loading, unloading, and spelling sites that will provide increased access to cattle rail services in the region.
Source: Translink