RED meat processor JBS Australia sees no place for government intervention in the highly competitive environment that currently exists between live export and processing sectors for livestock.
The view contrasts strongly with recent calls from the AMIEU (published in this earlier article) seeking some form of government intervention, either through quotas on volume or liveweight limits on live exports each year, in order to preserve Australian regional jobs in processing.
Some have even suggested that processors had coached the AMIEU in its recent actions.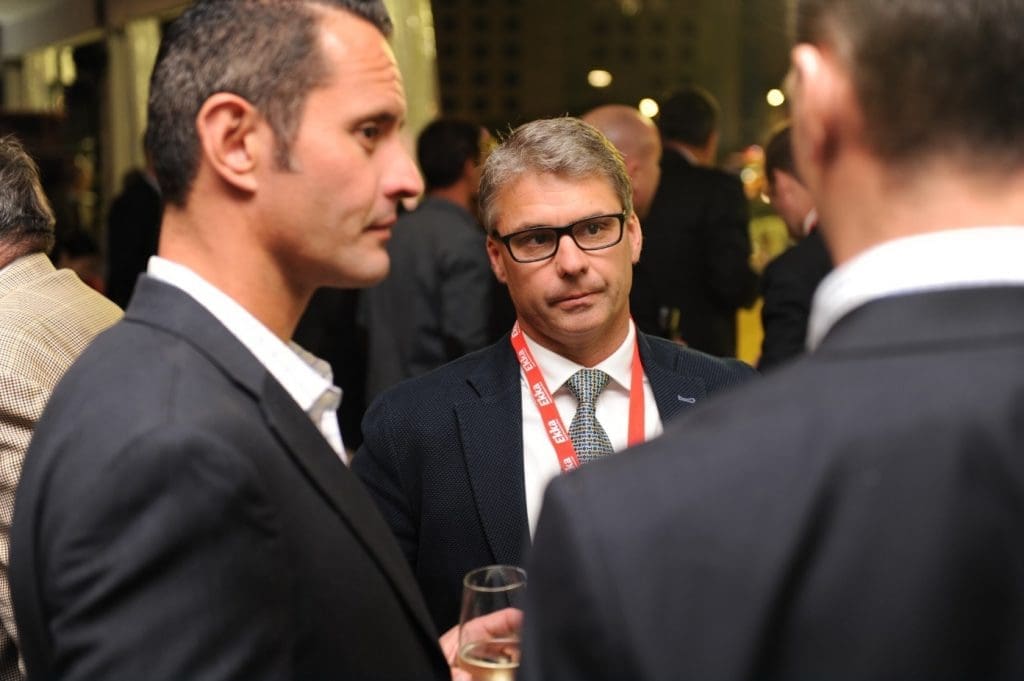 In an interview on Friday with Beef Central over the company's plans for re-opening its Townsville export plant later this month (see this morning's separate article), JBS Northern chief operating officer Anthony Pratt also touched on the company's views on protectionism.
"Obviously JBS and other processors want to see cattle stay in Australia for slaughter," Mr Pratt (pictured above, centre) said.
"But as soon as there's some attempt to put a cap on numbers of cattle live exported from Australia, or to put a cap on liveweights or the type of cattle exported, it represents a form of government intervention."
"We are absolutely opposed to any notion of such intervention – despite some earlier claims that JBS were supporting the AMIEU in its earlier views," he said.
"We are philosophically opposed to any form of government interference like this, because once government is invited into the commercial space, it's impossible to tell what the boundaries are, or where it might finish."
I'm yet to see an example of where government intervention in a commercial space like this ended well. It only ever ends in tears
"I'm yet to see an example of where government intervention in a commercial space like this ended well. It only ever ends in tears," Mr Pratt said.
"We, as JBS and as a processing industry, have to stand on our own two feet. It's not up to producers to subsidise us; it's not up to government to subsidise us. We ourselves have to find a way of attracting more revenue into the country, to ultimately be competitive in our grids against live exporters. That's the bottom line," he said.
"At the end of the day, there has to be both processing and live export active in this country, in order for the cattle producer to get the best return. If the beef producer is viable, he or she is going to be incentivised to produce more cattle. With more cattle, we can operate our abattoirs more efficiently, so it is in our own interests that farmers be more viable through competitive payment."
"Looking at our industry as a whole – producer, processor and live exporter – we've been out of balance for the past four years. For the past two years, processors could not absorb the number of cattle that were being turned off during the drought. They couldn't make it rain, but processors did everything they could to accommodate the flow of stock. It's now out of balance again, this time in in favour of the producer – it's just how it is, and we all have to deal with it."
Asked whether he had a solution to the current supply challenge faced by processors, in the face of a big surge in live export activity, Mr Pratt said right now, the solution was unclear.
"But it certainly does not involve government intervention. The processing sector simply has to find ways to do a better job at what we do, to lift competitiveness."
"As an industry, we're as good, or better than anybody else in the world at turning live cattle into boxed beef. What hurts us is our cost to operate in this country. If there was any area in which we would seek government assistance, it would be in improving our cost to operate, especially in areas like government red tape and regulatory costs.
Mr Pratt said processors were not going to 'achieve miracles' in improving labour costs any time in the near future.
"What we have is what we have in that area. But 100 percent cost recovery for government programs, which Australian export processors currently pay while competitors overseas do not, must be looked at. If the Government is serious about maintaining jobs in this country, especially in regional areas where processing dominates, then they need to look at the costs they charge us as a processing sector to operate in this country."
Mr Pratt said labour costs in processing in Australia were anywhere from 65 to 70 percent of overall fabrication costs, depending on the style of plant and where it was situated.