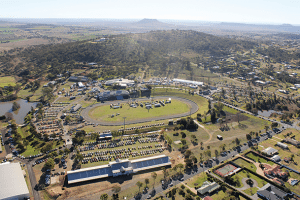 Industry experts from all sectors of the beef supply chain will speak at the inaugural Darling Downs Beef Xpo to be held at the Toowoomba Showgrounds next week.
Pat Gleeson from Oakey Abattoir and Dr Ben Lyons who is the Toowoomba and Surat Basin Enterprise's representative in China will speak at a networking function from 5:30pm next Wednesday, September 2.
At the same function Queensland Choice Meats will be showcasing Grass Fed, 70 to 90 day Grain Fed and 120 day Grain Fed products from several producers such as Nolan Meats from Gympie, Lee Pratt Meats from Lismore and JBS from Beef City.
Queensland Choice Meats will also release some exciting new products for tasting, promising that one in particular will "lift the bar for the serious steak eater".
The networking function and Queensland Choice Meats display will be staged in the eastern end of the Spring Bull Classic venue.
A range of well known industry stakeholders will also speak as part of the USQ Seminar Series at the auditorium below the Landmark Building on Wednesday, September 2 and Thursday September 3.
The seminar program is as follows:
WEDNESDAY 2nd SEPTEMBER
10:00am            Charlie Crossley – Beachport Liquid Minerals
12:00pm             Eric Ng – Australian Centre for Sustainable Business and Development
2:00pm              James McLean – Allied Beef
THURSDAY 3rd SEPTEMBER
10:00am            Kurt Wockner – Oakey Beef Exports
12:00pm            Dave McRae – International Centre for Applied Climate Research
2:00pm             Jamie Ferguson – Arcadian Organic & Natural Meat Co. PTY LTD
Local beef producer Tex Barrett will chair the event.
The Xpo will also include trade displays, led steer competition, bull sale and campdraft. Admission is free.
For further details visit the website www.rasq.com.au