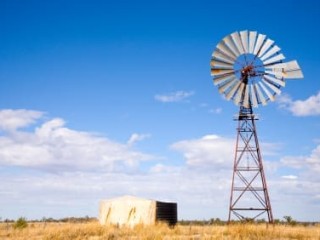 A survey commissioned by New South Wales farmers and conducted by Newspoll suggests that strong community support exists for moves to protect prime food-producing land from mining.
Newspoll surveyed 671 people aged 18 years and over by telephone across all areas of NSW and weighted results based on ABS data.
A total of 88 percent of respondents were either strongly in favour or somewhat in favour of parts of NSW's agricultural land being reserved from mining and coal seam gas.
Approximately 50 percent thought that more than half of the state's food-producing land should be reserved for agriculture while one in four believed more than 90 percent should be set aside solely for agriculture.
While Queensland has introduced laws to protect agricultural land of "strategic importance" from mining, the NSW Government has not earmarked any farm land to be excluded from mining or coal seam gas activities.
A total of 58pc of respondents thought the NSW Government was putting too much emphasis on satisfying the interests of extractive industries, compared with about 1 percent who said too much emphasis was placed on farmers.
NSW Farmers' President, Ms Fiona Simson, said she was genuinely surprised by the depth of feeling across the state.
"People talk about the country and city divide but it's not there on this issue and I think that is very encouraging," she said.
"It is also great to see an awareness and appreciation of agricultural land and its value and the need for it to be reserved to ensure sustainability of food production.
"NSW country and city dwellers alike want to see areas of agricultural land in NSW off limits to mining and exploration.
"Currently, more than 100 percent of NSW is covered cumulatively by mining and CSG titles and applications. This is causing great uncertainty for farm families, the $8.4 billion agriculture industry and the 74 000 people it employs."
In NSW, at present, not one hectare has been set aside for food production. NSW Farmers is asking the government to declare some agricultural land off limits to exploration and to strengthen proposed land and water protections for mining and CSG.
On 1 May this year, NSW Farmers joined with more than 20 groups from across the state in a rally outside Parliament House to demonstrate concern about the NSW Government's Strategic Regional Land Use Policy and its approach to exploration and mining in this state.
During the recent consultation process on the policy, the government received over 1400 submissions – a vast majority of which were in favour of stronger protections for the state's land and water resources. The policy will be finalised later this year.
Meanwhile, a recent report by the Australian Farm Institute has highlighted that NSW lost 6 percent of its farm land in the twelve years to 2009 due in part to mining and urban encroachment.
Ms Simson said that NSW Farmers was not against mining or coal seam gas. However, opening up the whole of NSW for exploration does not make sense and will lead to decades of needless uncertainty for farm businesses across NSW.