MORE than 150 steak connoisseurs packed into Toowoomba's Spotted Cow hotel last night to participate in a steak judging event featuring seven of the Darling Downs region's top grainfed beef brands.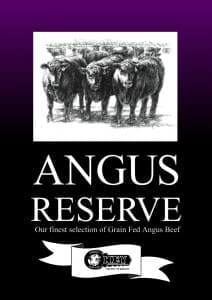 The inaugural Darling Downs Beef Battle was concieved by Food Leaders Australia and the Toowoomba Surat Basin Enterprise (TSBE) to showcase the significant number of Australia's high quality grainfed beef programs operating within the region.
The event saw  Treasury Brisbane Executive Chef Steven Jones and the team of Spotted Cow chefs carefully prepare sirloins from seven brands produced by JBS, Stanbroke, Rangers Valley, Oakey Beef Exports, Mort & Co, and John Dee.
The steaks from each brand where then blind taste-tested and scored by the 150 people present, resulting in an overall win to NH Foods Angus Reserve.
Angus Reserve is Australia's largest verified black Angus beef brand, with cattle raised on pasture and finished on wheat. oat and barley ration for a minimum of 150 days, with a guaranteed marble score of at least two.
Delivered by Food Leaders Australia, NH Foods Oakey took home the inaugural title after competing against other local brands.
Food Leaders Australia General Manager Bruce McConnel said the event was the region's first beef battle and he was proud to see the outstanding level of support it received with a sold-out crowd.
"Congratulations to all our producers for taking part – the world-class beef on display ensured it was a tough decision for our steak-loving audience," Mr McConnel said.
"However, tonight was really about showcasing what we have here locally, and we were delighted with the robust conversation around the room between beef suppliers and representatives from the food and hospitality industry.
"It marked the first time we were able to get everyone together and we hope it won't be the last – we will look at planning more initiatives like this in the future to promote our unique region's produce."
Pat Gleeson from NH Foods Oakey said "The team from NH Foods Oakey are absolutely stoked with the win. It was a great way to promote products from the Darling Downs. A lot of people are involved with the process, so this success wouldn't have been possible without them."
Mr McConnel said he was pleased to have the support of The Star Entertainment Group with Treasury Brisbane's top chef joining The Spotted Cow's chefs in the kitchen to ensure a fair contest.
Treasury Brisbane Executive Chef Steven Jones said he was delighted to have the opportunity to work with the Toowoomba chefs and help showcase the region's strong beef industry.
"I thoroughly enjoyed being part of this initiative – it gave me a fantastic opportunity to learn about each of the local brands first-hand as well as work with a whole different team of talented chefs at The Spotted Cow," Mr Jones said.
"The networking with all the beef producers in the room was invaluable – being involved in these sorts of initiatives is part of our broader approach to continue engaging with regional Queensland communities and learn about what's on offer right across the state.
"At the end of the day, we want to create authentic Queensland experiences for locals and visitors to our properties, and food will always play a significant role in that."