Big year for US Certified Angus Beef
The world's largest beef brand, US Certified Angus Beef, has reported a fifth consecutive year of record sales for 1010-11. Sales totalled 366,000 tonnes for the fiscal year, up almost 4pc over 2009-10. Almost 16,000 businesses partner with CAB in the US and 42 other countries, generating an estimated $4 billion in consumer sales annually. The brand's success at a time of economic downturn and rising costs showed its value to consumers and producers, CAB president John Stika said in a news release. The result, he suggested, was a function of both demand and supply of the high-quality Angus beef. Research by Kansas State University had shown that since 2002, demand for CAB has risen 56pc while demand for commodity USDA Choice beef rose only 20pc. Overall, growth in the CAB brand's volume sales included increases among steaks, end meats and ground beef. Sales were especially strong during the summer grilling season, with June, July and August sales each surpassed 31,000t. The rebounding economy meant more customers were dining out at the brand's nearly 8000 licensed US restaurants, leading to an 11pc increase in food service sales, totalling 113,000t. Demand among the brand's 5900 licensed US retailers remained strong, reaching 179,000t, while overseas licensed partners netted record international sales of 40,000t – a 13pc increase over last year, due to the attractive US currency rate. Demand also continued to grow for convenience and fully-cooked CAB items. Sales of branded value-added products set a sales record of 8000t. More than 3.5 million head of US cattle met the CAB brand's standards during 2010-11.
Uruguayan beef processors concerned over live exports
During the 50th anniversary Meat Importers Council of America conference held in San Diego last week, a Uruguayan processor delegation expressed concern about the expansion in trade in live cattle out of Uruguay, especially to markets like Turkey. Uruguayan shipments have now increased to levels in excess of 300,000 head per year; a level said to be impacting on the country's processing sector in contributing to reduced availability of livestock for slaughter.
Industry applauds Carr's comments on retail market
The retail industry applauded Federal industry minister Kim Carr's recent comments about the market power of major retailers and how this was impacting the plight and competitiveness of food and grocery manufacturers, the Australian Food and Grocery Council said this week. Speaking at AFGC's industry leaders' forum in Canberra, Mr Carr said he was "particularly concerned about the market dominance of the two major supermarket chains – who now control 80pc of retail food sales in this country." "We are determined to address the complaints brought to us by many local [manufacturing] firms … there is a case to be concerned about an abuse of market power," Mr Carr told the forum. A new AFGC report called 2020: Industry at a Crossroads forecasts that the retail market is expected to remain highly concentrated over the next 10 years, with private label products expected to grow strongly. AFGC chief executive Kate Carnell said it was encouraging to see the Federal Government recognising that there was a real problem with retail concentration and market dominance in Australia, which needed to be urgently addressed.
Vending machine offers fresh meat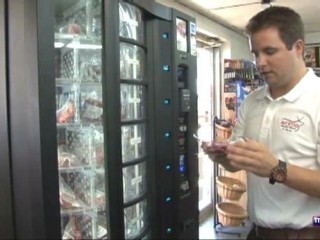 Vending machines offer a convenient way to purchase soft drinks, lollies and chips… but steak? Two young businessmen from the US state of Alabama have developed a vending machine for freshly packaged meat, dubbed the "Smart Butcher." So far, the one and only Smart Butcher vending machine is located in the Lil Mart convenience store in US Highway 411, near Odenville, Alabama. After a swiping a credit or debit card, customers can pick out their choice of vacuum-packaged portion-controlled fresh meat,
including individual rib eyes, pork steaks and sausages. Prices range from US$1 to $6, and the owner of Lil Mart says his customers love the Smart Butcher machine. Rob Harrison and a business partner are the brains behind the new retail vending machine, reported Myfoxal.com. "I said I'd come out to a rural market where they're under-served with quality meat products, and try to just attract more consumers," Mr Harrison said.
Grants to realise big ideas from young rural innovators
Grants of up to $22,000 are on offer as part of the 2012 Science and Innovation Awards for Young People in Agriculture. The awards support young people aged 18 to 35 years who have an innovative project that will benefit Australia's agriculture, fisheries, forestry, food and natural resource management sectors. Agriculture minister Joe Ludwig said the awards provided an opportunity for young innovators to boost Australia's rural industries by helping convert ideas into reality with projects that would contribute to the ongoing success and sustainability of primary industries. The awards aim to encourage the uptake of science, innovation and technology in rural industries and help to advance the careers of young people through national recognition of their research ideas. Winners can use their funding for a range of activities including research projects, industry visits or to attend conferences and workshops. Following an additional application and judging process, one of the industry category award recipients will then receive the Minister's Award, which provides an additional $33,000 in funding to further develop their research project. Last year's winner, Dr Keith Pembleton, is identifying novel sources of drought-tolerance traits in lucerne. Applications for the awards close on 18 November. For information and application forms visit www.abares.gov.au/scienceawards
ACCC identifies risks to container shipping ports meeting demand
The Australian Competition and Consumer Commission's annual report on stevedoring operations at Australia's largest container ports warns of risks of capacity running short at the Port of Melbourne by around 2015. The ACCC report finds that new terminals are well underway in Sydney and Brisbane. A new entrant, Hutchison Port Holdings, is expected to commence operations at those ports in 2013. This will be an important and positive development for the ports of Sydney and Brisbane and the economies that rely on them. The ACCC has expressed concern over a number of years that persistently high profitability and a lack of competition on prices suggested that Patrick and DP World faced only limited competition. If container numbers continue to increase at current rates, there is a risk that capacity problems, similar to those observed at Port Botany, could emerge in Melbourne as early as 2015. The Victorian Government is currently deciding how it will provide for future container capacity and increased competition at Melbourne. "Competition should drive the stevedores to invest in a better service," ACCC chairman Rod Sims said. "This should see more containers being moved on and off ships more quickly." The ACCC monitors prices, costs and profits of container stevedores at the major Australian container ports. DP World and Patrick operate at the four largest ports—Brisbane, Fremantle, Melbourne and Sydney.
Vets say prepare for bushfires, cyclone and floods
After last year's bumper season for natural disasters, vets are warning that bushfires, cyclones and floods are likely to put many animals at risk again this summer. Dr Alex Burleigh from the Australian Veterinary Association says that all states and territories may well be affected by some sort of natural event over the coming months, and that people with livestock, pets and horses should be prepared. "The Bureau of Meteorology is already warning of a record bushfire season due to the huge rains that have allowed vegetation to flourish, and in many districts that has already started. And in the northern part of the country the predicted La Nina weather system may once again bring record rains and floods," said Dr Burleigh. "It pays to be over cautious and over prepared. The loss of livestock, pets and wildlife last season taught us this," he said. The AVA is encouraging farmers and pet owners in areas that are likely to be affected to talk to their local veterinarian about how to prepare. AVA brochures on protecting horses, livestock and pets in natural disasters can be downloaded from the AVA website at: www.ava.com.au/publicinfo