Clean power for Wagga
Teys Australia has entered into an agreement to use power generated in a biomass-powered 'clean-power' project being developed by Syngas not far from the processor's Wagga Wagga abattoir. The Bomen clean power project is expected to supply at least 2 megawatts of power within the next 12 months, when the project is finished at the Bomen Industrial Park, 800m from Teys' Wagga Wagga facility. A subsequent biomass combustion stage providing a further 3MW of power could also be operational within 24 months, subject to approvals, bringing total power production at Bomen to 5mw, a statement said. In the US, there are currently 106 biomass-to-power plants in operation, with generation capacity of2145MW. Raw material sources include hay, woodchip and a variety of other plant material.
AA Co on track for Darwin abattoir
The Australian Agricultural Company last week reaffirmed its plans to build an export abattoir near Darwin, saying it was on target to start building the facility 50km south of the northern capital early next year. Chief executive David Farley said the project was conditional on government approvals and infrastructure support, and would be designed with a throughput capacity of 1000 head a day. The bulk of the manufacturing beef would be exported out of Darwin to the US, Europe and Asia. AA Co said the plant would help create markets for cull cows and bulls not suitable for the live export trade. The dearth of red meat processing capacity north of Townsville was further highlighted last week when Teys Australia elected to liquidate its mothballed Katherine (Northern Territory) and Innisfail (Far North Queensland), processing sites, which have laid dormant since 2000 and 2007 respectively. Both are being cut up and sold for scrap retrieval value, ending any remote prospect of either being re-activated, should the live export landscape change.

More hay for stricken Japanese farmers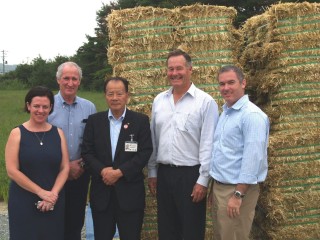 MLA's ongoing 'Together with Japan' relief effort continues to provide local Japanese farmers with hay to support their rebuilding efforts. Chairman Don Heatley, deputy Rob Anderson and new managing director Scott Hansen recently visited Japan to demonstrate MLA's ongoing support for the Japanese beef industry following the 11 March earthquake and its aftermath. A fourth consignment of Australian hay was distributed in the Tohoku earthquake-hit zone, where MLA has been actively supporting reconstruction. The process was launched with a fund-raising barbecue on Sydney Harbour – raising $250,000 for the affected region. MLA Japan regional manager Melanie Brock joined the MLA contingent in visiting farms, schools and local communities in Tohoku recently to show the industry's support. The latest upload included 24 tonnes (960 bales) of hay distributed among Fukushima cattle producers, delivered through JA Soma. Last week, five students from a local agricultural high school and local producers travelled to Australia to meet their Australian counterparts, visit beef farms and take part in the Australian Wagyu Association annual conference. "I was immensely proud to be representing the Australian beef industry as the hay arrived in Soma this week to be shared around the local cattle producers," chairman Don Heatley said on his return last week. "You can only imagine how hard it is for the victims to deal with what they have been through. I was honoured to be talking to these producers, playing a small part in the massive effort required to rebuild."
Vets say prepare for bushfire, cyclone and floods
After last year's bumper season for natural disasters, vets are warning that bushfires, cyclones and floods are likely to put many animals at risk again this summer. Dr Alex Burleigh from the Australian Veterinary Association said all states and territories may well be affected by some sort of natural event over the coming months, and that people with horses and livestock should be prepared. "The Bureau of Meteorology is already warning of a record bushfire season due to the huge rains that have allowed vegetation to flourish. And in the northern part of the country the predicted La Nina weather system may once again bring record rains and floods," said Dr Burleigh. "It pays to be over cautious and over-prepared. The loss of livestock, pets and wildlife last season taught us this," he said. The AVA is encouraging farmers and pet owners in areas that are likely to be affected to talk to their local veterinarian about how to prepare.
AVA brochures on protecting horses, livestock and pets in natural disasters are available for download from the AVA website at: www.ava.com.au/publicinfo.
How do you like your Picanya?
Beef Central has uploaded several recent articles mentioning Australia's recent success in selling seamed rump caps extracted from the rump primal to Brazil and Chile. The cut, much-prized in South American countries, in local Portuguese/Spanish is called picanya. Or so we thought. Several readers who have spent time in Brazil have offered alternate spellings. Zanda McDonald from MDH volunteered Pichania; Don Nicol, who worked for Vesteys in South America many years ago, lobbied for picanha. A quick Google search found references for all three. It appears 'pichania' is mostly used as an Anglicised version in US restaurants, while 'picanya' is rarely used, and appears more of a mis-spelling. The overwhelming preference appears to be picanha. So for Beef Central's future purposes, picanha it is. Just for the record, the pronunciation is pee-kahn-ya. No further correspondence will be entered into!

VFF appoints new CEO
The Victorian Farmers Federation has appointed Graeme Ford to the position of Chief Executive Officer. VFF President Andrew Broad said Mr Ford brings an extensive farming background to the role gained over 18 years in a family farming business in Central Victoria. Mr Ford joined the VFF in 1997as a regional manager managing a number of projects before taking the role as manager of the Chicken Meat Group in 2003. Since 2005 Mr Ford has held the position of executive manager – policy and been an integral part of the senior leadership team of the VFF assisting outgoing CEO Mr Wayne Harvey through the reform processes. Mr Ford has also analysed and implemented VFF policy on a range of major issues confronting farmers, such as Water Reform, Carbon Tax, Fire Services Levy, Native Vegetation Regulation, and Disaster Recovery Programs.