NT station owners fined over 2008 death
The owners of a Northern Territory cattle station pleaded guilty in the Alice Springs Magistrates Court this week to a charge under the Workplace Health and Safety Act in relation to the death of a worker. Appearing before Magistrate Greg Borchers, Peter and Brenda Saint were fined $55,000 in relation to the death of 24-year-old Canadian national John Evans on 6 September 2008. Mr Evans suffered fatal injuries when the four wheel drive "bull catcher" he was driving rolled over and pinned him to the ground on Kurundi Station, about 140km south-east of Tennant Creek. He was working as a station hand for the Saints at the time of his death. A NT WorkSafe investigation into the incident found that the bull catcher was unregistered and unroadworthy. The investigation also found inadequate maintenance of the vehicle meant the bull catcher was unsafe to operate. "All employers have a general statutory duty of care to ensure, as far as reasonably practicable, that workers and others are not exposed to risks to their health or safety arising from the conduct of the employer's business," said Laurene Hull, Executive Director of NT WorkSafe. "These duties include taking all reasonably practicable measures to ensure that equipment in the workplace, including vehicles, are safe."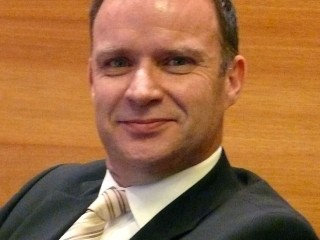 Herefords Australia announce new CEO
Herefords Australia has a new CEO, John McKew, a 48 year old with extensive experience in the commercial business sector and with a strong background in rural industry.Mr McKew has a family background in farming in western Victoria and completed a Bachelor of Business and a Master of Business Management (MBA) at Deakin University plus numerous other specialised training courses in public speaking and media, project management, facilitation and finance. He was recently the start-up CEO of a Victorian based manufacturing company where he was responsible for commissioning new manufacturing facilities, recruiting staff and developing a complete business structure. He has also 14 years of his working life with Dairy Australia in various roles, including manager of industry relations for seven years which involved relationship management of various state and national dairy farming organizations and individual dairy farming enterprises. "With a passion for Australian agriculture, my aim has been to secure a leadership role in the farming sector to deliver improved business performance in strategy development and execution, business development, marketing, communications and stakeholder engagement, and this Hereford role is the perfect fit", Mr McKew said. "My investigations into Herefords clearly indicate the breed has the numbers and profit driving traits to build demand and I am looking forward to working with Herefords Australia's board and its staff and meeting Hereford breeders to develop plans and strategies to increase market share. Mr McKew takes up the position in Armidale, NSW, at the beginning of 2012.
Animals Australia wants CCTV in abattoirs
Animals Australia says Australia should follow the UK's lead and fit all abattoirs with closed circuit television cameras, following investigations of animal cruelty complaints in a Victorian pig abattoir this week. Animals Australia executive director, Glenys Oogjes, said video footage that triggered the closure of the abattoir and a Government investigation exposed flaws in the current audit system designed to prevent unacceptable practices from occurring. "One of the problems is that unlike export abattoirs, domestic abattoirs don't have an inspector or government officer on site most of the time. This lack of oversight leaves farm production animals incredibly vulnerable. "Where ever eyes aren't watching animals are at risk of cruelty. Reassurance will only come through a totally transparent system such as that being rolled out in the UK where one in five abattoirs have already been fitted with CCTV cameras."
$25m for carbon-saving initiatives
The Federal Government has announced the first round of funding to help farmers to trial and demonstrate on-farm practices and technologies that reduce greenhouse gas emissions such as methane and nitrous oxide, or increase soil carbon. $25m will be available in the first round of the $99 million Action on the Ground program between now and 2015. Agriculture minister Joe Ludwig said the funding will provide landholders, researchers, industry, government and non-government groups with funding to address the sources of agricultural emissions. "Action on the Ground will provide farmers with support to develop the tools to mitigate the impact of climate change and help Australia meet its emission reduction targets," Minister Ludwig said. Funding can be used to help reduce methane emissions from farmed animals and their waste; improve fertiliser use to reduce nitrous oxide emissions; and the planting and rotation of crops and grazing practices to reduce emissions from soils or increase carbon stored in soil. The program is a part of the Carbon Farming Futures Fund under the government's $1.7 billion Land Sector Package.To find out more about eligibility and how to apply for the first round of funding, visit the Department of Agriculture, Fisheries and Forestry website at www.daff.gov.au/climatechange/carbonfarmingfutures/action-on-the-ground.
RFID inventor passes away
Charlie Walton, the inventor of Radio frequency identification (RFID) wireless technology, has passed away, aged 89. RFID is widely used to provide secure access, tracking, payment and limited data exchange, and forms the basis of Australia's National Livestock Identification System. Charlie Walton filed more than 50 patents during his lifetime but is most recognised for his 1973 patent for a "portable radio frequency emitting identifier". He studied electrical engineering and worked for the Army Signal Corps and IBM before founding his own company Proximity Devices in 1970. He went on to earn millions of dollars from his technology, however many of his own RFID-related patents had expired by the time a major wave of investment in the technology from the likes of Department of Defence and Wal-Mart occurred. RFID technology is expected to generate $6 billion in worldwide revenue this year alone. Despite missing out on substantial potential windfalls, he told Venture Beat magazine in 2004 that he was not particularly concerned about the financial aspect. "I feel good about it and gratified I could make a contribution."
Independent panel to review land access laws
The Queensland Government has appointed an independent panel to review Queensland's land access laws. Mining minister Stirling Hinchliffe said the five-person panel would provide a final report, including any recommendations to the government, in February next year. The review panel will consult with industry and community stakeholders to assess the day-to-day workings and effectiveness of the land access framework. Mr Hinchliffe said the Bligh Government established the framework to improve relations between landholders and resource companies and to enshrine rules for conduct and compensation for companies seeking access to private land for exploration activities. The Land Access Framework Review Panel will be chaired by Dr David Watson, a Queensland Competition Authority board member and former parliamentary leader of the Queensland Liberal Party 1998-2001. The panel will also contain former AgForce Queensland president John Cotter; president of the Australasian Institute of Mining and Metallurgy, geologist and mining consultant Alice Clark; former Queensland Farmers Federation president Gary Sansom and Queensland Exploration Council chair and former deputy coordinator-general in the Queensland Government, Geoff Dickie.
Govt warned on CSG impacts five years ago
The Queensland sgovernment was warned five years ago that coal seam gas industry projections were based on a misplaced "technological optimism" that environmental issues could be addressed, The Australian reports today. Former Queensland Department of Mines and Energy principal policy officer Geoff Edwards told the newspaper the Government was advised that there was no way to assess the CSG industry's "cumulative impact" on farming and water. The problems he identified with CSG at the time still remained, he said, including its potential impact on underground water tables. "In the absence of a good technical solution, I would question the desirability of pushing ahead at the great rate we are seeing with the issuing of tenures for these projects," he said.
Landmark Strategic Cropping Land legislation passed
The first legislation in Australia designed to protect prime agricultural land from high-impact developments including mining has passed through Queensland parliament overnight. One group which has welcomed the decision is the Coal4Breakfast group which has been fighting plans by Tarong Energy to sell a lease on the Haystack Plain for an open cut coal mine. Group chair Jeff Bidstrup said Australia was one of the few countries in the world to have moved to protect sustainable food producing lands from destruction by extractive industry. "Meeting the global food challenge will become centre and fore in the next few years, and the Queensland Government can be rightfully proud that they have had the vision and courage to enact legislation that will be a template for governments all around Australia and the world," Mr Bidstrup said. "It is also pleasing to note that the LNP has supported the bill, emphasizing the importance of the challenge." He said the Haystack plain grew enough wheat each year to make 68 million loaves of bread, enough feed grain to feed cattle that would make sausages that can circumnavigate Australia one and a half times, plus chick peas, mung beans, barley and corn.
Livestock workshops for Victorian producers
The Victorian Farmers Federation's (VFF) Livestock Group has launched a series of Animal Health Extension events focusing on best-practice farm and animal management. Chris Nixon, VFF Livestock Group President, said the program has been running for six months and has already providing benefits to sheep and beef producers. Evens so far have covered topics including safe vaccination, industrial relations, occupational health and safety and Pestivirus management. "Our aim throughout all our workshops is not just to present a list of facts, but to speak with producers about how to put together the most effective and cost-efficient management plan for their herd, depending on what works best for the individual farmer," Mr Nixon said. Producers and farm managers interested in the 2012 Animal Health Extension programs run by the VFF's Livestock Group are encouraged to contact Charlotte Fox at the VFF on 1300 882 833 or email cfox@vff.org.au.