DNA test for grinding beef
Performance Food Group, one of the largest foodservice distributors in the US, and Kansas-based IdentiGEN have developed the first commercial process to trace ground meat back to its origins using DNA technology. This collaboration marks the first time DNA TraceBack, previously used to trace whole-muscle cuts of meat, has been used to trace ground beef to its Black Angus origins, according to the US National Meat Association. Thousands of US restaurants will serve Braveheart Black Angus burgers from Performance Food Group that are traceable using by DNA TraceBack technology.
Japan's food imports rise as radiation suspicion lingers
Japanese financial newspaper The Nikkei, reported that the nation's food imports increased 12.4 percent year-on-year in the January-November period. This was partly due to lower domestic production in the post-Tsunami period, but also to lingering consumer health concerns over radiation risk in domestically-produced foodstuffs. Beef imports (from all supplier countries, not just Australia) followed a similar pattern, rising 7.1pc in volume terms and 10.1pc in value over the same 11-month period. Supermarkets and restaurant chains increased their use of imported meat due to consumers' radiation concerns over domestic beef, Nikkei reported.
Texas cow herd numbers drop
The worst drought in Texas history has led to the largest ever one-year decline in the largest cattle state in the US, raising the likelihood of increased US beef prices as the number of animals decline and demand remains strong. Since January 1 last year, the number of cows in Texas has dropped by about 600,000, a 12pc decline from the roughly 5 million cows the state had at the beginning of the 2011. Many cows have been moved to agistment but many were slaughtered. In Texas, Oklahoma, New Mexico, Louisiana and Arkansas, about 200,000 more cattle were slaughtered last year, a 20pc increase over a year earlier. USMEF recently reported that the ongoing significant drought conditions in South Texas and elsewhere was resulting in the liquidation of cows and the earlier movement of feeder cattle into feedlots. There was therefore likely to be a continued spike in slaughtering extending into the first quarter of 2012, but thereafter, a 5pc fall in production was expected in the second half of 2012.
Is beef's carbon footprint shrinking?
A study published in December's Journal of Animal Science found that raising a kilogram of beef in the US today uses significantly fewer natural resources, including land, water, feed and fuel than in the past. "The Environmental Impact of Beef Production in the United States: 1977 compared with 2007" (Journal of Animal Science, December 18, 2011), documents that each pound of beef raised in 2007 used 33pc less land, 12pc less water, 19pc less feed and 9pc less fossil fuel energy than equivalent beef production in 1977. Waste outputs were similarly reduced, shrinking the carbon footprint of beef by 16.3pc in 30 years. According to the research, improvements in the way cattle are raised and fed yielded 13pc more total beef from 30pc fewer animals. Raising more beef from fewer animals maximises natural resources while providing essential nutrients for the human diet. Researchers also noted that focusing resources to provide more nutrient-rich foods like beef is a critical success factor in meeting nutrition needs at home and abroad. The study, supported by the US Beef Checkoff Program can be viewed at http://goo.gl/0sbMf.
Buy local big trend, say restaurants
Locally-sourced meats and seafood topped the National Restaurant Association's "What's Hot in 2012" survey of nearly 1800 chefs across all categories issued last month. In the centre-of-the-plate category, "newly fabricated cuts of meats" were named as the third hottest trend and "half-portions/smaller portion sizes" came in fifth.
Across all categories, some of the other top trends included: Locally-sourced meat and seafood; sustainability; children's nutrition; farm-branded ingredients; food trucks/gourmet street food; health/nutrition; and mini meals (smaller versions of adult menu items).
Try DNA to catch a thief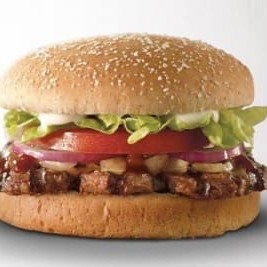 McDonald's restaurants are fighting back against thieves by blasting suspected robbers with an invisible DNA spray as they attempt to flee. The spray, which remains on the suspect's skin for two weeks and on clothes for up to six months, has been introduced in some of the chain's busiest NSW stores, including Parramatta, Granville, Auburn, Lidcome, Kingsford and Wollongong, reported The Daily Telegraph. If the SelectaDNA "forensic marking" spray proves successful in apprehending bandits, McDonald's will introduce the system across all its 780 Australian outlets. Developed in the UK by a police officer and a chemist, the spray has been used by McDonald's outlets in Britain and Europe. The solution is invisible to the naked eye and unique to each location. Using UVA light, police can see the markings left by the system and link the offender back to the scene.
US ethanol tax break ends
A US ethanol tax credit costing taxpayers roughly US$6 billion a year expired on December 31. An import tariff of US54c/gallon on ethanol imports, mainly from Brazil, also expired at the same time. The Brazilian industry sees this as a major opportunity to expand exports of Brazilian ethanol to the US where it is credited with a smaller carbon footprint than US-made ethanol. Food makers, the livestock industry and environmentalists in the US have attacked corn ethanol in the food vs fuel debate so all aspects of the US livestock industry welcomed this change and perceived reduced pressure on US corn stocks.
Govt rules out 'traffic light' labelling
After an intense few weeks of lobbying the Federal Government has ruled out 'traffic light' labelling for food products in Australia. The recommendations to switch to the 'Traffic Light' system was made under the Food labelling review carried out by former Australian Health Minister, Dr Neal Blewett, but had been strongly opposed by large sections of the food industry. 'Traffic Light' labelling uses green, amber and red symbols on the front of the pack to show at a glance the relative levels of fat, saturated fat, sugar and sodium in a food product and has been argued-for by Australian health groups. The Government however has said that it will issue new rules that will improve back-of-pack labelling to give consumers more information on fat, sugar and sodium content in foods.