QEII tucks into Stanbroke's Diamantina brand
The Queensland leg of Queen Elizabeth II's Australian visit has provided plenty of opportunity for our reigning monarch and the Duke of Edinburgh to sample some of the nation's best beef brands. At a Government House-hosted luncheon at Brisbane's Southbank, the Royals and 80 invited guests sat down to pan-roasted Diamantina Platinum eye fillet, produced through the Stanbroke Beef supply chain and sourced through the Australian Wholesale Meats network. Diamantina Platinum is the fully-integrated beef producer's flagship premium grainfed category, minimum marbling score of 2, verified Angus genetics fed 120 days in the 20,000 head SCU Stanbroke (Bottletree) feedlot near Chinchilla and processed at the Stanbroke Beef factory at Grantham in the Lockyer Valley. Stanbroke now produces under a stable of six Diamantina beef brands, sold through 620 retail stores spread across nine countries.  There was plenty of beef industry presence at last week's 80-strong Brisbane lunch attended by the Queen. Also in attendance were Central Queensland cattleman Graeme Acton; Tim Fairfax, principal of TG Fairfax, another of the state's larger beef producers and a renowned patron of the arts; AgForce president Brent Finlay; and Rural Youth ambassador Wade Timms from Nanango.
NZ aims to grow Japanese chilled trade
In Japan last week on a trade visit, Beef + Lamb New Zealand chairman Scott Champion told a trade gathering that New Zealand hoped to grow its chilled beef trade to Japan significantly over the next decade. Mr Champion announced plans to increase the proportion of chilled beef exports from the current figure of 22 percent of total Japanese exports to 30pc within the next 10 years. Mr Champion said B+LNZ would promote New Zealand grassfed beef's low fat content and safety to Japanese consumers.
Aroma new frontier in beef promotion
MLA's latest summer barbecue beef marketing campaign is looking well outside the conventional channels in an effort to build consumer loyalty to beef. One example discussed on Beef Central last week was the development of a smartphone 'app' designed to help customers selected and cook their beef barbecue. Another marketing first is built on the premise that 'nothing beats the aroma of a barbecue.' In what's possibly a world-first, MLA is using the powerful human sense of smell into its new summer beef program. Three Sydney bus-shelters have been fitted with large illuminated signs advocating beef barbecue season. The unusual feature is a button that visitors can depress, delivering the unforgettable sound of a sizzling barbecue plate, through a speaker. Even more quirky is each site's ability to emit, through a vent, a 'garlicky, smokey, beefy' aroma evocative of a barbecue. Believe it or not, companies exist in Australia whose job it is to create synthetic aromas for various purposes. Before stakeholders get excited and claim that this is an extravagant use of industry funds for only three bus stop locations, it should be pointed out that the major legacy has been in free publicity. MLA Domestic marketing manager Glen Feist engaged in a sequence of interviews with Sydney metropolitan electronic and print media over the following few days, attracted to the novelty value. This offered abundant free exposure for the summer beef campaign. Another innovative element of the campaign is a billboard carrying an image of a beef barbecue, which produces its own smoke. This latest beef promotion represents a radical departure from earlier times: the TV component is one of the smallest components, rather than the largest. Because it is barbecue-related, another unusual feature is that the main target on this occasion is the husband of the family, not the wife, who is normally targeted as the family decision-maker in meal choices.
Business awards win for SA's Holco
Australian meat wholesaler Holco Fine Meat Suppliers has received South Australia's 2011 Rising Star award at the 2011 In-Business Top 100 Awards in Adelaide. Holco employs about 300 staff at three production sites in South Australia, Queensland and the NT. Holco processes, portions and distributes 300 tonnes weekly of fresh beef, lamb and white meats to restaurants, cafes, supermarkets, commercial caterers, mining sites and healthcare organisations. The company recently expanded its East Coast business, opening a new production facility in Queensland. With annual revenue in 2010/11 of $117 million, Holco ranked 39 in the 2011 Top 100 South Australian companies Index. Run by South Australian publication, In-Business, the awards are part of an annual Top 100 performance listing of private companies that are majority South Australian owned.
Top chance for bush photographers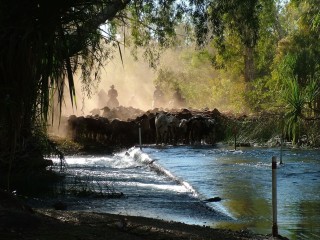 Calling all photographers! Think you've got what it takes to perfectly capture the essence of Australia's incomparable rural life? In a nationwide search, the Australian Womens' Weekly and MLA are looking for the best images that help celebrate something few city-dwellers get to witness: the spirit of life on the land, and those who devote their lives to its care. With the vast contrast of green rolling hills to an outback muster, the uniqueness of Australia's landscape will provide an inspirational backdrop to capture the soul of the bush and the people who live and work there. There's no better time to pick up your camera – especially as Australia moves towards 2012, the Year of the Farmer. The "Champions of the Land – through their lens" competition, open for entries until November 29, will be judged by a panel of experts from the Australian Women's Weekly, MLA and respected professional photographer, Fiona Lake. Five finalists will have their winning entry published in The Weekly in January, and the ultimate winner will receive an ipad 2. MLA will exhibit a selection of images from the competition throughout 2012 at selected events as part of the "Year of the Farmer" activity. Send your name, high-resolution images (limit three per person) and a 25-word story behind each image to: throughtheirlens@acpmagazines.com.au
Fiona Lake has written a blog about the competition. Click here to view