The Federal Government has announced that a new Commonwealth taskforce will be established to ensure Australia is fully prepared to respond swiftly to growing biosecurity threats.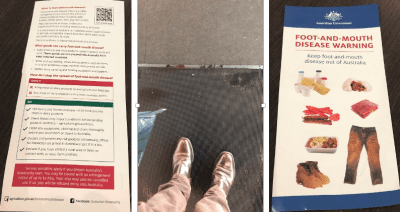 The Exotic Animal Disease Preparedness Taskforce will be co-chaired by a senior official from the Department of Agriculture, Fisheries and Forestry (DAFF) and the Director-General of Emergency Management Australia (EMA) and will include officials from the Australian Defence Force, Australian Border Force and Animal Health Australia.
Agriculture Minister Murray Watt said while the risk of Foot and Mouth Disease (FMD) or Lumpy Skin Disease (LSD) entering Australia is low, it is not zero.
"Australia remains FMD and LSD free, but we cannot afford to assume it will stay that way," Minister Watt said.
"Expert judgment has assessed the risk of an FMD incursion in the next five years as 11.6% and 28% for LSD, so it is prudent to prepare now.
"While the Federal, State and Territory Governments all have well-developed biosecurity response plans in place, we will leave no stone unturned to ensure we are ready, should an outbreak occur.
"That's why I have directed the establishment of this taskforce, to thoroughly assess our current level of national preparedness and advise of any improvements needed.
"Importantly, this taskforce will be co-chaired by senior experts in DAFF and EMA, bringing together the experts in biosecurity and animal health, along with the experts in disaster management, to work with States, Territories and industry.
Taskforce to conduct exercises within next month
"The Taskforce will get to work immediately, conducting a series of scenario-based exercises within the next month. This is the next logical step in Australia's strongest ever biosecurity response and builds on the range of measures we have already announced to keep Australia FMD and LSD-free, both at home and abroad."
Minister Watt said the government had learned the lessons from the outbreak of COVID-19 and the previous administration's lack of preparedness.
"We are determined to not make the same mistakes they made," he said.
"They were too slow on vaccines and too slow on Rapid Antigen Tests, if there was a major biosecurity outbreak in Australia, there is simply no time for delay.
The taskforce will report back to the Minister by September 5, providing advice on any additional measures that need to be taken to strengthen our biosecurity response.
'Right idea': NFF
National Farmers Federation president Fiona Simson said bringing together agriculture officials and other emergency management and response agencies is the right idea.
"Industry has been planning for a Foot and Mouth Disease (FMD) incursion for decades.
"We have a world class biosecurity system, and we have detailed and effective plans in place to manage an incursion, but that doesn't mean we should be complacent," she said.
"The NFF continues to call for 100 percent screening of inbound passengers from high-risk areas such as Indonesia while we are in a period of increased risk.
In addition, we are seeking a long-term, sustainable funding pipeline for our world-class biosecurity systems and personnel," Ms Simson said.
"These systems have kept Australia FMD-free for 150 years, and must be given the funding and resources they need as the threat environment grows."
Ms Simson said if a serious disease such as FMD hits Australia, it won't just be an industry problem.
"It's appropriate to have a broad cross section of emergency management agencies come together to support the ongoing review and enhancement of our preparedness and response plans.
"It's critical that this new Taskforce establish a strong working partnership with industry, including our established structures and formalised response frameworks," she said.
"Australia remains free from FMD and Lumpy Skin Disease (LSD), but these threats and others are right on our doorstep.
"Now is the time to check and re-check our preparedness, while ensuring every step is taken to keep these diseases off our shores," she said.
This is an unprecedented taskforce, bringing together the expertise of the agriculture department, Emergency Management Australia, Border Force, Defence and Animal Health Australia.
Cattle Council President, Lloyd Hick said Cattle Council was prepared to work with the taskforce to help ensure it can succeed.
"This taskforce must be proactive, not reactive," Mr Hick said
"We want to see this taskforce bring about real, tangible action.
"We're pleased to see these agencies come together for the good of the livestock sector and the nation.
"CCA would like to see the group implement preparedness actions including early detection capacity and swift response strategies.
"We need a capacity to properly assess all the risks and prioritise our resources, so we have the most effective response.
"We also want this group to take proactive steps that would prevent the spread of disease.
"This includes controlling feral buffalos, cattle and pigs in national parks, on military land and other government land.
"This would be a practical measure that would protect neighbouring producers and manage risk.
"There is no way to effectively control exotic disease incursions without first controlling feral animals that plague our public land.
"Now is the time to commit Government resources to control feral animals, particularly in northern Australia.
"Every landholder has a responsibility to do what they can to reduce the risks of a biosecurity incursion, and this includes government land.
"We are pleased the Federal Government is continuing to closely monitor our biggest biosecurity threats and respond accordingly.
"We expect to see the response increase as the threat of a biosecurity incursion increases."
AMIC

backs new taskforce 
The Australian Meat Industry Council (AMIC) said a new taskforce to ensure Australia is fully prepared to respond swiftly to growing biosecurity threats.
"Any improvements in our biosecurity surveillance and management are always welcome," said AMIC CEO Patrick Hutchinson.
"We need to continue to base all decisions, investment, and resource allocation on the known risk factors, be they high, medium or low."
AMIC continues to also advocate for a strengthened relationship in FMD management in Indonesia itself.
"The more vaccinations Indonesia can achieve, will ensure that the rate of virus incursion slows, and therefore the risk rate of human interaction with the virus, and in turn the risk of it being brought to Australia by humans, will also be lowered," said Mr Hutchinson.