A research paper published in the journal Nature Geoscience has produced a finding that surprised the researchers involved, showing that methane has 30 percent lower greenhouse gas impact than previously thought.
The study showed that while greenhouse gases absorb long-wave radiation in the atmosphere, methane also absorbs short-wave radiation, which reduces its warming effect.
The published report says that although methane traps heat in Earth's atmosphere, it also creates cooling clouds that offset the heat.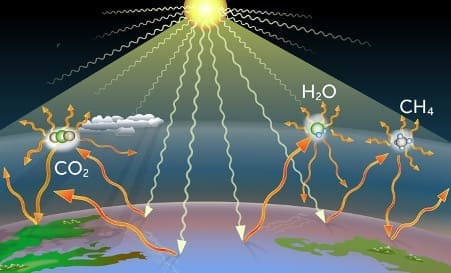 Rather than adding even more thermal energy to the atmosphere, as previously thought, methane's solar absorption sets "off a cascade of events" that reduces is overall warming effect by about 30 percent.
Most climate models do not account for this offsetting effect.
The result is "counterintuitive," climate scientist Robert Allen of the University of California, Riverside, told Science News.
It happens because of the way that methane's shortwave absorbance affects clouds in different layers of the atmosphere, simulations underpinning the study suggest.
The research also produced a second finding the research team did not fully expect.
Methane is also thought to increase global precipitation, due to greater evaporation of water with higher temperatures.
But the researchers found that inclusion of shortwave absorbance also reduced methane's precipitation effect by 60 percent.
It will be important to include methane's shortwave effects in future climate projections, said Daniel Feldman, an atmospheric scientist at the Lawrence Berkeley National Laboratory in California, who was not involved in the study, adding that more work needs to be done to clarify the effects.
The scientists said that despite the findings, methane was still a contributor to global warming and efforts to reduce methane emissions were still required.
The findings are detailed in a report by researchers in a March 16 study published in the journal Nature Geoscience.