From on-property cattle yards to Australia's largest meatworks, the coronavirus crisis is forcing changes of behaviour that just a few weeks ago would have seemed impossible throughout the cattle industry.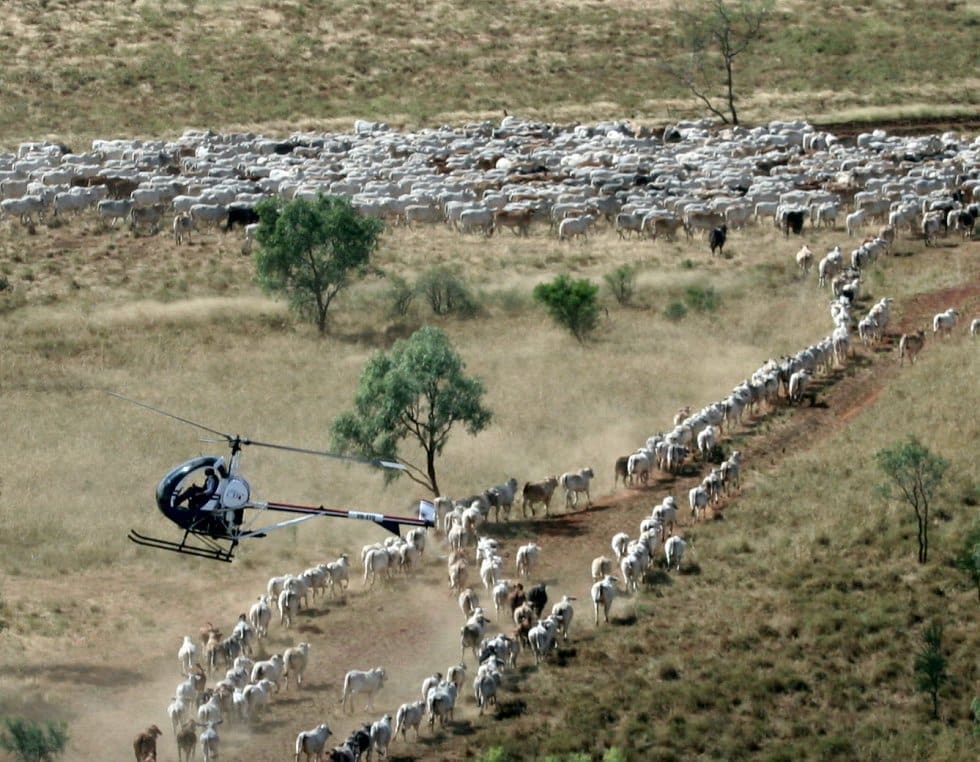 Handshakes have been elbow-bumped aside for mandatory 'social distancing', rules that take some getting used to in an industry built on personal relationships, but something every operator now understands must be done to keep the wheels of the beef and cattle economy moving.
There is no manual or any real precedent that offers a guide as to what truck drivers and cattle producers should do to maintain a safe distance while loading cattle onto trucks at property yards, and to sign vendor declarations and way bills without coming into close contact.
But, as is the country way, ways to adjust are being found.
John Rogers from major livestock trucking company RTA in Townsville said things he once would have never considered have now become the rule.
"You can stand a distance and still communicate and talk," he said.
"It will be, 'righto you stay at that gate, we'll work from this gate, we'll load the cattle, when we're finished we can do our paperwork'.
"'We can sit it on the back of the car, we can walk away, you come and do your paperwork, you walk away, we go back', it is simple."
Life-time habits of shaking hands upon arrival are indeed hard to shake, particularly without feeling rude or discourteous, but the common understanding now is "just don't go there".
"I have made it clear to our blokes, you're not rude because you haven't shaken the manager's hand or the head stockmen's hand," he said.
"We have to be two metres safely apart at all times, you can even be four metres away and still communicate and talk.
"If we don't make it safe, sooner or later we will all be ground to a halt."
Stations in self-quarantine
Northern cattle stations with teams of staff are now not only geographically isolated but socially isolated as well, effectively operating in self-quarantine.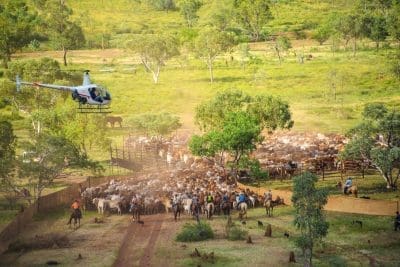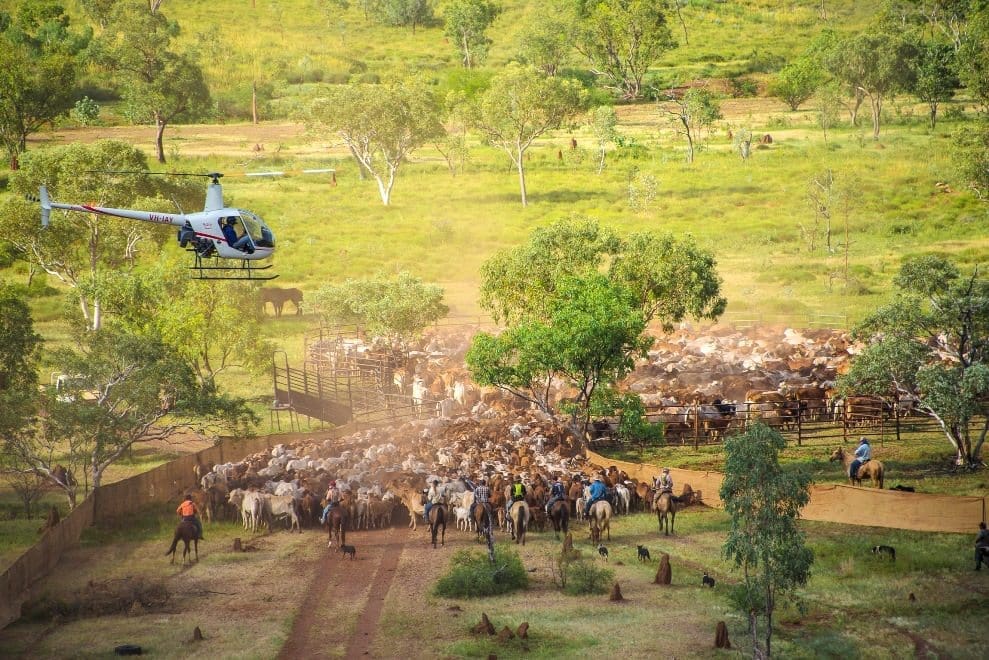 With first round musterings underway helicopters fly in, push cattle into yards and then fly away, ensuring no personal interaction with property staff on the ground.
Mustering teams are also separated from the groups working cattle in the yards.
"There has been some very smart and sensible thinking done on this, from the start of the supply chain right through," Queensland Livestock Exporters Association chairman Greg Pankhurst said.
"It is the same with the loading of ships – the shore side crew which load the ships don't have any interaction with the crew on the ship, so there is no interaction, and no cross contact between those parties."
Meat processors have also put stringent biosecurity rules in place throughout their facilities to maintain significant distances between employees at all times. Processors are also now routinely using hand-held temperature gauges to test all employees upon entry to their plants.
Like the trucking companies, processors have a strong and clear expectation their employees will be adequately supported with regards to social separation wherever they travel. Some companies have instructed their buyers to walk out of sales if they feel social distancing measures are not adequate.
Victoria cancels some store sales this week
Saleyards indeed are at the pointy end of how the social distancing rules are affecting the cattle industry.
A number of store sales in Victoria including Echuca, Leongatha, Pakenham, Warrnambool and Ballarat, have been cancelled today as the industry works out ways to manage the larger number of buyers that can attend store sales, but at this stage prime cattle sales in the State are expected to continue.
"From a saleyard perspective they are looking at how they can manage that type of a sale (store sales) to meet all of the requirements under the regulations that have been approved by the government," Australian Livestock Saleyards Association president Stuart McLean told Beef Central today.
I think they have taken a very responsible approach, there is nothing in it other than ensuring they can manage process.
"The saleyards industry is trying to work the broader industry in the food supply chain in the most repsonisble way it can and to provide a place for producers to market their product, but also to ensure the people that work there are well looked after and well protected.
"Bigger prime sales are not affected at this stage, and we have been having lots of talks totoday how that looks."
Saleyards at epicentre of social distancing changes
At sales around the country what would have been unimaginable a few weeks ago has become the new normal as the gravity of national efforts to control the coronavirus outbreak take effect.
Where bustling groups of producers and onlookers previously shuffled along with the auction from pen to pen, attendances are now culled to the absolute bare necessities – the agents running the sale, buyers, transport operators, and saleyard staff.
Vendors are advised to stay away, and it is hard to see this situation changing anytime soon.
In another major development today NLRS reporters have been told this morning by MLA that they can no longer physically attend sales from tomorrow, in a measure designed to protect staff.  They will now be required to report on sales remotely, using price data available from agents, saleyard administration staff and buyers at the end of each sale.
Where numbers and yard capacity allows, saleyards are using every second or third pen and leaving in-between pens empty to create additional buffers.
Some sales like those operated by the Regional Livestock Exchange group have introduced online functions that allow their physical sales to be followed from screens and for people to bid remotely.
Speaking from the Roma Store sale yesterday, Grant Daniel Long principal Peter Daniel said that despite the significant changes in a short amount of time, the industry was adjusting very effectively to the new rules.
Nor was the market being affected, he said, because buyers were still attending as they normally would, with room being made to ensure they are operating at safe distances.
"Buyers who are not interested in pens are stepping back and making plenty of room for those who are buying, which allows those buyers to maintain the distance," Mr Daniel said.
"Everyone is abiding by that, and we've still got all the buyers here.
"With communication these days it is pretty easy to get an order through to your agent or your buyer and take a few photos.
"It (saleyard selling) is just such a vital part of the whole chain so we're all doing our very best to make sure we can keep the industry going and the saleyards operating.
"People still need to move cattle, whether they're slaughter cattle, or feeder cattle or weaner cattle, they need money to survive too and keep things turning over."
Rural access to supermarkets
Cattle producers are well-used to working in isolation but amid the panic buying in supermarkets of recent weeks many are now finding it extremely difficult to conduct the bulk grocery purchases they require to feed their families and staff, which on large stations can number in the dozens.
It goes without saying most producers have to travel long distances, and hundreds of kilometres in numerous cases, to reach their nearest  supermarket, and as a result typically buy supplies to last for a fortnight or more. A large number of stations now also rely on online shopping and rural delivery services for that reason.
Online options have collapsed amid the panic buying. Alongside fears of being accused of stockpiling, rural families and staff are now finding their own supermarkets are placing severe restrictions on the volumes they can purchase when they visit the stores.
The Northern Territory Cattlemen's Association is asking the Prime Minister to get involved, and perhaps even the Australian Defence Force.
NTCA chief executive officer Ashley Manicaros said the service of Coles and Woolworths in meeting bush orders through 'click and collect' services had failed 12 days ago, and, despite pressure through national bodies including the National Farmers Federation, has yet to be resolved.
"The people in the bush don't have the option of whipping down to the corner store to secure a few odds and ends, they rely on these larger companies to make stock available to them," Mr Manicaros said.
"Someone in a capital city has shut off this service without a clue as to the impacts and here we are seeing the consequences of it despite claims the matter is being addressed."
He said the NTCA has supplied a list of all cattle stations in the NT and the regions from which they are normally serviced including those from border locations who may be receiving stores from nearby regional townships like Mt Isa.
"If the supermarkets are not capable of delivering for the bush then the Prime Minister should engage the ADF to do the job.
This is primarily driven by a failure of logistics mixed with the ridiculous panic buying happening in the major cities.
"This has got to be addressed. We are not talking about this affecting one or two people but we are talking properties with up to fifty people on them."
Maintaining health and safety vital: Cattle Council
In a statement issued this afternoon the Cattle Council of Australia said maintaining health and safety would be vital to keeping the industry open for business.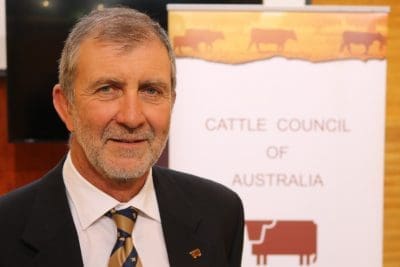 "This virus is causing uncertainty and the best way we can fight it is staying healthy," president Tony Hegarty said.
"Even though risks are lower on farms, the consequences are severe, so we need to stay vigilant.
"Our members are making sure on-farm practices prevent transmitting sickness between people.
"This includes increased hand washing, self-isolating if sick, sneezing or coughing into an elbow and not touching their face.
"Producers are also taking steps to reduce non-essential contact with others.
"This includes limiting off-farm trips, using e-learning resources for their children's schooling and not allowing anyone on farm who doesn't need to be there.
"Our industry has solid experience in biosecurity management and integrity systems.
"We're working with our partners across the supply chain and governments to keep beef in butcheries and to adapt to the COVID-19 outbreak as it evolves to ensure our supply chain remains open.
"This will make sure high quality and nutritious beef is available to our local and global customers.
"The broader red meat industry employs more than 400-thousand people across Australia – which includes processors in regional towns – so it is important we keep the beef industry strong."
Cattle Coucil has also released a factsheet with advice on protecting on-farm health and wellbeing which can be found on its website here.