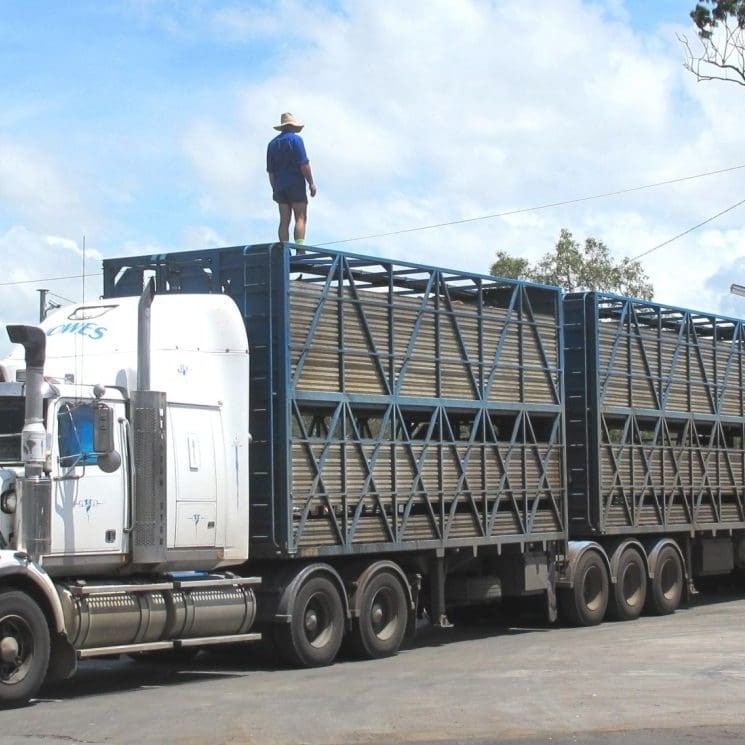 Large southern NSW general freight and bulk haulage operator Rodney's Transport has bought the well-known Howe's Livestock transport business based in southeast Queensland.
The investment marks an extension into livestock operations for the Rodney's Transport business, which operates a fleet of 90 Kenworth prime movers out of its main depot in Wagga Wagga and outlying NSW depots hauling bulk materials and general freight.
The business will officially change hands on Friday.
Beenleigh-based Howe's Carriers, founded by industry veteran John Howe, now 74, has hauled cattle for Teys Brothers for an incredible 48 years, basically growing his business as the scale of the Teys enterprise expanded beside it.
For decades the company's white prime movers and blue stock crates have been a familiar site on the Warrego and Cunningham Highways stretching west from Brisbane/Beenleigh.
Mr Howe started working at the Teys Beenleigh plant as a 15-year-old, moving into trucking operations a decade later with the purchase of his first small body truck.
Howe's Carriers today operates six modern Western Stars pulling Haulmark B-double crates, used exclusively for shipping stock from feedlots, saleyards or station yards to Teys Australia's Beenleigh factory. Three of John Howe's sons have worked in the business over the years.
Teys Australia chief executive Brad Teys said it had been a pleasure to do business with the Howe family on a permanent basis over the past half century.
"John was an excellent and reliable transport operator, and helped us in so many ways, over many years," Mr Teys said. "We look forward to continuing the relationship in future with Howe's Carriers, through Rodney's Transport."
Rodney's Transport principal, Peter Rodney, said his company's move into the livestock transport sector was a 'business decision', and would help spread industry downturn risk be extending across a greater number of haulage and industry sectors.
Rodney's is in the process of establishing a Queensland depot, the location for which is yet to be determined, but it will be somewhere in the state's southeast or the inner Darling Downs.
While the white prime movers will continue, the blue Howe's trailers will gradually be replaced by red, to match the new owner's corporate colour-scheme.
Rodney's livestock freight coordinator Brett Williams said the business would continue to focus squarely on the Teys operation's transport requirements, but he did not rule-out expansion into general livestock contract haulage in future in Queensland and northern NSW.
The company has placed orders for three new Kenworth T909 prime movers, hitched to new Byrnes B-double trailers, to add to the existing Howe's Carriers fleet of six Western Stars.
Out of the company's Wagga depot, Rodney's Transport has done business for some years with the former Cargill Australia processing company (now merged with Teys), hauling hides, meatmeal, and cartons and other packaging materials. No livestock was involved.
Word around the livestock transport industry is that the Howe's Carriers business was much-coveted as a purchase target by larger haulage operators across Eastern Australia recently, given the guaranteed work provided via the unique designated transport contract with Teys.
Some of the contract work is between Teys' own Miamba feedlot near Condamine and the Beenleigh plant, but also extends into grassfed cattle sourced out of saleyards and paddock sales out of central and western Queensland and northern NSW.