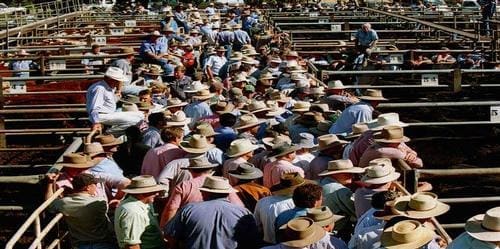 AUSTRALIA'S livestock saleyard scene has a new national membership body, with the former Livestock Saleyards Association of Victoria renaming itself as the Australian Livestock Saleyards Association (ALSA).
But the name change – passed unanimously by saleyards operators from Victoria, New South Wales and South Australia at the LSAV's annual general meeting in Melbourne last week – has surprised the current industry peak body.
The Australian Livestock Markets Association (ALMA) is known as the peak national body for the saleyard and lairage industry. ALMA president Steve Loane said today the move to attempt to promote a state group as a national body will add confusion and could ultimately destabilise relationships at a national level.
He said the LSAV met with the ALMA board late last year to discuss options for some form of merged entity, but no agreed outcome arose from those discussions. ALMA was not informed about the proposed name change before it was voted, Mr Loane said.
"LSAV chairman Stuart McLean was a guest at the recent ALMA July conference held in Bendigo and he did not mention this action.
"ALMA believed that there was still ongoing opportunity for discussion on this matter; hence the invitation to Mr McLean," he said.
"There is only one national organisation with an overwhelming majority of numbers.
"It will be incumbent on the ALMA board to maintain and reinforce our position with all levels of government and industry stakeholders across the continent."
The current saleyard representative structure developed out of the breakdown of the Livestock Saleyards Association of Australia several years ago, but new ALSA president Stuart McLean said the name change reflected the broader membership base that the organization was achieving, with members from Victoria, NSW and South Australia.
"We didn't particularly want to go geographic, so we decided to call it what we did."
At this stage the new ALSA organization will be concentrating its service delivery in the southern part of Australia. This will include running events, industry advocacy, training courses, workshops and providing a saleyard OH&S package and other documentation for saleyard operations.
"It's not meant to be a competition, that's certainly not what we are on about; what we are on about is professionally serving the membership down here that have different issues that need to be dealt with than in some other parts," Mr McLean said.
"We have an open mind to work with other saleyard organisations.
"We're not claiming to be the peak body and we are not in competition," he said.
"What we are doing is providing a choice though, between whether people want to belong to ALMA or whether they want to belong to ALSA, it's entirely up to them.
"We certainly will still be dealing with all the national issues and where we can work with ALMA we certainly will," Mr McLean said.
Mr McLean said the former LSAV had been "leading the way" in several national saleyard issues for many years, including industry animal welfare standards and electronic NVDs.
ALSA members outside of Victoria included saleyards at Deniliquin, Corowa and Finley in New South Wales, Naracoorte in South Australia, with other NSW and SA centres to consider ALSA membership in the next month, he said.
The LSAV changed its articles of association two years ago to allow non-Victorian saleyards to become full members and the LSAV name name was a final re-organization to reflect this changing geographical coverage, ALSA said. This year's executive election included members representing yards in SA and NSW.
Mr McLean said the LSAV considered changing its name a couple of years ago and discussed working with ALMA.
"But they had their rules that didn't permit that to happen and weren't prepared to change them so we decided to continue with what we've got.
"We certainly met with them in the last 12 months with a view to how we might have a corporate-style membership with them or something similar and that was rejected."
Mr McLean said the members of the former LSAV were very keen to stay with the "current arrangement."
"We are essentially driven by what they want.
"It's a membership-driven organisation no different from ALMA, so if the members here want to remain as part of this organisation then we'll support it and move on."