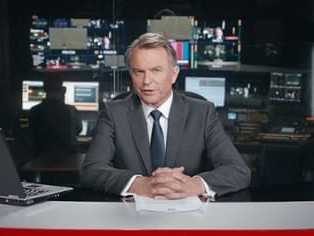 A new television commercial to be launched this week represents a fundamental shift in Meat and Livestock Australia's domestic beef marketing strategy.
In recent years MLA's red meat campaigns have focused largely on communicating the nutritional benefits of eating red meat.
However, the producer-funded marketing organisation has refined its approach after conducting extensive consumer research last year.
"What came out was the fact that for years we have been giving consumers nutrition lessons, and they have really got it firmly in their mind now what the connection between red meat and iron and zinc and all the other nutrients is," MLA general manager marketing Glen Feist told Beef Central.
"They want to be told that by eating red meat they're doing the right thing, and, by the way, it is good for you.
"The other thing that came out was that they were all saying that after they eat red meat they feel alive and fit and healthy and full of energy, like after waking up from a long sleep."
In response MLA has developed a new three to five year campaign that moves the central positioning beyond 'red meat is good for you' towards 'red meat makes you feel good and ready for anything'.
The new strategy replaces the previous slogan "Red Meat Amazing Food" with the catchphrase "Ready for Anything".
In the television commercials actor Sam Neill, a well-established face of MLA beef marketing campaigns, poses as a newsreader presenting stories of everyday people who were 'ready for anything' and able to solve problems because they ate read meat.
Five commercials have been made, but MLA also has also the ability to "drop in" footage from news or other real life events as the campaign progresses to keep the advertisements fresh and topical and to reinforce the message people can achieve things because of the iron they get from red meat.
Other elements of the integrated campaign, which each incorporate the "Stay Ready, Australia" catchphrase, include radio, print and digital advertisements. An associated radio promotion will see announcers from Nova Radio dared by consumers to take on "Ready for Anything" challenges.
The campaign will be supported by an ongoing education program targeted at doctors, nutritionists and dieticians explaining the evidence-based research that shows that eating red meat three to four times a week is an essential part of a healthy, balanced diet.
An added element of the campaign will involve providing education to consumers, particularly the younger generation and young mothers, on simple cooking methods. "The research told us they are all struggling with cooking," Mr Feist said. "A lot of them are saying to us that if they could cook better they would eat better."
The campaign will run continuously for 12 months, which represents another shift in strategy for MLA away from short burst campaigns.
"There will still be different bursts of TV throughout the whole year, but as with all of our campaigns now, they are year-long campaigns rather than a month here or there," Mr Feist said.
"We want people eating red meat throughout the year, not just certain times of the year."