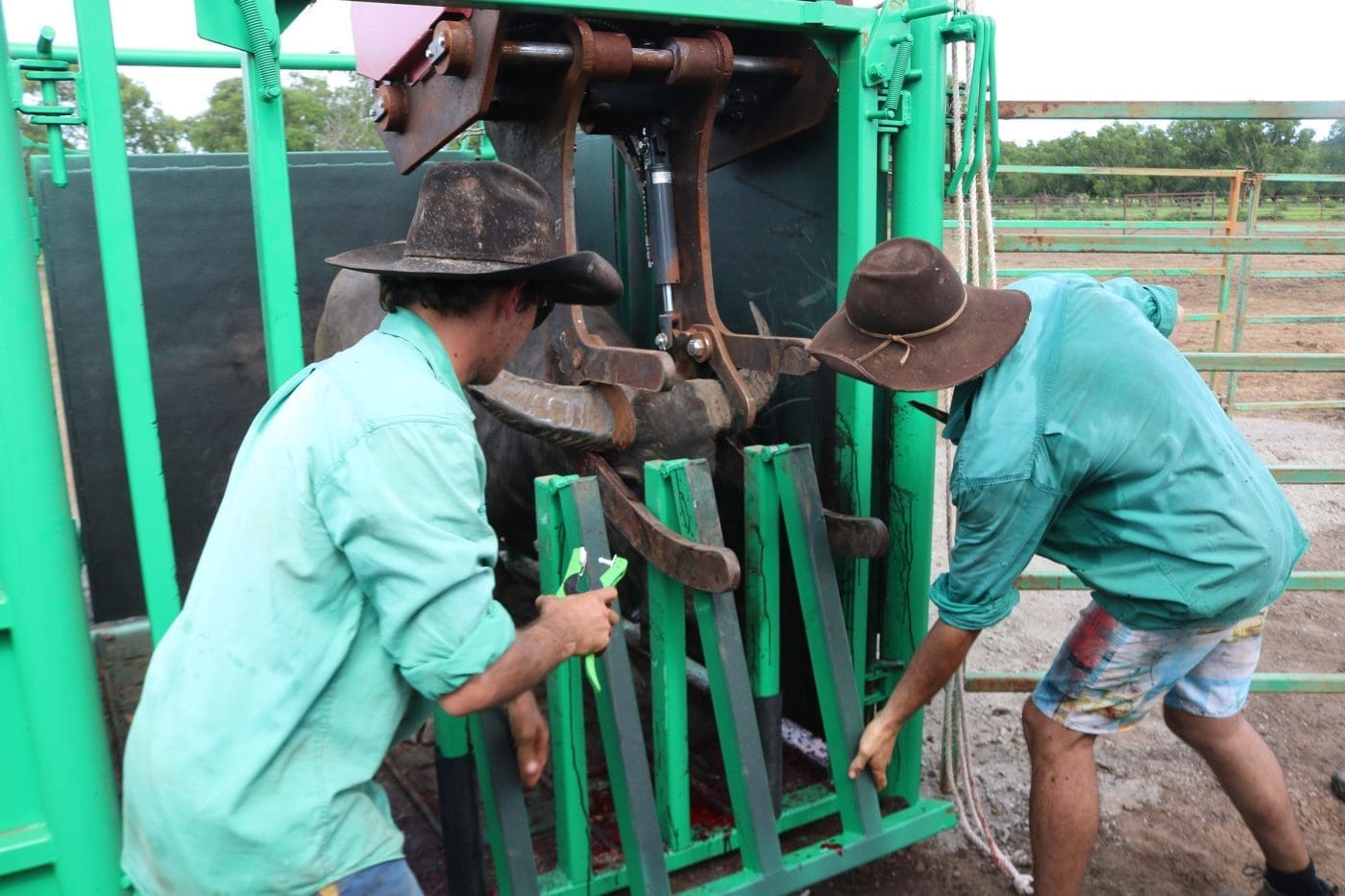 THE successful trial of a newly designed buffalo handler is set to help remote contract mustering teams and indigenous land managers undertake ear-tag and horn-tipping procedures on freshly caught free range wild animals with greater safety and efficiency.
The prototype, part of a research collaboration between the NT Buffalo Industry Council and AgriFutures, was designed with the aim of designing and developing a portable handler for use in temporary livestock yards, which are assembled in very remote parts of the Top End to hold freshly caught wild buffalo.
The project targeted an engineering solution which would not only enhance animal welfare and human safety, but would also promote good biosecurity and traceability systems by ensuring animals are tagged before being trucked away.
NTBIC vice president Michael Swart, who has been actively involved in buffalo catching for many decades said the construction of the portable handler to ensure functionality in the field represented a breakthrough for the management of wild buffalo and would also have flow-on benefits for the control of unmanaged cattle herds, especially scrub bulls.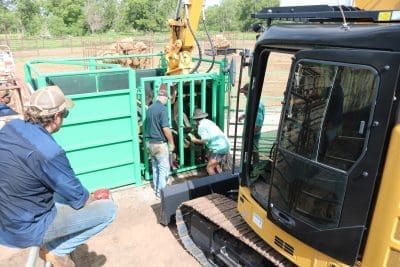 "We're using an excavator, and where the bucket would usually be, we've attached a holding mechanism designed to secure a swamp buffalo for more efficient handling processes and the induction of a freshly caught animal. We can put a NLIS tag in the ear while the horns are immobilised, then cut the tip of the horns for safer transportation and perform any other treatments that might be necessary," Mr Swart said.
Free range buffalo in Arnhem Land and surrounding areas are either mustered by helicopter into temporary yards or are caught with mechanical arms on the side of specially modified catching vehicles.
In recent years, close to 11,000 buffalo have been exported live to South East Asia annually, while the Rum Jungle abattoir near Darwin has achieved an average throughput of 6000 buffalo per year since it re-opened in 2020.
Mr Swart's family business, Wildman River Stock Contractors, collaborated with another local business, Acacia Mechanical Contracting, to build the attachment which was debuted before Christmas at Woolner Station on a trial-run of swamp buffalo.
"The initial trial went extremely well. We were really happy with the how the concept stood-up to working out in the field and with freshly caught animals," Mr Swart said.
"We gained some excellent insights to help us with the next tests in the next month or two. We're finalising some of the set-up just to ensure the controls of the hydraulic holding mechanisms from the cabin seat are as responsive as possible and the functions of all the associated infrastructure are all streamlined.
"From what we achieved in our trials, we hope to be able to process one animal every one to two minutes with this system, which means that 100 animals could be handled in a morning before the heat of the day sets in. That sort of efficiency makes a huge difference for the animals and also the people processing them."
In terms of design and construction, special attention has been given to balancing strength and durability of the steel fabrication with portability in loading and handling. The new system also doesn't rely on walking animals up a narrow race and into a crush with a head restraint.
"We can move the animal through a wider yard space – the width of a push-up vehicle – and up to a specially built yard attachment, which allows the excavator arm to reach over to the animal from the side.
"We secure the animal by sliding the adjustable hydraulic forks to each animal's particular horn shape, which is all done by the operator in the cab of the excavator with a full front-on view of the animal and the ability to adjust or release the hold at the push of a button.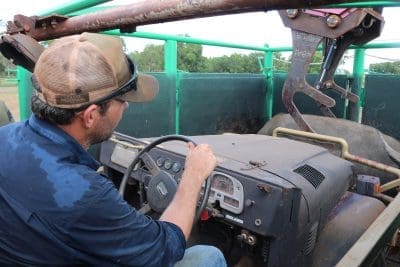 "The hold on the animal's horn can be made wider or narrower and then, with the press of another button, another two latches can lock the horns into place. Once you've locked on, the animal can't move because we're using a 13-tonne excavator."
Mr Swart said an 8-tonne excavator was also compatible and that the likely cost of commercially building further machines would be a realistic proposition for the industry.
"I'd say this sort of handler could be produced at a price which would probably be cheaper for a contract musterer than converting a new bull catcher with a bionic arm. You can easily spend $40,000 or $50,000 on a crush and then have to get the animal into the crush, but this handler would be less than that and is less rigid and cumbersome."
Mr Swart said safety would continue to be a key part of the industry's research agenda.
"Handling any freshly caught animals can be very dangerous if you are contending with unsecured horns," he said.
"Securing the animal like that just means we've created a safe space for handlers to efficiently process the animal. There's no wriggle room for the horn to injure anyone, it's very safe."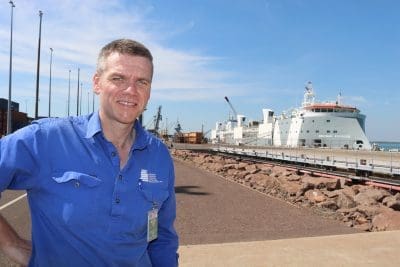 NT Buffalo Industry Council executive officer Tom Dawkins (left) said there was strong industry interest in the progress of initial trials, with scope for the new handler to be used as part of commercial and research work in the coming dry season.
"The importance of sustainably managing the Top End's swamp buffalo herd is increasingly clear and we're keen to see more traceability and monitoring of remote herds," Mr Dawkins said.
"A large number of Central Arnhem buffalo will be fitted with satellite GPS tracking tags in the coming months, as part the CSIRO's work with the Mimal Land Management Aboriginal Corporation and the North Australian Indigenous Land and Sea Management Alliance Ltd (NAILSMA).
"There's real scope for our newly designed handler to assist in the Mimal Rangers' tagging operation which will deliver real-time, geographically accurate insights into herd density and location."
Mr Dawkins said biosecurity regulations require livestock to be fitted with NLIS tags before being transported, including freshly caught buffalo in remote parts of Arnhem Land where permanent livestock infrastructure was limited.
He said another major research project, funded by AgriFutures and CRCNA, was just commencing and would see buffalo industry members working closely with the University of Queensland and the NT Government to improve supply chain health and welfare for buffalo.
"I believe our new buffalo handler will also be an asset in that supply chain welfare project, especially in tag-and-release monitoring work and also when exploring further innovations in husbandry using modern equipment and technology," he said.
Further details: https://agrifutures.com.au/rural-industries/buffalo/