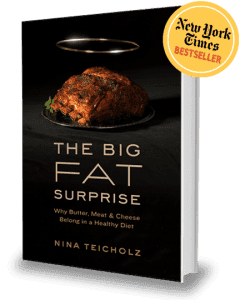 A new book by American investigative journalist Nina Teicholz challenges the conventional mantra that saturated fats in butter, cheese and red meat are bad for our health.
"The Big Fat Surprise" was launched in the US earlier this year and has made the New York Times bestseller list and has attracted largely favourable reviews across the mainstream media.
The book is the result of a nine-year long investigation by the journalist, who has a master's degree from Oxford University and has written on topics including food and science for numerous titles including Gourmet, Men's Health, the New Yorker, the Economist, and the New York Times.
The author says her book documents how the past sixty years of low-fat nutrition advice has amounted to a vast uncontrolled experiment on the entire population, with disastrous consequences for our health.
"For decades, we have been told that the best possible diet involves cutting back on fat, especially saturated fat, and that if we are not getting healthier or thinner it must be because we are not trying hard enough," she writes.
"But what if the low-fat diet is itself the problem? What if those exact foods we've been denying ourselves — the creamy cheeses, the sizzling steaks — are themselves the key to reversing the epidemics of obesity, diabetes, and heart disease?"
The book's website says it documents how misinformation about saturated fats took hold in the scientific community as well as the public imagination, and how recent findings overturn these beliefs.
"This startling history demonstrates how nutrition science has gotten it so wrong: how overzealous researchers, through a combination of ego, bias, and premature institutional consensus, have allowed dangerous misrepresentations to become dietary dogma.
"With eye-opening scientific rigor, The Big Fat Surprise upends the conventional wisdom about all fats with the groundbreaking claim that more, not less, dietary fat — including saturated fat — is what leads to better health, wellness, and fitness.
"Science shows that we have been needlessly avoiding meat, cheese, whole milk and eggs for decades and that we can, guilt-free, welcome these "whole fats" back into our lives."
The author recently told the Sunday Times in the UK that when reviewing rich and creamy dishes for years in her role as a food reviewer, she actually lost 10 pounds and her cholesterol levels improved
"Saturated fat was condemned based on very early, now antiquated notion of cholesterol," she explained to the paper.
"The original hypothesis was that saturated fats raise your total cholesterol and cause heart attacks. This is not true. Saturated fats do cause total cholesterol to go up but your total cholesterol is not a good predictor of your heart attack risk."
Her main point is that the low-fat craze that has gripped the world for years has resulted in excessive consumption of refined carbohydrates, which have caused increased inflammation and disease.
The Sunday Times report noted that not everyone agrees with her theory. 'Putting saturated fats back at the centre of our diet would be a tragic mistake,' Dr David Katz, a nutritionist and academic at Yale University told the paper.
"There is no diet that is mostly meat, butter and cheese anywhere is the world that is associated with good health outcomes. A healthy diet still features all the usual suspects: vegetables, fruits, beans, lentils, nuts, seeds, wholegrains. Optional is fish, seafood, dairy and lean meats. But it reliably excludes saturated fats."
To read more about the book click here to view its website