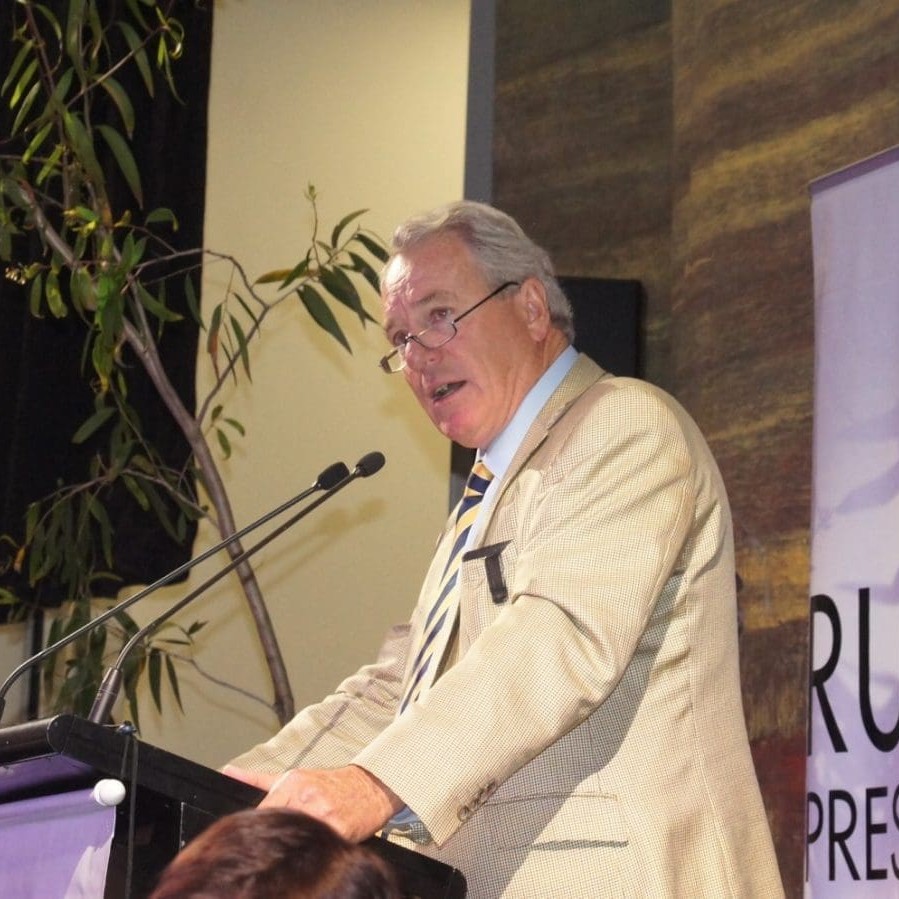 The Natural segment promises to be the 'next big thing' in beef, prominent exporter Richard Rains told an audience during the opening stages of Brisbane's annual show this morning.
Mr Rains, who retired recently after a distinguished 40-year career as head of non-packer exporter, Sanger Australia, said while Certified Organic was terribly popular as a niche market, the reality was that the industry could not supply the demand, any time soon.
"The mere fact that it takes a producer three years to convert to produce certified Organic cattle means there is a long lead-time, and we just can't keep up with demand," he said.
But for many consumers, a 'Natural' product ticked many of the boxes that 'Organic' did, while being a much easier target to produce.
"A product that has 'never-ever' been exposed to HGP or antibiotics, and has spent its life on grass is very appealing to a growing segment of consumers, both here and overseas," Mr Rains said.
Unlike the US, where cattle could still enter feedlot programs and qualify for a 'natural' tag, in Australia's context, natural meant grass-only, he said.
"The reality is the US no longer has the capacity to finish large numbers of cattle on grass, but it is something that Australia does very, very well."
"Having said that, a consumer selecting a 'natural' product still has a right to an expectation over tenderness and palatability. There is only a certain amount of grassfed production that can go into that system, but increasingly, there will be premiums evident for a quality natural product."
"I know we don't see it regularly in Australia yet, because it is something that we do every day, but it will come. For an American or a Japanese consumer, where they just cannot physically produce enough cattle on grass in their domestic beef industries, it is a strong point of difference for Australia, and we have to be making the most of it."
Mr Rains said while he supported the Pasturefed Cattle Assurance program, which provided a third-party audit process behind a pasturefed claim, he thought both formal, and more informal processes could emerge.
Some of the major retailers in Australia may support an audit-based process, as they tended to do, but others would be less demanding.
However he told the Rural Press Club audience that producers, perhaps, should be thinking that audits would inevitably become a more routine part of their everyday business.
He said it was not uncommon for export meat processors to be subjected to 150 audits a year, for a wide variety of programs including EU, Halal, Organic, specific market access, and other requirements.
"Like it or lump it, audits are going to happen for producers, in areas like animal welfare and environmental management," he said.
"It's part of the cost of doing business, in a market where consumers are placing ever-greater scrutiny on the products they eat."
"The consumer wants to know that the animal that produced the beef they're eating had a good life and was well cared-for. It might all sound a little airy-fairy for a producer, but it's coming," he said.
"But having said that, the producer must get better rewarded for putting such systems in place. The rewards they are getting today for cattle are certainly insufficient, but they will have to have that point of difference in place to get that premium price."
"It's about extracting the optimum value for the product by having those production, environmental and welfare assurances in place, while being well-rewarded for doing it."
A lot of producers would continue to produce beef outside those requirements, using HGP for example because they have to, but there would be those in certain geographical areas where they could grow cattle under systems without implants or antibiotics, for example, to fill emerging niches like 'Natural.'
Major US packer imposes beta agonist ban
Mr Rains illustrated his point about growing demand from consumers for natural-type products by pointing to developments in the US overnight, where major packers are re-thinking their policies on use of beta agonist growth promotants.
US beef packer Tyson Foods has announced a surprise ban on the use of the beta agonist, Zilmax, in its US slaughter cattle from next month, due to concerns about animal 'well-being,' a company statement said.
"The largest processor of fed cattle in the US has thus taken the lead on an issue that has become a major headache for the US beef industry," US Cattle Buyers Weekly's Steve Kay told beef Central.
Zilmax is one of two beta agonists widely used in finishing cattle in the US. Up to 80 percent of all fed cattle in the US are said to receive either beta agonist feed additives, Zilmax or Optaflexx. Beta agonists are not registered for use in Australia.
Zilmax is said to be the more aggressive of the two, and there has been mounting concern about it causing lameness and shortness of breath in US cattle at the end of their finishing phase.
As described in an earlier Beef Central article, animal behaviour scientist Dr Temple Grandin has earlier discussed concerns associated with agonist use, allied with heat stress.
US packers say they have seen more cattle delivered to them with lameness and walking problems, which some have linked to beta agonist use.
Tyson was taking the lead on an issue that might have become another media/consumer crisis for the US beef industry, observers told CBW.
It should be applauded for getting ahead of the curve and emphasising the animal wellbeing aspect of its decision, they said.
Sources close to other US processors including JBS and Cargill said they were likely to strongly consider taking similar action.
Tyson's announcement had an immediate effect on US cattle prices, with the futures market jumping 2-3pc overnight. That's presumably on the expectation that there will be some lighter cattle around as a result of the announcement.
The widespread adoption of beta agonists in the US has been a key reason why US beef production has managed to stay so high, while the national herd has fallen to a 50-year low.
The other beta agonist on the market – ractopamine – has not been mentioned by Tyson as being subjected to the current ban.
Tyson stressed that its decision at this point was not a food safety issue, but was about animal well-being and "ensuring the proper treatment of the livestock we depend on to operate," Tyson spokesman John Gerber said.
When fed at the recommended 20 days, cattle fed Zilmax show an improvement in carcase weightgain of 11 to 15kg, according to manufacturer Merck Animal Health.
A commodity broker suggested Tyson's move may be motivated by reasons other than animal lameness.
"Tyson says its doing this because of animal welfare issues. More likely, its doing it to open the door for beef export business," an analyst said. "Many US export customers don't want meat that has been fed growth enhancers. This will allow beef exports to increase and force beef production lower, providing a one-two bullish punch to the industry."
Read Beef Central's earlier article on the beta agonist issue and prospects for it's registration in Australia here
More on Richard Rains thoughts on future challenges for the industry on Beef Central later